Filipinos love celebrations. Be it a simple birthday of a family member, to welcome a balikbayan who has been away for ages or the endless Christmas parties during the holidays, there's always something worth celebrating. Close family ties are a big part of Filipino culture and food always plays an integral role.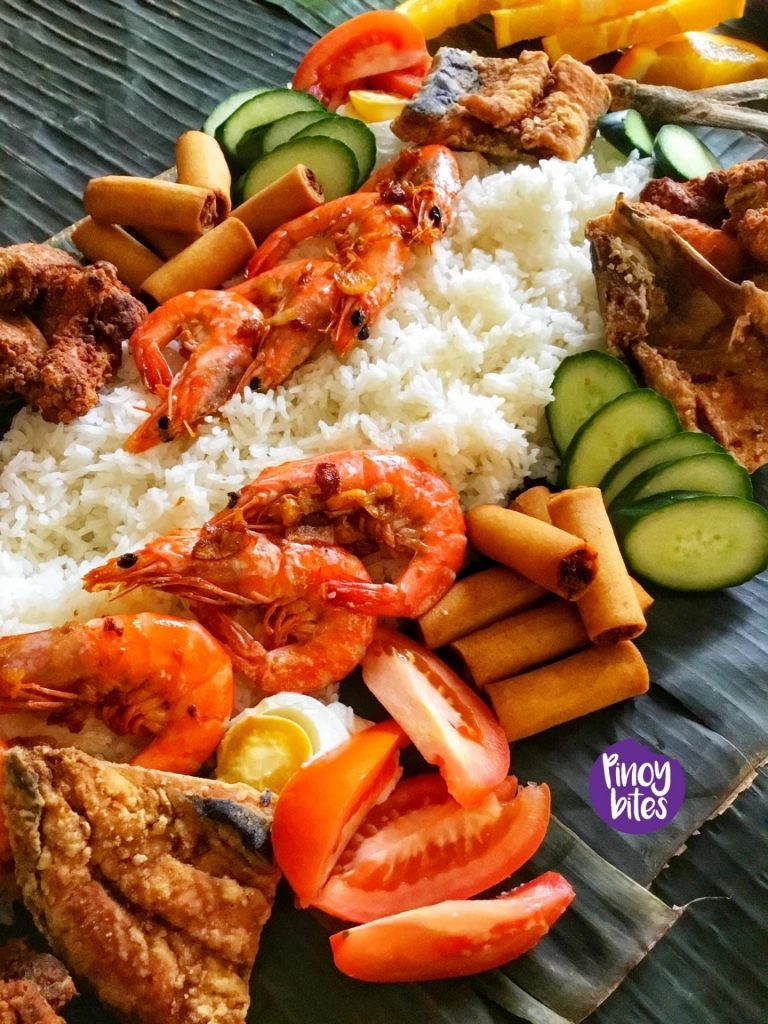 Boodle Fight was initially the Filipino soldiers' communal way of eating. The table is entirely covered with sheets of banana leaves and a variety of food (with rice taking center stage, of course) are laid on or around hot steamed rice. Nowadays, everyone does it. Aside from it being a feast for the eyes, the idea of eating using your (impeccably clean) hands, is quite a delightful experience.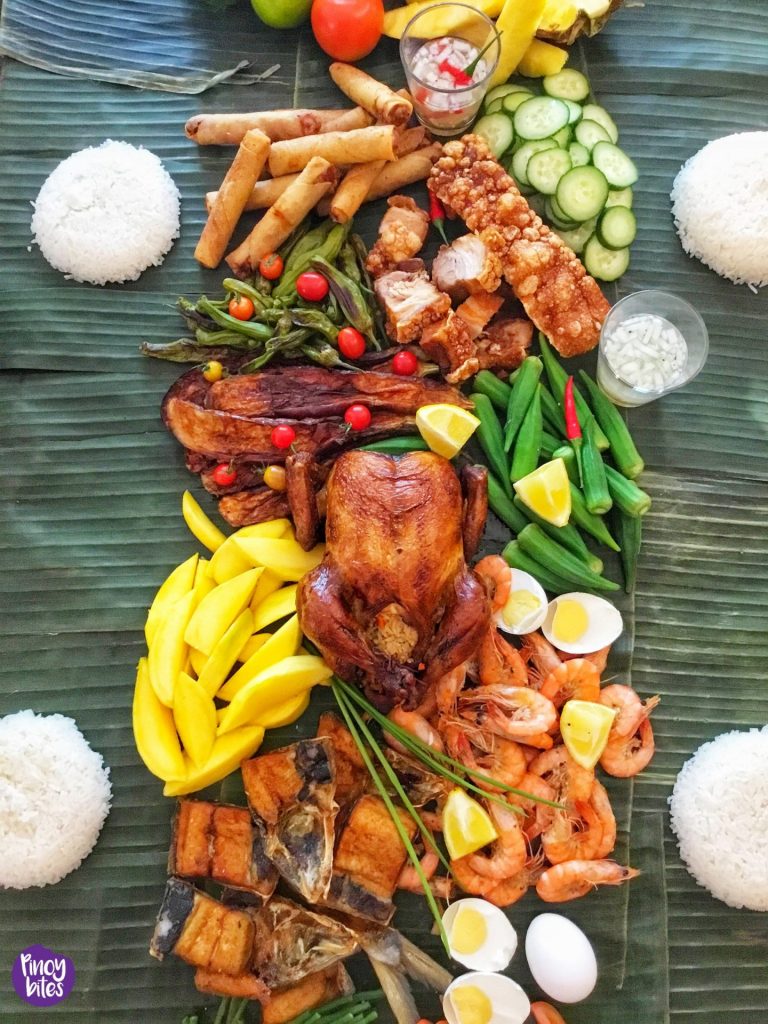 My family is very fond of boodle fights, especially the kids. Aside from the assortment of food (and treats), they find being able to choose among the spread very enjoyable. I also find it amusing as I watch them eat with gusto while using their hands.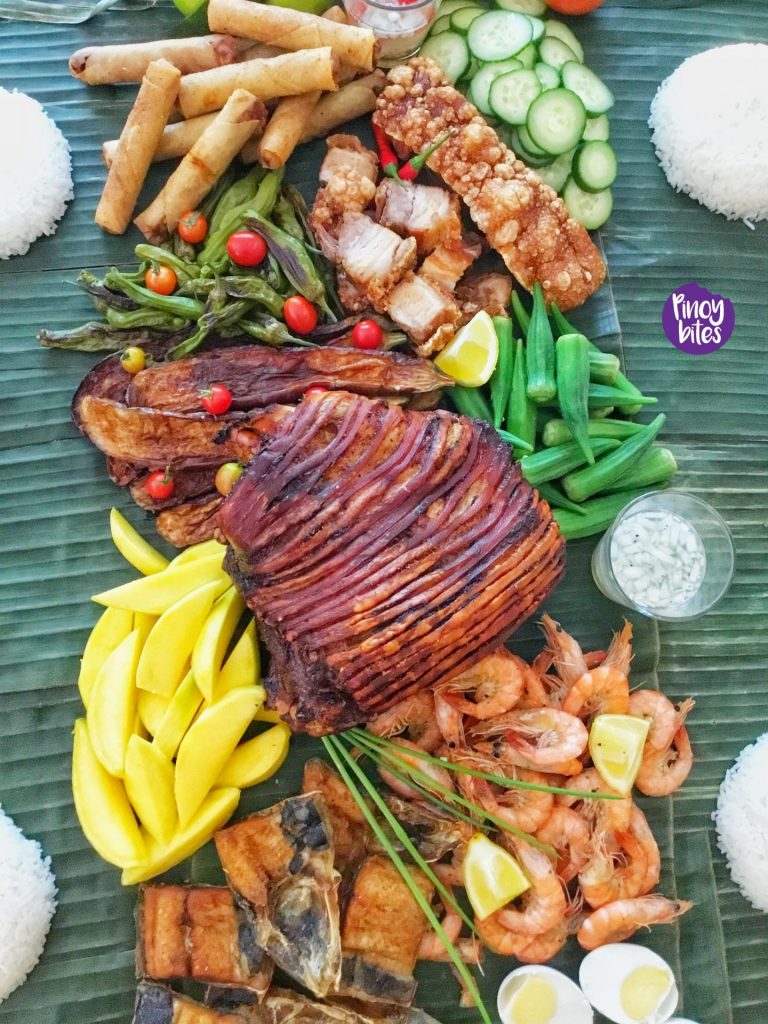 There's no wrong way of doing a boodle fight. I guess the banana leaves are a must but other than that, the selection of food that you serve on top is entirely up to you. If you really want to try how Filipinos do it, here are my tips on making your own boodle fight .
RICE – This is a constant. It's the base of the arrangement. If you prefer noodles, you can substitute Pancit (Stir-Fried Rice Noodles) to make up for the carbs. For us, rice and pancit can be BOTH present in any boodle but rice wins all the time. Alternatively, you can just arrange all the dishes in the middle of the table and place individually scooped rice along the perimeter of the boodle (in front of each place setting). This way, each person can have their own.
PROTEIN – Drier food is preferred like meat, fish or seafood that's been fried, grilled, steamed or dishes in gravy-like consistency for easier handling. Lumpiang Shanghai, Fried Chicken and Daing na Bangus are just some of the commonly served dishes. If you have Lechon, Roast Pork, Roasted Chicken or Turkey, you can position it in the middle as a focal point.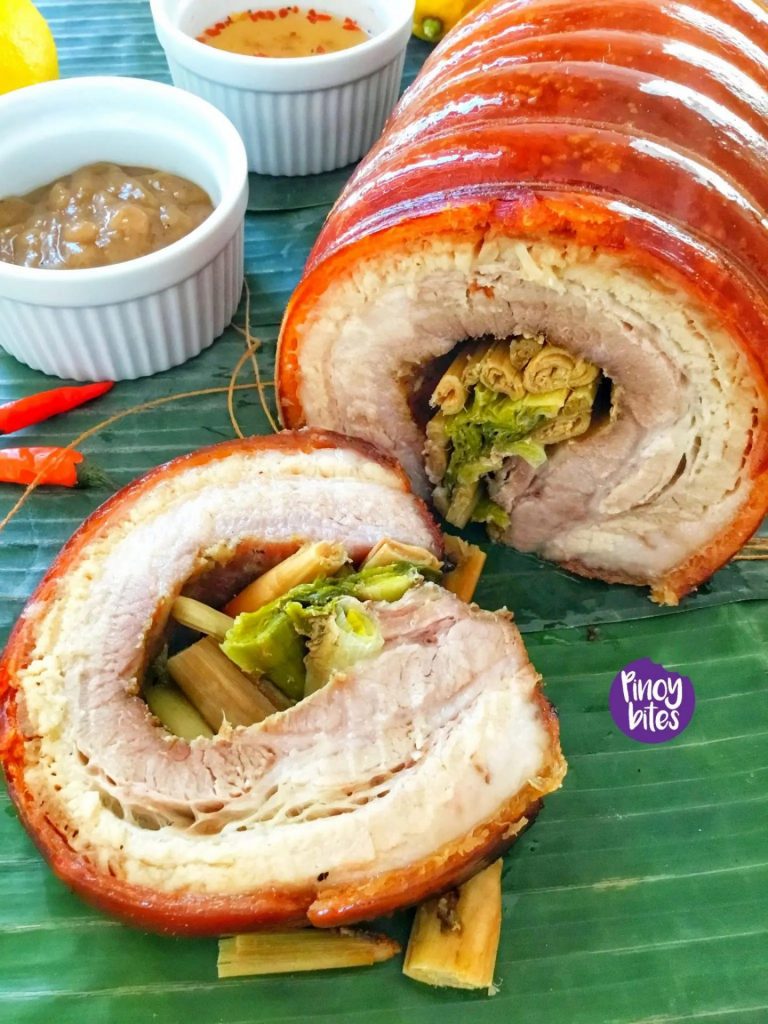 VEGETABLES/FRUITS – Grilled, fried, steamed or boiled corn, eggplant, okra, sitaw (long beans), sliced tomatoes, chopped green mangoes are the usual suspects but you can add or use any vegetables that you prefer. Sliced pineapple, watermelon, ripe mangoes and bananas are also normally present. Like the veggies, you can use seasonal fruits that you like that's available in your local area.
SIDE DISHES/CONDIMENTS/SAUCES – Atchara(pickled veggies), sliced salted eggs, chopped tomatoes mixed with chopped mangoes and onions, dipping sauces like sautéed shrimp paste, spiced vinegar (with garlic and chillies), ketchup or anything that pairs well with what you're serving.
DESSERTS – Leche Flan, Ube Halaya (Purple Yam), No-Bake Cheesecake, or the numerous varieties of Filipino rice cakes like Maja Mais Pie, Bibingka, Biko and Suman Sa Lihia. That being said, you can use pies, cakes or any dessert of your choice. They're usually positioned at one end of the Boodle table.
That's basically it! This might look overwhelming but remember, you know the people you're having this special meal with the most. So, go ahead and customize it according to your preference. And if preparing all the selections above made you hesitate, just cook/prepare the ones that you can and buy the rest at your favorite Filipino restaurant or store. At the end of the day, it's all about the laughter shared, and the endless stories that were exchanged while at the dinner table.