Filipinos love to celebrate and every single one of them centers around food. If you have been to a Filipino gathering, you know what I'm talking about. Whether store-bought or homemade, the amazing lineup of bountiful food are beautifully arranged on the dining table with a special dish taking center stage.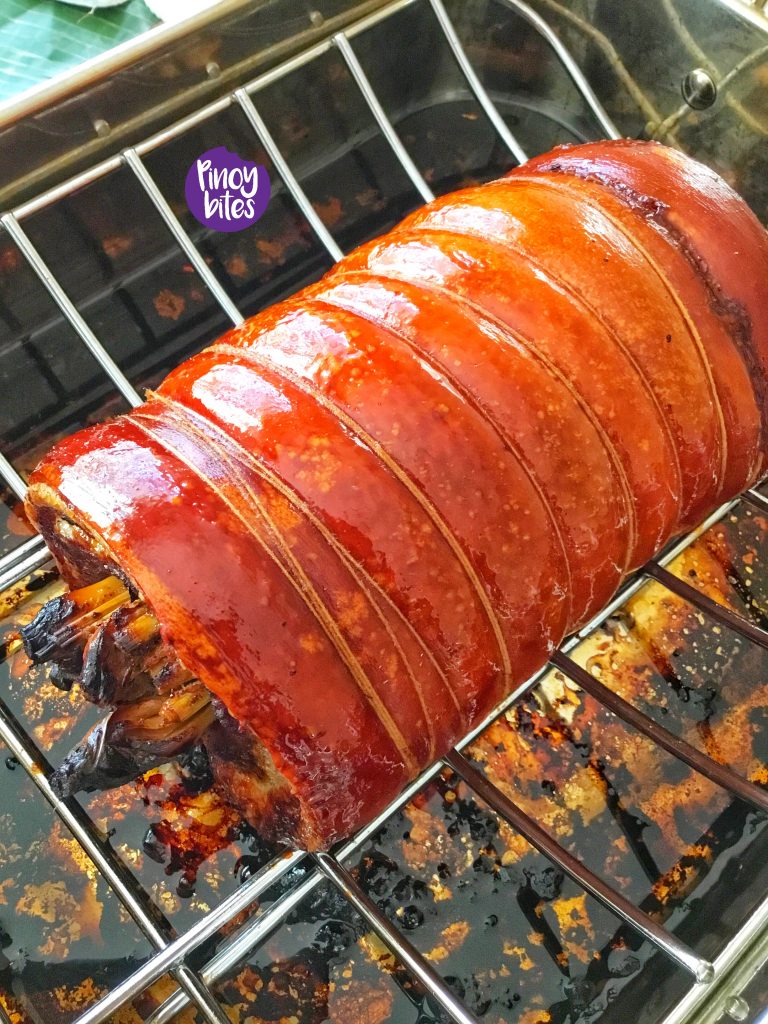 Lechon is one festive dish that's only served on momentous occasions. If lechon is on the menu, there must be a special milestone or an important event happening. But because of its size, it's not apt for small gatherings. That's when Bellychon steps in. It's just the right size for small parties yet has the same satisfaction as feasting on a whole pig. And of course, budget friendly.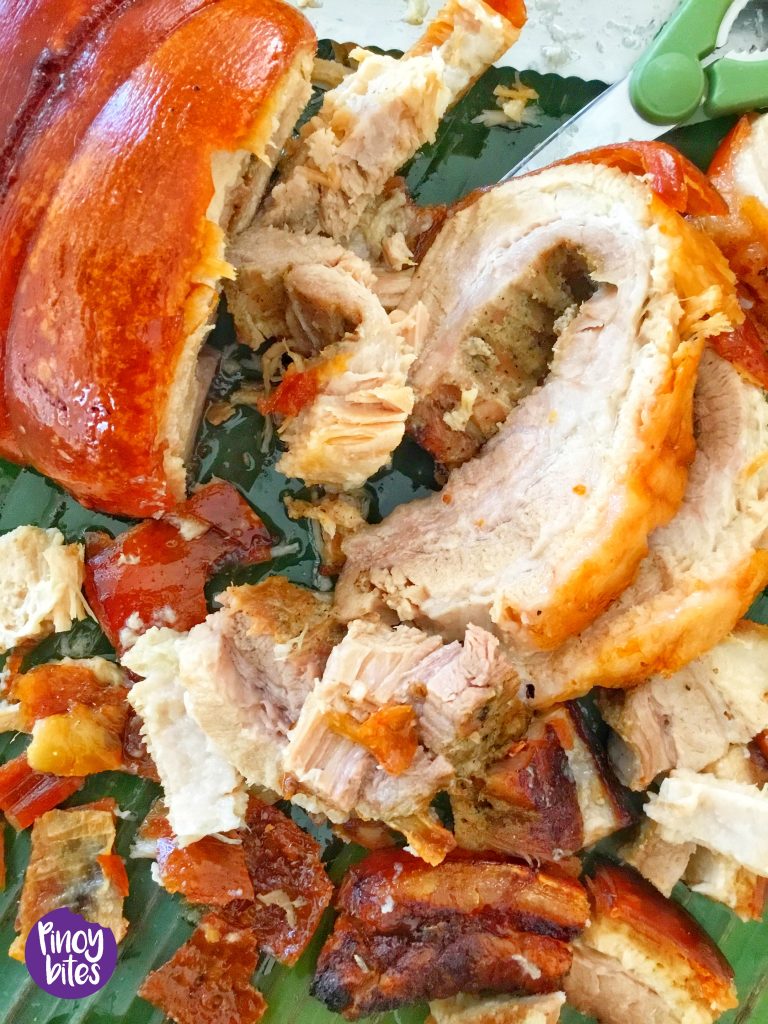 Though it looks so grand, making it is actually quite easy. The hands-on time is very minimal and for me, the hardest part was tightening the kitchen twine to make sure it keeps its glorious shape. After that, into the oven it goes to roast into a golden, crispy perfection with the juiciest meat inside. In between, occasionally basting and switching the temperature setting from low to tenderize the meat then cranking it up to high heat to give it that crackling skin goodness! Ohhhh soooo yummm!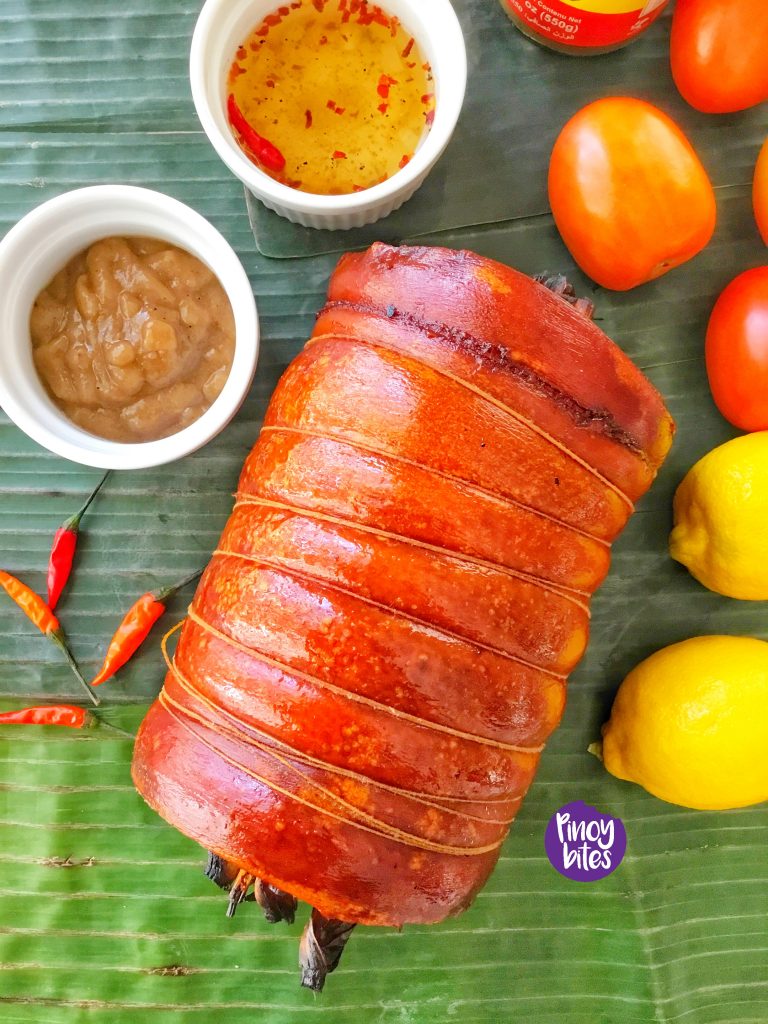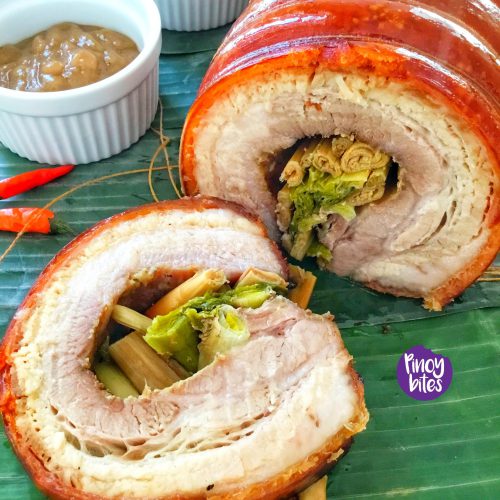 Lechon Belly (Crispy Roasted Pork Belly)
The ultimate way to eat pork belly! Succulent, moist with crispy crackling skin.
Ingredients
1

slab of pork belly

skin-on (about 2 kgs/4.4 lbs)

1

teaspoon

salt

1

teaspoon

ground black pepper

1

teaspoon

garlic powder

1

teaspoon

onion powder

A handful of lemongrass

abt 5 whole, bulbs pounded

A handful of green onions

1 bunch

2

teaspoons

sea salt

to rub the skin

Kitchen twine

to tie lechon

Roasting pan with rack*

see notes for substitution

Pastry brush

for basting
Instructions
In a small bowl, mix 1 teaspoon each of salt, pepper, garlic powder and onion powder. Sprinkle over the meat side of the belly and rub well. Arrange lemongrass and green onions in the middle (fold to fit the length of the meat) and roll the belly until it reaches both ends. Tuck the greens inside the meat to prevent burning. With a kitchen twine, make tight knots about an inch apart to keep the rolled shape intact. Wipe the rolled meat with paper towels.

Rub the skin with 2 teaspoons of sea salt and let it rest for 20-30 minutes. This will draw out the extra moisture from the meat. Wipe the pork skin once again with paper towels to remove all visible moisture. Place the rolled pork on top of the rack fitted in a roasting pan, seam side down.

Preheat the oven to 300F. When ready, pat the skin one more time with paper towels before putting it in the oven. Bake for 2 hours. Then, increase the temperature to 350F. After 1 hour, baste the skin with the oil drippings, rotate and continue cooking for 1 more hour (2 hours total at 350F). This will ensure even browning of the roast.

Baste again with oil then crank the oven temperature to 425-450F (**see notes) and roast until golden and crispy (crackling skin). It will take about 20-30 minutes.

Let the bellychon rest for 15 minutes before chopping. This will ensure the meat juices redistribute, making the roast very juicy. Serve with Mang Tomas lechon sauce or soy-vinegar dip with lots of chilies.
Notes
*If you don't have a roasting pan, place the rolled meat directly on the oven rack (middle) then position a rimmed baking sheet under (lower oven rack) to catch all the meat drippings. **Oven temperatures vary. Start at 450F but if it's browning too quickly, reduce to 425F.