Filipinos love pork! We have tons of dishes made from it but I think the Lechon (whole roasted pig) is the best of them all. It usually takes centerstage on special occasions and celebrations. But with the "new normal" wherein gatherings are limited and there's a small cap to the number of people that can have a meal together, having a whole lechon is not necessary. Small gatherings equal smaller portions.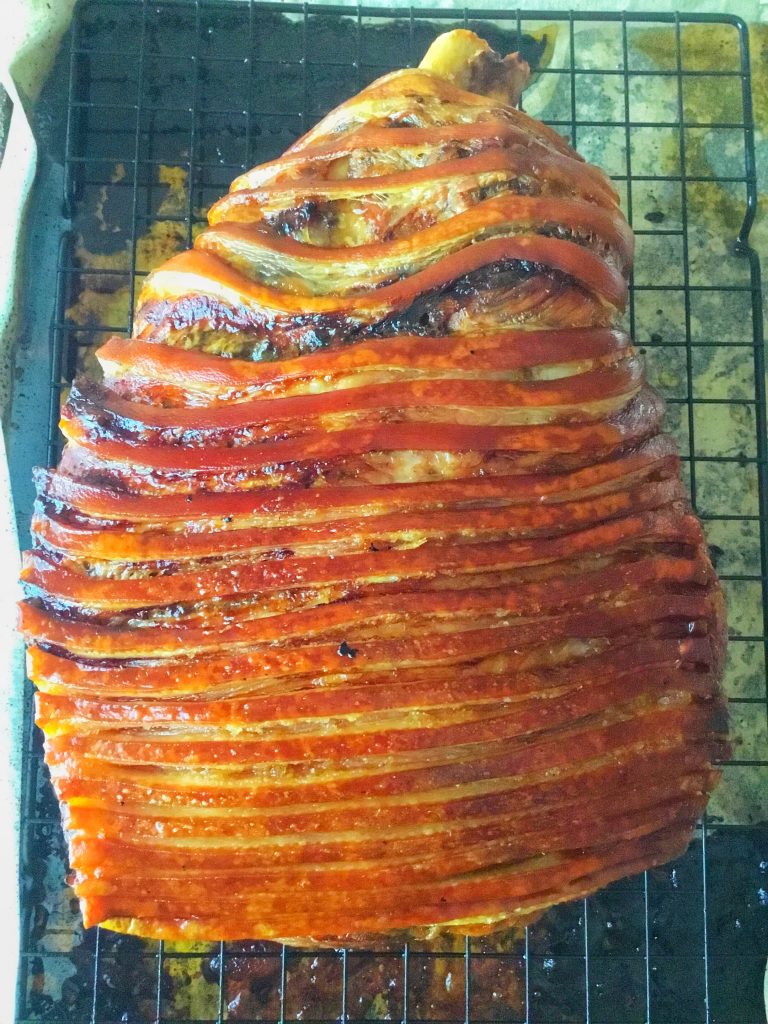 This pork shoulder roast is just the perfect size that you can prepare at home. The other ingredients needed are just basic spices that I think you already have. Low and slow is the name of the game and patience is the most important factor in achieving a super tender and moist roast with some serious blistered cracklings that will surely impress your family or whoever you are making it for. The instructions are very simple….it's basically just changing the oven temperature a couple of times and you'll be rewarded with a beautiful and mouth watering pork roast that you will be proud of. 
If you still think that this is too big for you, let me tell you that I sometimes make this just for the leftovers. That's true! Aside from lechon paksiw, I use it to make sisig, fried rice, as a sandwich filling, or just fry it in some oil and serve it with egg and garlic rice for breakfast. I've heard some people use the meat for sinigang, which I have yet to try.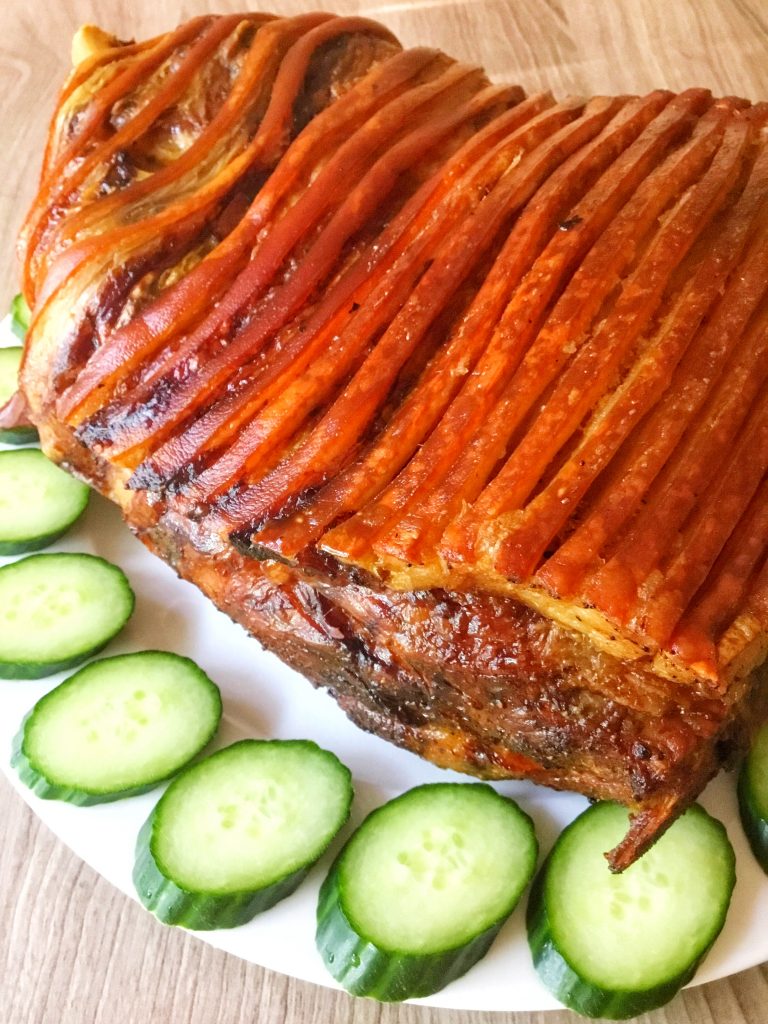 Let this roast take centerstage on your next gathering. You won't regret it!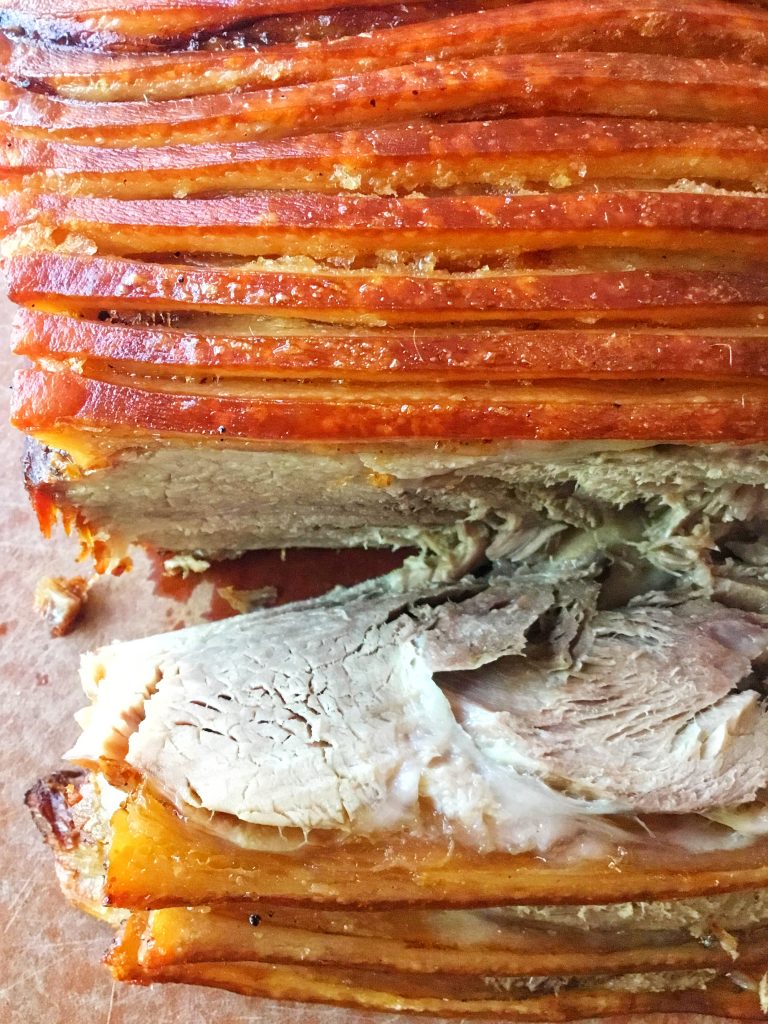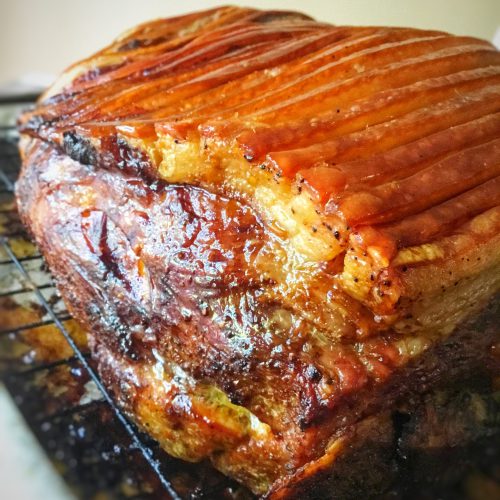 Moist and Crispy Oven-Roasted Pork
An elegant roast that's super tender and moist with crispy, crackling skin. It's an inexpensive alternative to lechon that is equally delicious and a perfect centerpiece to any celebration.
Ingredients
1

whole pork shoulder

bone-in ( about 8 lbs)

2

teaspoons

sea salt

to rub on the skin
Dry Rub (for bottom and sides of meat):
1

teaspoon

sea salt

1

teaspoon

ground black pepper

2

teaspoons

garlic powder

2

teaspoons

onion powder
Dipping Sauce:
½

cup

vinegar

2

tablespoons

soy sauce

2

cloves

garlic

chopped

1

small onion

chopped

2

thai chilies or ½ teaspoon chili flakes
Equipments needed:
Cookie sheet with sides

Baking rack

Aluminum foil
Instructions
Using a sharp knife, cut slits on the skin of the meat (1 cm intervals) until it reaches the fat. Be careful not to include the lean parts of the meat. Pat the skin dry with paper towels. Sprinkle and massage 2 teaspoons of salt all over the skin, including the crevices from the cuts.

Combine the ingredients for the dry rub and massage it to the lean parts of the pork (bottom and sides).

Preheat the oven to 425F. Position the oven rack on the 2nd slot from the bottom. Line a cookie sheet with aluminum foil (for easier clean up) then place the baking rack on top. Position the meat (skin side up) on top. Once the oven is preheated, place it inside the oven and roast for 20 minutes.

Without opening the oven door, lower the heat to 325F and continue baking for 5 hours. Baste the roast using the oil drippings (or just use cooking oil) every 30 minutes on the last 2 hours of baking.

Increase the heat to 400F and continue roasting for 10 minutes or until the skin is golden, blistered and you'll hear crackling sounds. It will be very crispy when tapped.

Remove the roast from the oven and let rest for 15 minutes before carving. Serve with soy-vinegar-garlic dipping sauce, Mang Tomas sauce or atchara (pickled papaya).
Notes
* Leftovers, if any, can be warmed in the oven or fried for a few minutes. You can also use it in fried rice, to make sisig or as a sandwich filling.