Before moving to Canada, we lived in the US (New Jersey) for four years. We were in our 20s and it was our first time living so far away from home. It was, in some ways, an adventure filled with great memories shared with friends, both those we've known from back home who were in the same boat as us and new friends we met there. Both became like a family to us providing a home away from home. I really miss them a lot.
I didn't know how big the fourth Thursday of November is until I experienced it myself having lived in the US. It was huge! Apart from the grand Thanksgiving dinner, there was also the famous Macy's parade and the anticipation of Black Friday deals. Supermarkets hand out free turkeys the week prior but handling that humongous bird was always daunting. Not knowing how to even cook or butcher it, I would either politely decline the free turkey or give it away.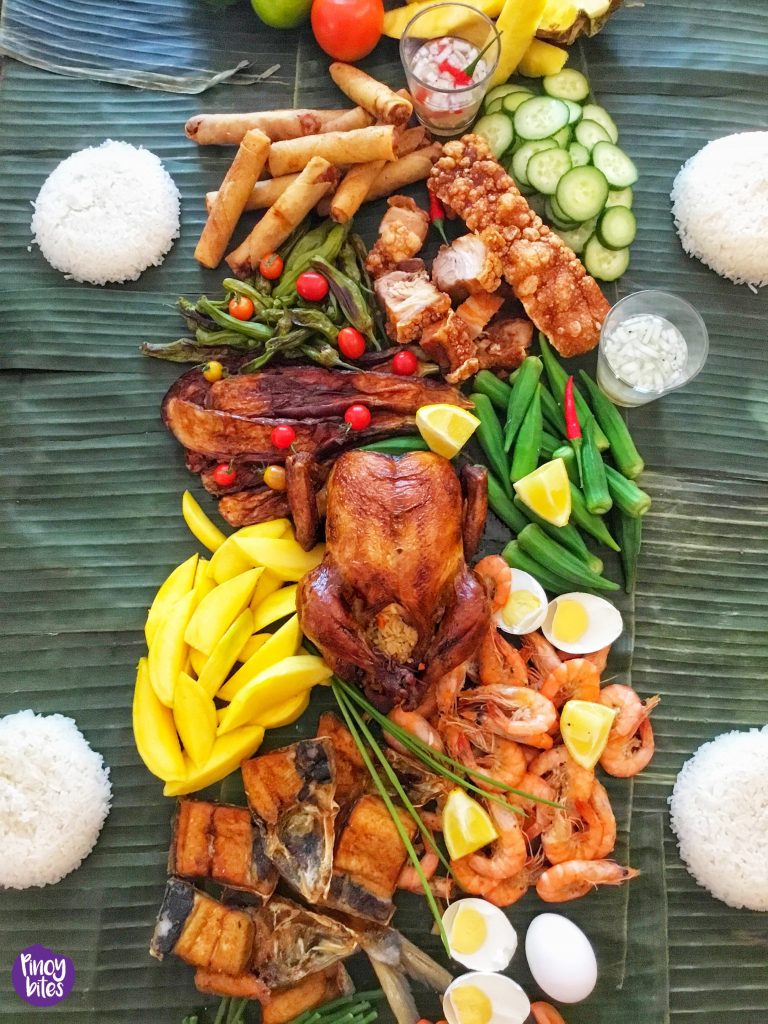 But there was this one inevitable Thanksgiving gathering when we were assigned to bring Turkey. I was numb for a second but couldn't refuse the request so I mustered some strength and checked online (for a few days) for a recipe that wasn't so intimidating. It took forever to cook it so we were an hour late to the party. Much to my surprise, everyone loved it and there were only a few patches of meat left on the carcass. But the aftermath when we came home to our tiny apartment lingered for a few days. Our place (and everything in it) smelled like Turkey! After that, I made sure we brought something else the next time.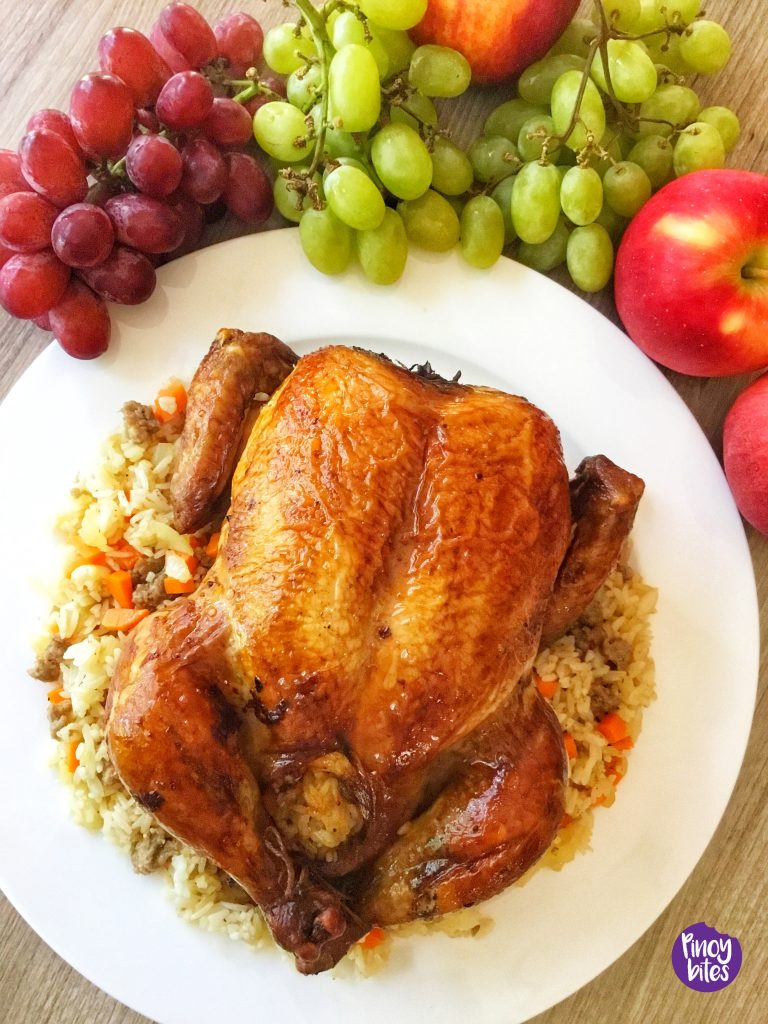 Roast Chicken was perfect for us. It's the right size, way easier (and faster) to cook, and our palate loves it. This can be cooked like our Easy Roast Chicken (Filipino-Style) but for fancier occasions like Thanksgiving and Christmas, stuffing it is like dressing it up a bit. Aside from the usual Pinoy marinade of Calamansi (or lemon) and Soy sauce, I stuffed it with something very Filipino to echo that homey feel. The longganisa adds flavor to the rice and paired with the meat juices extracted from the chicken, it's elevated to a whole new level.
With all the restrictions of this pandemic that we're all still in, gatherings are kept to a minimum. This is perfect for a small family or you can double the recipe for a bigger group.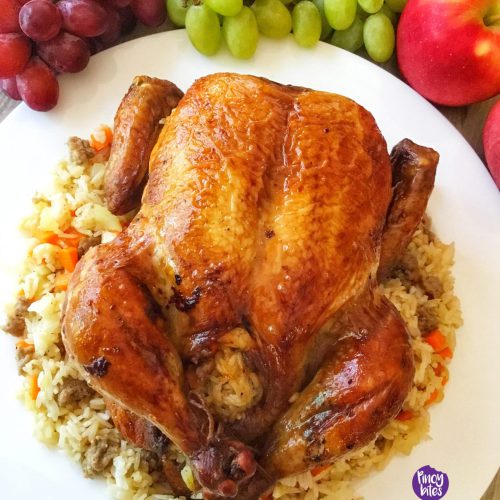 Roast Chicken with Longganisa-Rice Stuffing (Filipino-Style)
Succulent and tender roasted chicken packed with a savory longganisa-rice stuffing. Perfect size for the "new normal" way of celebrating.
Equipment
Roasting rack or baking sheet lined with rack

Kitchen twine (for tying the chicken leg)
Ingredients
1

whole chicken

giblets removed (3 – 3 ½ lbs)

⅓

cup

lemon juice

about 1 ½ lemons

⅓

cup

soy sauce

½

teaspoon

ground black pepper
For the Longganisa-Rice Stuffing:
1

tablespoon

oil

3

pieces

longganisa

uncooked and casings removed*

1

small onion

finely chopped

3

garlic cloves

minced

1

cup

cooked rice

Salt and Pepper

to taste
Instructions
Marinate the chicken : Combine the lemon juice, soy sauce and ½ teaspoon ground black pepper in a large ziploc bag or any food-grade container with a lid. Mix well. Add the whole chicken and close the bag to seal. Turn a few times to coat then marinate in the fridge for at least 4 hours (overnight is better). Flip the bag halfway for even marination.

Take the chicken out of the fridge (30 minutes before roasting) then make the stuffing.

Make the Longganisa-Rice Stuffing : Heat the oil in a medium pan and saute onion until softened. Add the garlic and the longganisa. Break the meat apart using the back of a wooden spoon (like ground meat) and cook until the meat is lightly browned. Stir in the cooked rice for a minute then season with salt and black pepper, if needed. Set aside to cool a bit.

Preheat the oven to 425F. Prepare a roasting pan with a rack insert or a baking sheet lined with a rack. Spray some oil where you'll position the chicken.

Carefully spoon the stuffing inside the chicken cavity. Place the legs together (slightly overlapping) then secure with kitchen twine. Tuck the wings under. Rub (or spray) some oil all over the chicken then place in the middle of the roasting pan.

Roast for 20 minutes at 425F then lower the heat to 375F (don't open the oven door) and bake for another 45-55 minutes or until fully cooked.

Rest for 10-15 minutes before cutting and serving.
Notes
*Adjust the stuffing seasoning depending on the type of longganisa you use. **Make sure the chicken is fully cooked. The internal temperature in the thickest part of the thigh is 165F. Other signs include legs and wings will easily wiggle when moved and juices will run clear when the thick part between the thigh and breast is poked. ***Serve the extra stuffing alongside the chicken.