Both of my parents love to cook but there's one talent my dad has that none of us (at home) can do…. he never tastes the food while cooking! He just randomly adds the seasonings, smells the aroma coming from the pot and before we know it, he's done. And the dish always comes out perfectly seasoned. How cool is that?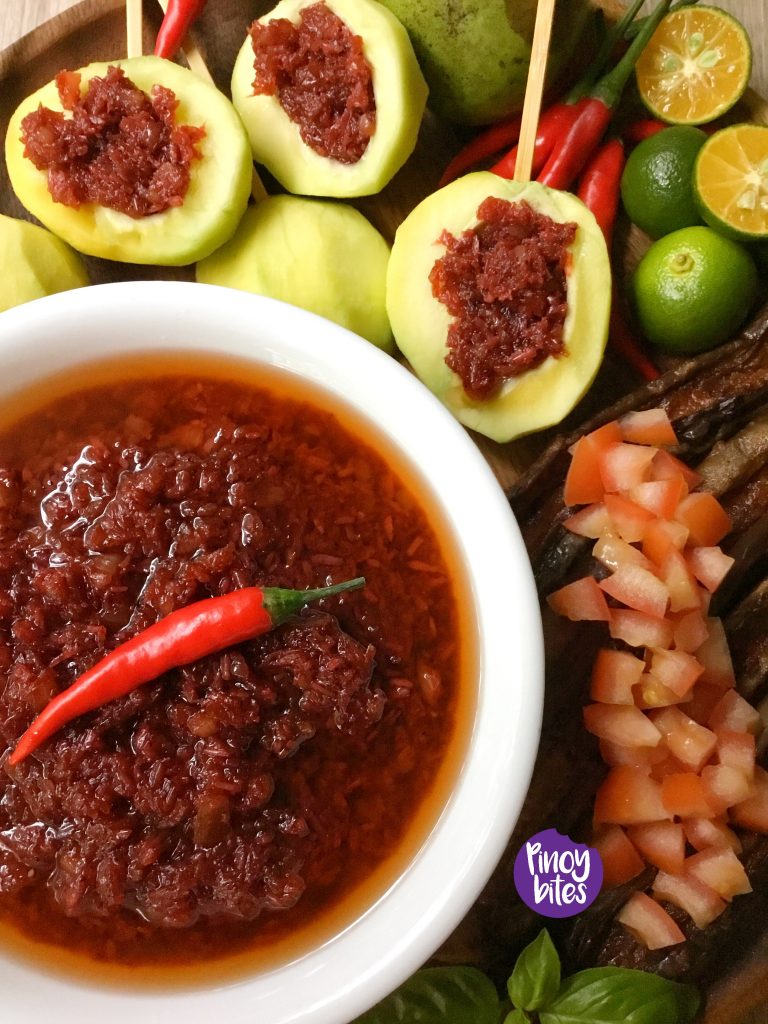 This is one dish that he used to cook a lot of when I was younger because my mom loves it. He would personally buy fresh alamang in the market (because he can't trust us with the quality, haha) and would postpone making it if the ones available are not that fresh. He is impeccably clean while doing his magic in the kitchen and we would even joke around that the nutrients would have gone down the drain because he would wash the veggies before and after peeling and again, before putting them in the pot. Because we lived in Manila, he would reason that dust might have landed while the veggies waited for their turn to go into the pot. Haha! I think I got some of that from him, just not to that extent.
Bagoong Alamang (Sauteed Shrimp Paste) is an indispensable ingredient in a lot of Filipino dishes. It's oozing with umami and imparts a pungent but pleasing taste which enhances and gives some dishes an extra oomph in flavor. Though at times, some (especially non-Filipinos) are not keen on its distinct smell.
A few points he reiterated while I was on video chat with him – rinse and drain the alamang (to remove a lot of the salt and coloring), simmer once all the ingredients are sauteed, no tomatoes (especially if you're cooking a big batch because it spoils quickly, he said).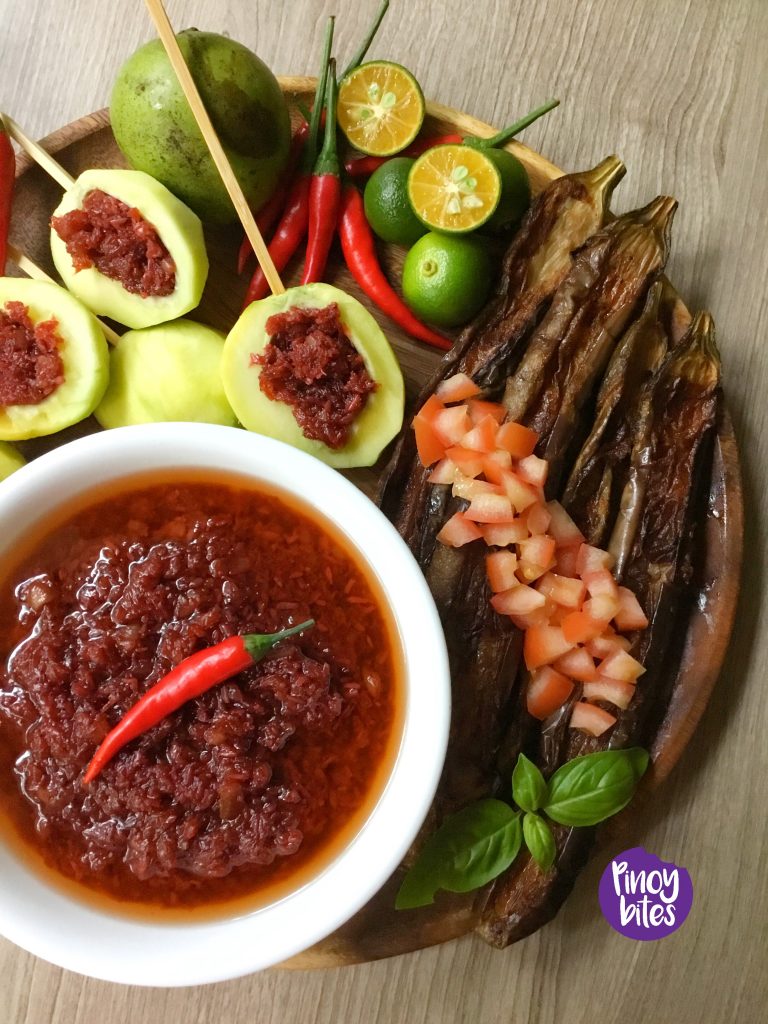 There are a number of choices in North American (Filipino/Asian) markets and they vary from regular, sweet and spicy. Once out of curiosity, I bought different brands that I was able to get my hands on. I tried them all and was surprised at how much they differ in taste and texture. Most of them are okay but watch out for some brands that have extenders in them. Cooking Alamang yourself from its raw, salty state doesn't take much time and you can customize it exactly the way you want!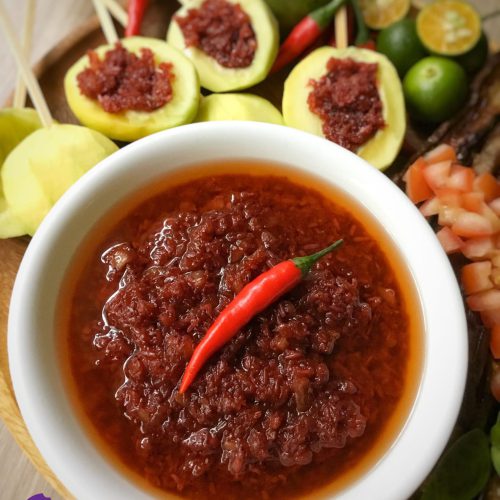 My Papa's Ginisang Alamang (Sauteed Shrimp Paste)
This very easy, do-it-yourself Sauteed Shrimp Paste lets you customize your alamang exactly the way you want it! The hardest part is deciding whether you want it sweet, salty or overwhelming with chillies.
Ingredients
1 340

g

bottle Alamang

Salted Shrimp Fry (not the sauteed one, usually pink in color)* see notes

½

cup

oil

or 1 cup cubed pork fat, see #2 below

4

cloves

garlic

finely chopped

1

onion

finely chopped

3

tablespoons

vinegar

⅓

cup

dark brown sugar

or more** see notes

A pinch of ground black pepper

2

Thai chillies

chopped (optional)
Instructions
Empty the contents of the bottled alamang into a fine strainer. Briefly rinse under cold running water (about 3-5 seconds) and drain (to remove extra salt and color). Do not squeeze extra liquid, just let it drain. Set aside while you prepare the rest of the ingredients.

If you want to use pork instead of just plain oil, cut fatty parts of pork into small cubes (no skin) and add to a pot with 1 tablespoon of water and a pinch of salt. Cook until liquid is gone and oil is fully rendered. The meat will be nicely browned.

Heat oil in a pot OR follow Step 2 if using pork fat. Add the garlic and cook on medium heat until starting to brown. Then, add the onion and saute until softened.

Mix in the prepared Alamang (Salted Shrimp Fry) and stir continuously until cooked (pink color will subside), about 5-6 minutes. Drizzle the vinegar and keep stirring for 2 minutes or until the vinegar evaporates and oil starts to sizzle again.

Add brown sugar, ground black pepper and chillies (if using). Lower the heat to medium-low and continue stirring until the sugar completely melts and starts to caramelize (about 3-5 minutes). It's done!

Cool a bit and spoon in a mason jar or any food-safe container and refrigerate (inner side of the fridge) until needed. This will keep for about 2-3 wks, if it lasts that long.
Notes
*Make sure you buy the Salted Shrimp Fry which is in its raw state and is usually pink in color.
**Salt content depends on each brand so adjust your sugar accordingly.
***If you prefer your alamang sweet and thick, add more brown sugar.