Bibingka (rice cake) is another treat during the holiday season. I remember, growing up in the Philippines, I was so amazed at how it's cooked in the street especially during the holidays.
Bibingka is baked in a makeshift oven fueled by charcoal. Its cooking vessel is sandwiched between the heat coming from the bottom and a flat piece of metal with a long handle is placed on top of the rice cake. Then, more pieces of hot charcoal is placed on top to evenly cook the babingka.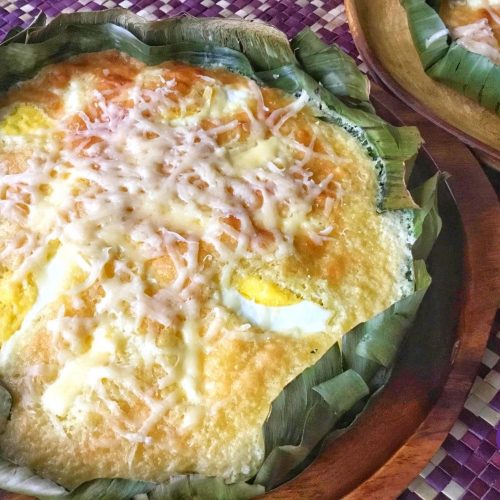 Special Bibingka
This bibingka is so delicious with the right balance of sweet, salty and richness. It remains soft even after a day. Make it a part of your Christmas spread.
Ingredients
2

cups

rice flour

1/2

cup

glutinous rice flour

4

teaspoons

baking powder

1

cup

white sugar

pinch

of salt

4

eggs

lightly beaten

1/2

cup

melted butter*

reserve 2 Tbsps for brushing

1

400 ml can

coconut mlk

I used Aroy-D

2

salted eggs

sliced into wedges

1/2

cup

cream cheese

thinly sliced

grated cheese or grated coconut

to serve

banana leaves for lining the pan

or parchment paper
Instructions
Preheat oven to 350F. Place the rack in the middle of the oven. Line two 9" round cake pan with parchment paper or banana leaves**. (See notes on how to prepare banana leaves)

In a large bowl, combine the flours, baking powder, sugar and salt. Mix well with a whisk.

In another bowl, put the beaten eggs, butter* and coconut milk. Mix until well combined then add to the flour mixture. Stir lightly until no lumps are visible.

Divide mixture between two prepared pans and place in the preheated oven.

After 10-12 minutes of baking (top should have set a little bit but still be very jiggly), gently pull the oven rack (just enough to safely place toppings) and carefully (and quickly) top the bibingka with salted egg slices and cream cheese. Replace the rack and continue baking for another 15 minutes or until set. Brush tops with the remaining butter and switch to broil and cook for another 1-2 minutes if the bibingka is not brown enough to your liking. Watch carefully to prevent burning.

Remove from the oven. Top with grated cheese or freshly grated coconut and serve with coffee, salabat (ginger tea) or hot chocolate. Refrigerate leftovers and warm in the microwave for a minute (or less) before serving.
Notes
**If using frozen banana leaves, thaw at room temperature then cut 4 pieces measuring about 12 inches in length (or at least 2" larger than the pan you are using). Wash under hot tap water and dry with paper towels. Turn the burner on and pass the leaves for a few seconds over the heat to make it pliable. Gently place 2 pcs on each pan (intersecting) to cover the pan completely with some overhang. Cut the extra leaves using kitchen scissors.