Who doesn't love fried chicken? Because my family likes it super crispy, I experimented a long time ago using different kinds of flour and the proper way of breading each piece. It's amazing how some can give you the crunch while others just trap unwanted moisture between the skin and the meat making it unpalatable.
Rice flour! That's one secret. It gives the crispiest outside crust that my kids love. Enough said, here's the recipe. Enjoy!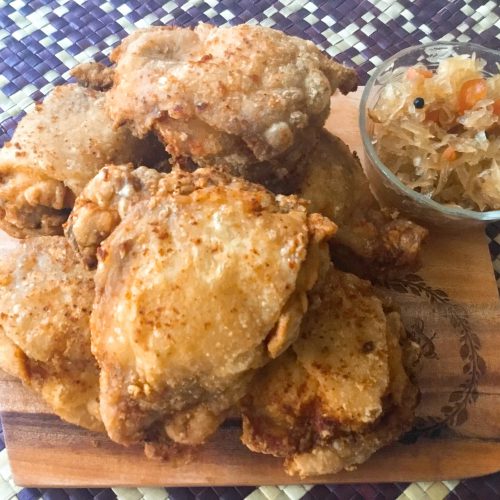 Crispy Fried Chicken
A very delicious and easy to make crispy fried chicken recipe that you'll surely like.
Ingredients
2 to 3

lbs

chicken bone-in

skin-on thighs

3/4

cup

rice flour

1

Tablespoon

sea salt

1

teaspoon

ground black pepper

1

Tablespoon

garlic powder

1

Tablespoon

onion powder

1

Tablespoon

paprika

optional

Canola Oil for frying
Instructions
In a large bowl, combine rice flour and spices. Mix well.

Pat the chicken dry with paper towels. Partially peel the skin off (like opening a book) the chicken WITHOUT separating from the meat. Dredge with flour mixture. Make sure to coat all surface areas especially between the skin and the meat (This will create an extra crispy pocket). Repeat with the rest of the meat. Discard remaining breading.

Heat a large frying pan and fill with ¾ – 1" oil (it should cover the chicken halfway while cooking). Gently place the chicken pieces (on medium heat) skin-side down on the oil and fry for about 15 minutes flipping halfway through. Lower heat if the meat is browning too fast. Turn it again one last time for another 3- 5 minutes or until skin is super crispy and golden brown.

Drain on a rack, making sure the pieces don't touch each other to remove excess oil and maintain crispness. Serve immediately.
Notes
*Cooking times vary depending on the size of the chicken. Make sure it's cooked all the way through before serving.
**Do not crowd the pan or the oil temperature will drop and your chicken will absorb too much oil. If your pan is not large enough to cook all the chicken at one time, do it in batches. Fish out any bits of crumbs left in the oil before cooking a new batch and sure the oil is hot enough.
***To test if the oil is ready, dip the handle end of a wooden spoon (or wooden chopstick) to the oil and if it starts to form bubbles around it, it's ready. Make sure oil is not smoking hot or the chicken will burn before the inside is cooked.
---