I think I was in college when I first had a "love at first bite" moment with a Blueberry cheesecake. It was homemade by my dearest Tito Jerry, who is an awesome cook! Every time we visit them, I always look forward to the food he lovingly prepares. Looking at us enjoy every single bite, puts a smile on his face and made all his efforts worthwhile. That's my Tito Jerry and I love him dearly.
It was in 2010 when I suddenly craved for his cheesecake. The great thing about his recipe is that it only uses a pack of cream cheese which in itself reduces the guilt factor when eating more than one slice. It's mixed with a pastry cream of some sort and lightened with whipped cream. For me, it's just perfect!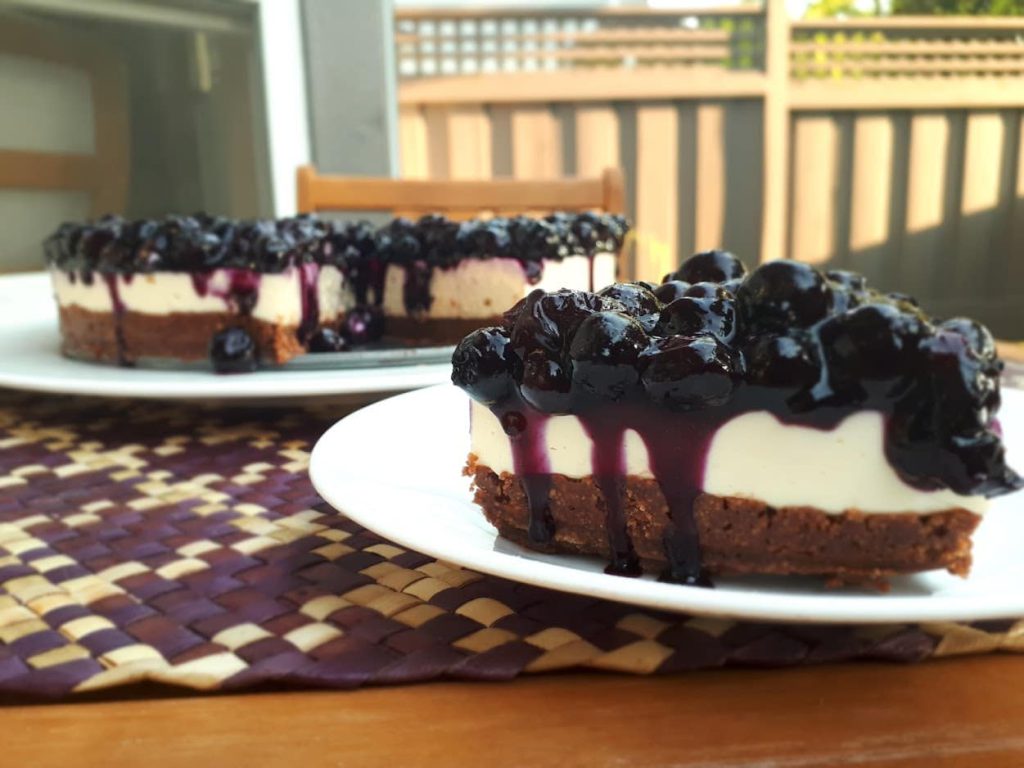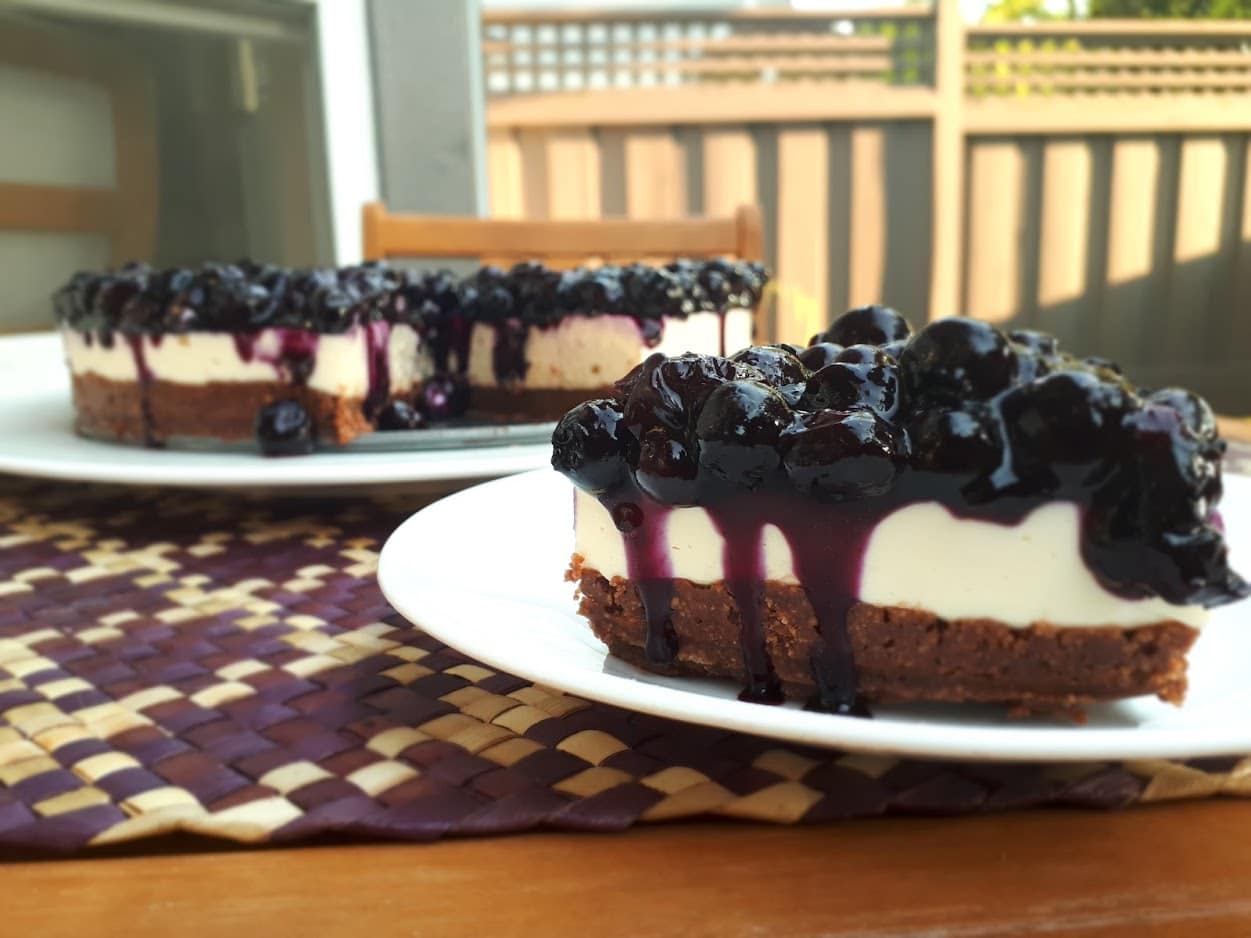 My eldest son loves this cheesecake so much and requested this to be his birthday cake. I made one a week before and made a dulce de leche version on his birthday which made his day. This cheesecake is a blank canvas so you can really personalize it to any toppings that you fancy.
This is easy to make. I tweaked the recipe a little bit to my liking . Just measure all the ingredients before starting and read the instructions and I promise you'll be rewarded with a delicious Blueberry Cheesecake at the end. One more thing, be patient because you still need to park your creation in the fridge for a few hours for the gelatin to set. And…. don't eat it all in one sitting!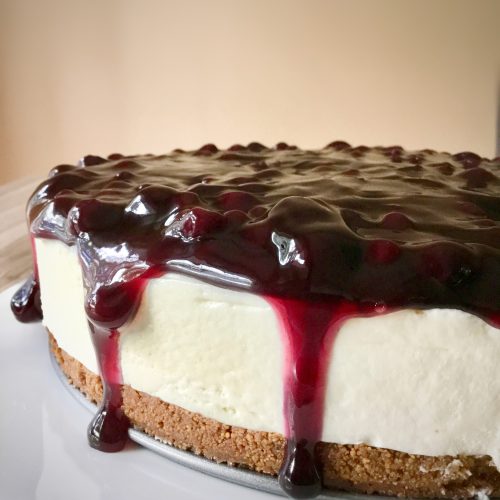 Best No-Bake Blueberry Cheesecake
This Filipino-style "No Bake" blueberry cheesecake packs a whole lot of flavor and taste. It is easy to make and uses only a cup of cream cheese making it lighter than the regular American cheesecake without sacrificing the taste.
Ingredients
For the Crust:
3

Tbsps

sugar

¾

cup

melted butter

2

Tbsps

unsweetened cocoa powder

400g

pack

graham cracker crumbs

 (2 ¾ cups)
For the Creme:
½

cup

granulated sugar

2

packs unflavored gelatin

(I used Knox)

¼

cup

cornstarch

1

354ml can

evaporated milk

3

egg yolks

(slightly beaten)

1

tsp

pure vanilla extract
For the Filling:
1

cup

cream cheese

8 oz , at room temperature

1

cup

heavy whipping cream**

(see notes)

1

can

Blueberry pie filling (like Comstock),*

topping (see notes)
Instructions
For the Crust:
In a bowl, combine sugar and melted butter. Add cocoa and cracker crumbs. Mix until well combined and press mixture on a springform pan with a removable bottom. You can also use 2 small pie plates.
For the Creme:
Combine sugar, gelatin and cornstarch in a saucepan and mix well. Slowly add water, milk and egg yolks while stirring to get rid of clumps. Cook over medium heat until thick. Turn off the heat and add vanilla extract. Set aside to cool.
For the Filling:
Using a whisk attachment of a stand mixer, beat the heavy cream until it turns into whipped cream. Transfer to a bowl, cover and put in the fridge.

Next, whip the cream cheese until smooth.

Mix in the prepared creme and whisk until well combined and smooth. Then, add the whipped cream. Gently fold until smooth and well blended.

Spread on top of the prepared crust then top with the Blueberry pie filling.

Chill for at least 2 hours and enjoy!
Notes
*To make your own blueberry pie filling, combine 3-4 cups fresh or frozen blueberries,  3/4 cup sugar, 2 tablespoons cornstarch and a pinch of salt in a saucepan. Stir to combine and cook on medium while stirring until thick ( You can mash about half of the blueberries while cooking ). Turn off the heat and stir in the juice of half a lemon.
** For a creamier cheesecake, use 473 ml pack of heavy whipping cream.
*** I use the bottom part of the measuring cup to press the crust firmly on the springform pan.