A few years ago, cooking Pancit was a "hit or miss" dish to me. That's why it's always on my list of the food to order during gatherings and whenever we have company. Since I learned how to properly cook it, I always have a couple of packages of the dry noodles in my pantry because it's not just a special occasion food…. we have it regularly.

We love vegetables (with just a few exceptions for my kids) and whenever I cook pancit, I put more veggies than what is normally called for. I don't think there's a right or wrong way as far as the vegetables and proteins are concerned, as long as the noodles are cooked right.

Here's my take on one of the most popular celebration dish in the Philippines. Hope you can spot the noodles behind the toppings. Haha!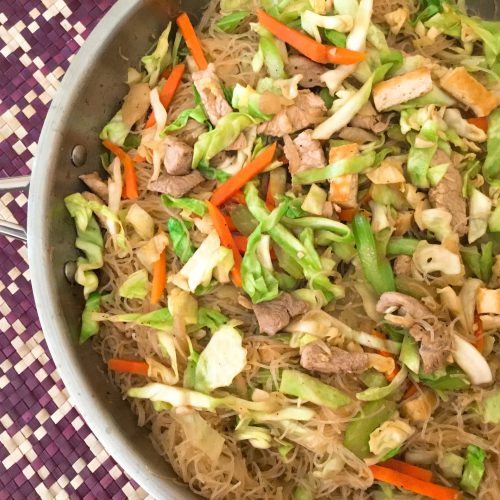 Pancit Bihon Guisado
Pansit is the most popular Filipino noodle dish that is always present in every celebration.
Ingredients
1 454

g

Dry Bihon noodles

I used Super Q Golden Bihon*

1

package of extra firm pressed tofu

sliced and fried

1

lb

pork sirloin

cut into small cubes/strips**

1

medium onion

finely chopped

5

cloves

garlic

minced

1-1.5

cups

carrots

julienned

1

medium head cabbage

thinly sliced

2-3

stalks celery

cut into small pieces

6 ½ – 7 ½

cups

chicken stock*

I use Better Than Bouillon roasted chicken base

soy sauce***

Salt pepper to taste

Oil for frying

2

stalks green onions

thinly slices (garnish)

Lemon slices or calamansi

for serving
Instructions
Slice the tofu crosswise into half an inch thick and fry in oil until golden brown. Cut into smaller pieces and set aside.

In a large pan or wok, saute onions in 2 tablespoons of oil followed by the garlic. Add pork, season with salt and pepper and cook for 5-10 minutes or until cooked through and starting to brown**. Add carrots and stir for one minute. Place the cabbage, celery and season with half a teaspoon of pepper and 1 tablespoon of soy sauce. Cook for one minute. Scoop the vegetables and leave the remaining liquid in the pan.

Add chicken stock just enough to make the liquid 6 ½ cups total. Bring to a boil and season with soy sauce (if needed). Once boiling, add dry noodles and stir around to submerge every piece. Separate strands using 2 wooden spoons. Once most of the liquid is absorbed, taste the noodles and season with salt and pepper accordingly. Add more chicken stock if needed.

Put about ⅔ of the cooked vegetables back and stir to combine. Turn heat off and transfer the pancit to a serving platter. Spread the reserved cooked vegetables on top and sprinkle with fried tofu and green onions. Serve with lemon slices.
Notes
*Dry bihon noodles absorb liquid differently depending on the brand. Use the lesser amount first before adding more.
**Some pre-cook the pork and use the cooking liquid instead of chicken broth. To do so, just place the pork in a medium saucepan and fill with water to the height of the meat. Add 1 teaspoon each of salt and black peppercorns and bring to a boil. Lower heat and simmer until pork is cooked and tender, about 20 minutes . Cut into small cubes and set aside. Reserve the cooking liquid.
***Taste your broth before adding soy sauce.
****You can add other ingredients like green beans, fish or squid balls, cooked shrimps or leave all the meat out and make it an all-veggie pancit.