We live about 30 kilometers east of Vancouver (Canada) and one of the perks of living here is the close proximity to a lot of farms. Products range from vegetables and berries in the summertime, apples and pumpkins in the fall to a whole lot more in between. We actually live in an area (about 5 minutes away) where blueberry farms abound. So cool, right?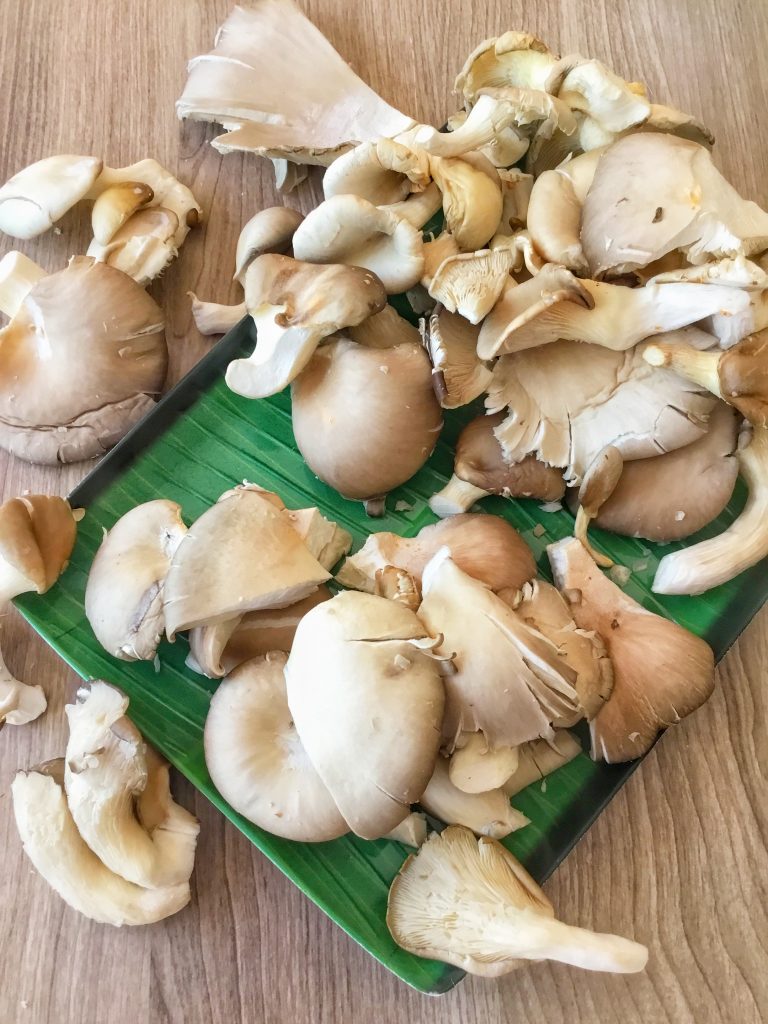 There's this one asian farm that we frequent once the weather gets warmer. They grow a lot of leafy greens like talbos ng kamote (sweet potato leaves) and kangkong (water spinach). One other thing that I buy there are oyster mushrooms. They come in a huge plastic bag and are very fresh and cheap. What I pay $6 for would easily be worth $20 at the supermarket. We did a quick stop last weekend after buying some vegetable seedlings at a nearby nursery. Sadly, they ran out of yam leaves but I got lucky with some kangkong and these lovely mushrooms.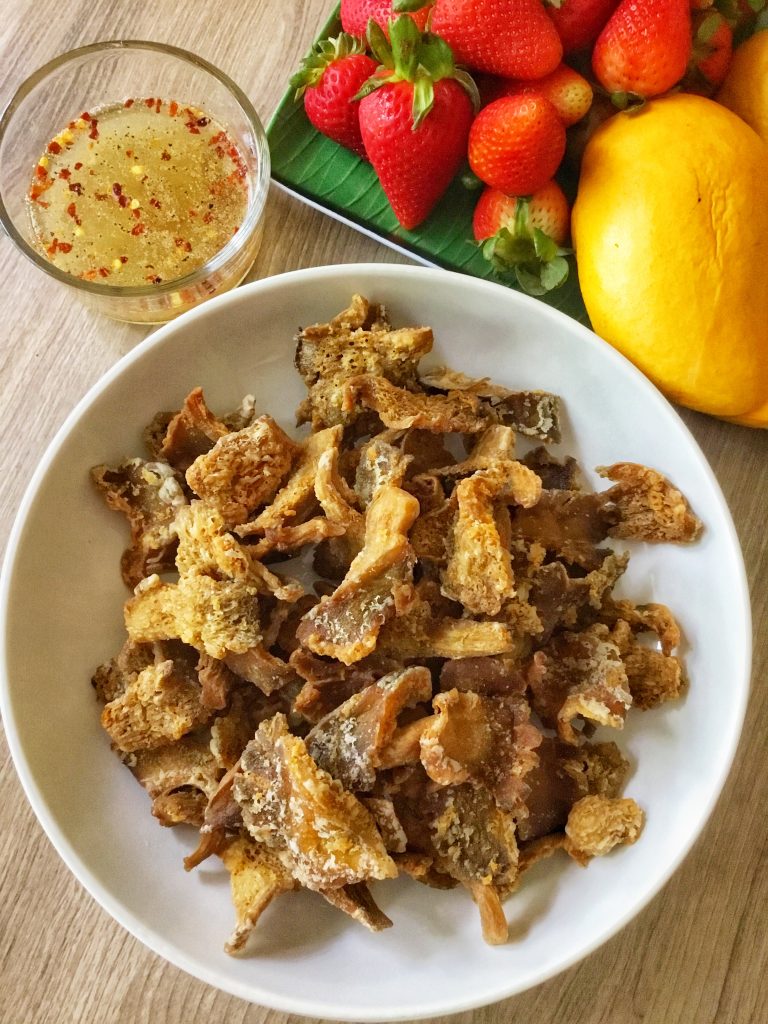 Only one of our kids eats mushrooms. I don't know if it's the texture or the taste they dislike so I had to be creative and cook them in a way that the little ones will approve of. Since crunchy is a unanimously popular texture, that's just what I did and it was a huge hit! I initially thought of frying these just once until golden but glad I did the double fry as it made an immense difference. Hence, the recipe name … Mushroom Chicharon.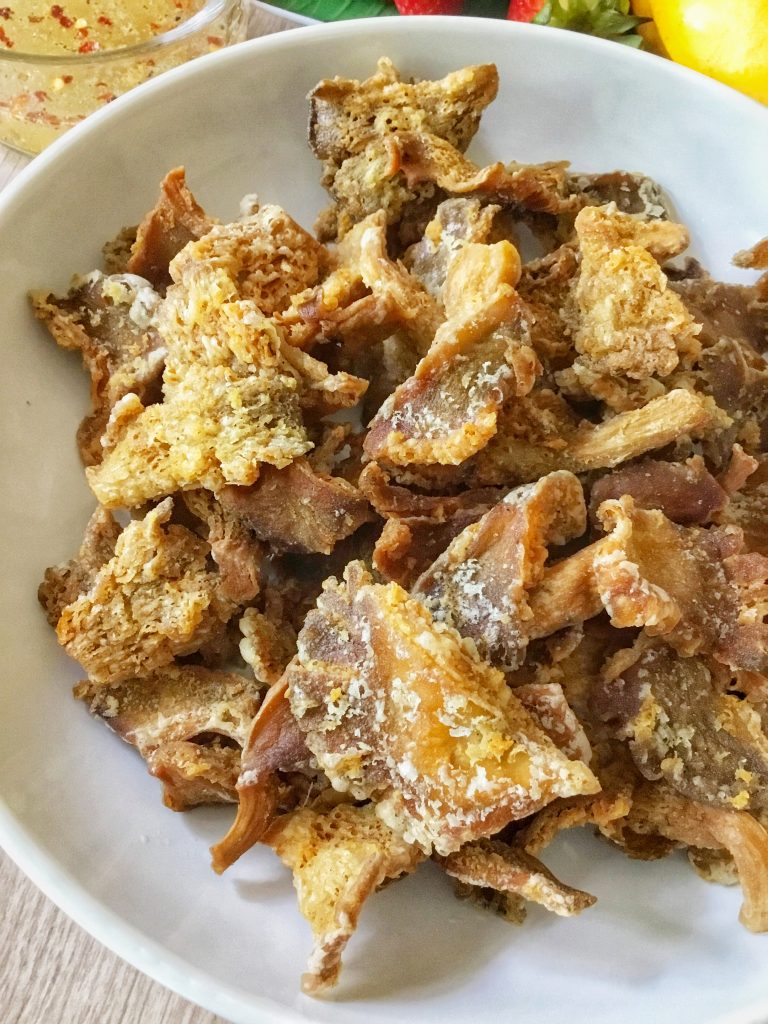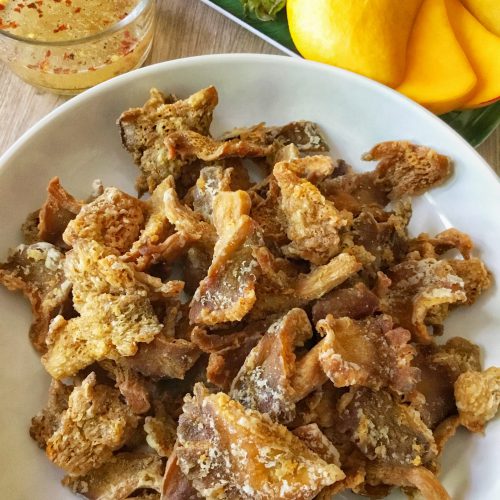 Crunchy Mushroom Chicharon
Crunchy mushroom cracklings that are equally scrumptious as the real chicharon!
Ingredients
2 – 2 ½

lbs

fresh oyster mushrooms

Canola oil

for deep frying
Breading Mix:
¾

cup

all purpose flour

¾

cup

tapioca starch

or cornstarch

1

teaspoon

garlic powder

1

teaspoon

iodized salt

1

teaspoon

ground black pepper

1

teaspoon

paprika
Spiced Vinegar for dipping:
½

cup

vinegar

I used Datu Puti

¼

teaspoon

salt

¼

teaspoon

ground black pepper

1

clove

garlic

smashed and chopped

½

teaspoon

chili flakes or 1 sliced Thai chili
Equipment:
Wire rack over a sheet tray

for draining

Mesh strainer

to shake off excess breading

Large frying pan

for deep frying
Instructions
Wash the mushrooms in cold tap water (2x) and drain. Pile a few on top of each other and gently squeeze as much water as you can. Then place on a plate lined with paper towels to absorb the excess moisture. Repeat with the rest. Cut them in bite-size pieces and set aside.

Combine the breading mix in a large bowl and stir well to combine.

Heat a large frying pan/wok and fill with about 1 ½ inches of oil. Fully coat the mushroom pieces in the breading mix, place in a sieve to shake off excess flour and fry (in batches depending on how big your pan is) on medium-high heat for 3 minutes. Stir gently to turn, lower the heat to medium-low and cook for another 10 minutes. Place on a wire rack while you cook the rest. They will be lightly golden and crispy outside but not super crunchy yet.

For the second frying, increase the heat to medium or medium-high. Fry the mushrooms for 1-2 minutes. Stir continuously for even cooking. Scoop them to the wire rack once golden and very crunchy. Immediately sprinkle with a pinch or two of salt.

Serve with spiced vinegar.