You've probably heard me say this before, my family loves biko. I usually make it plain. But, there are times I'm feeling fancy and would top it with the gooey, thick latik (sweet and thick coconut topping).
I would just add enough brown sugar to the biko (glutinous rice cake) and a pinch of salt as they marry well with the sweet latik. A little bit of patience is needed to wait for this sugar-coconut milk mixture to reach the thickened stage but it's well worth the extra step.
I used to only buy the usual long-grain glutinous rice but when I tried using the short-grain variety (called sweet glutinous rice), I really loved it! It gave the biko a pleasing chewy texture and even after cooking for a long time, it didn't turn to mush. You can buy it at most asian stores, especially those that carry Korean and Japanese products. But if you can't find it, the usual glutinous rice will do.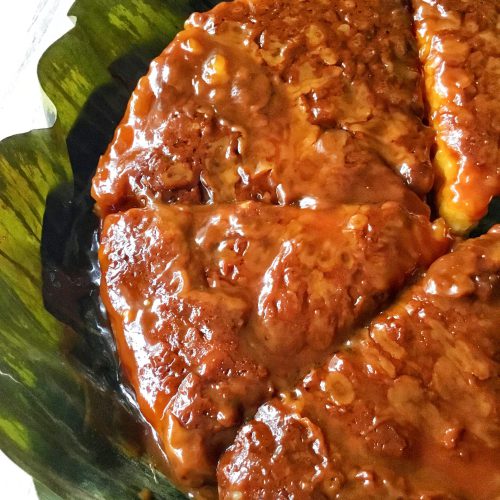 Biko with Latik Topping
A mouthwatering, soft and chewy rice cake with a sweet, thick coconut topping that will surely become your favourite!
Ingredients
2

cups

sweet glutinous rice*

rinsed well and drained

2 ½

cups

water

1 400

ml

can coconut milk

I used Aroy-D (for biko)

¼

cup

brown sugar

firmly packed

Pinch

of salt

Banana leaves to line the baking pan **

optional
Latik Topping:
1 400

ml

can coconut milk

Aroy-D

1

cup

250g dark palm sugar, chopped into smaller pieces
Instructions
Combine glutinous rice and water in a medium pot (with lid). Bring to a boil. Reduce heat to low and cook (covered) for 10-12 minutes. Liquid will mostly be absorbed at this point and the rice will be somewhat soft but still not totally done.

While the rice is cooking, prepare a large pan (preferably nonstick) and add in one can coconut milk, brown sugar and a pinch of salt. Bring to a boil on medium heat and add the half-cooked glutinous rice. Using 2 wooden spoons, mix very well and cook until all the coconut mixture is fully absorbed by the rice and pulls away from the sides of the pan. Transfer to a baking pan ( I used a 9×2 inch cake pan lined with banana leaves)

Preheat the oven to 375F.

To make Latik Topping: In (another) medium saucepan, combine palm sugar and coconut milk. Bring to a boil and cook until very thick (uncovered) and sauce is reduced to about a cup (or a little less). Pour over the prepared biko.

Bake*** for 25 minutes or until latik (thick coconut topping) is set and bubbling. Switch to broil (optional) for a couple of minutes if you want a little bit of browning on top. Watch carefully as sugar burns easily. Cool a bit before serving.
Notes
*I used sweet glutinous rice which has short, rounder grains (but long-grain is fine). I noticed that the sweet glutinous rice has a better chewy texture than the regular one.
**You can line the inside of your baking pan with parchment paper instead of banana leaves. If using, cut 2 pieces of leaves measuring two inches more than the size of the baking pan. Gently wash under hot tap water to make it pliable. Wipe and use as directed.
***If you prefer not to bake the topping, cook the latik longer and reduce it just enough to cover the top of the pan.
****You can use other baking pans but this recipe fits well on a 8 or 9 inch pans (round or square). This can also be divided between 2-3 Leche Flan llaneras, depending on the size of your mold.