Toyo is the Filipino word for soy sauce. It was introduced in the Philippines by Chinese traders way back in history. According to most accounts, the word toyo was derived from the Hokkien word for soy sauce, "Tau-yu". It is a very common ingredient used in Filipino cooking and is one of the main ingredients of Adobo, one of the famous and most common Filipino dish.
What is Filipino Soy Sauce?
Not all soy sauces are created equal. Soy sauces vary in texture, color and taste. As an example, Indonesian soy sauce (kecap manis) is different from Chinese, Japanese, or to Filipino soy sauce. Take heed of our advice here if you are new to Filipino cuisine. Better stay with Filipino branded soy sauces when trying out Filipino recipes that call for it.
Filipino soy sauces (toyo) are usually a combination of soybeans, wheat, salt, and caramel color. Texture is usually more "liquidy" and taste is saltier compared to its Southeast Asian counterparts. Color is darker. And, compared to Japanese shoyu, toyo is saltier.
Usage in Filipino dishes (What can I mix soy sauce with?)
Toyo adds a deliciously salty flavor to many recipes. It is usually used as an ingredient in cooked dishes. It is also found in marinades and dips to give that extra flavor to common dishes. In the Philippines, common folks would even just mix soy sauce with regular steam rice to give it flavor and that would be it for a meal. Soy sauce is also commonly used in fried rice (sinangag) in lieu of salt.
Common Filipino Dishes that use soy sauce (toyo)
Adobo
Pansit
Sisig
Fried Rice (sinangag)
Pork Barbeque
Tapa
---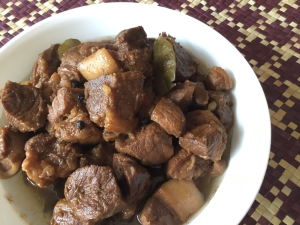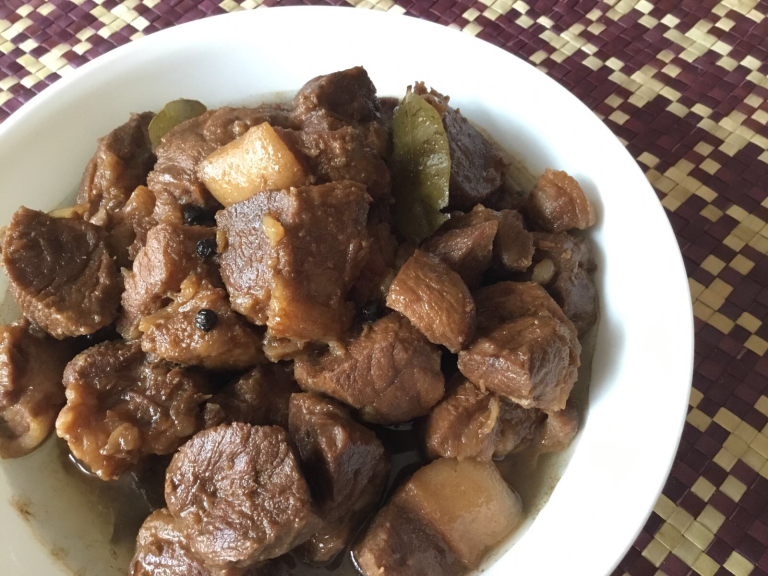 ---
Some Pinoybites recipes that use soy sauce (toyo)
Check out some of our recipes below that use soy sauce.
Filipino Soy Sauce dips (sawsawan)
Toyomansi is a combination of soy sauce and calamansi (Philippine lemon). Salty flavor + acid is always good! If calamansi is not available in your area, you can replace it with juice from regular lemon. To add heat, just add cut/crushed chilli peppers as you like. We like toyomansi a lot with shumai, steamed okra.
Toyo at Suka (Soy sauce with vinegar) is another dip sauce combination commonly seen in Filipino dining setting. We usually would add red onion and chili peppers to this combination. This is great accompaniment to crispy pata, grilled meat (inihaw), fish balls, Chinese dumplings and steamed fish.
List of Filipino Toyo brands? (common)
There is no shortage of Filipino soy sauce brands. But, we advise you to stick with the list of brands below if you're new to Filipino cuisine and trying out our recipes (or other Filipino recipes).
Marca Pina
Silver Swan
Datu Puti
Lauriat
Coconut Brand (naturally fermented)
What is our preferred brand?
We commonly use the Datu Puti and Marca Pina brands as they are common from where we live (Vancouver, BC). What about you? Let us know in the comment below.