Filipino Adobo is one of the easiest and most forgiving recipes that I know. It's one of those "dump" recipes…. just put everything in the pan and cook on the stove. And as long as the basic ingredients are there, ( vinegar, soy sauce/salt, bay leaf, garlic, whole/ground black pepper ) you can adjust each ingredient to your liking and even add some sugar or honey for a sweeter version.
I remember when my siblings and I were old enough to cook dinner for the family, my parents would know if the one who's in charge is "lazy" to cook because it's either we have Adobo for dinner or Spit-Roasted Chicken from Andok's which can be bought very near our place. That's how easy this dish is to make.
In the Philippines, everyone claims their mom makes the BEST Adobo. I know it's true because our moms know how to tweak the recipe to our own liking. There's no wrong Adobo recipe in my opinion and we all have our own versions. Here's mine.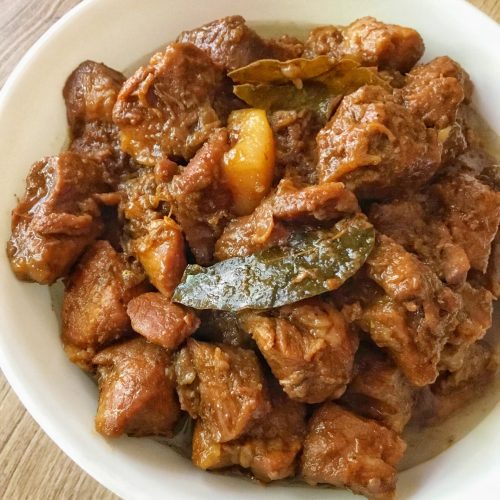 Easy Pork Adobo Recipe
Filipino Pork Adobo is a meat dish that is simmered until fork-tender in spices and flavors that's sweet, sour, salty. One of the most popular dishes of the Philippines and also one of the easiest to make.
Ingredients
1 – 1.5

kg

pork shoulder

(cut into abt 1-1.5" cubes)

1

whole Garlic

(crushed and peeled)

1/2

cup

Vinegar

1/2

cup

Soy sauce

2

cups

Sprite

(see Notes for substitution)

1

Tbsp

black peppercorns

4

bay leaves
Instructions
Place all the ingredients in a big bowl and mix well. Cover and refrigerate for at least 4 hours (or overnight) to marinate.

Transfer to a pot with a tight fitting lid and bring to a boil over medium-high heat. Skim off scum that floats to the top as it begins to boil. Reduce heat to medium (or medium low) and cook for 40-50 minutes or until meat is tender and the sauce thickens.
Notes
***Use 2 cups water plus 1 Tablespoon ( or two ) of sugar in place of Sprite.
*** Adobo tastes better the next day so don't eat it all at once.
*** I save the fat that has rendered while cooking and use it for fried rice.