When I have a recipe in mind, I first imagine what the finished product will look like. That's the easy part because next comes the testing. Some recipes, those that I have been cooking for my family for quite a while, are easier to make. I basically have to measure each ingredient instead of the usual "sprinkle and pour" that I'm used to. Luckily, I always have willing guinea pigs at home that speak their mind when I ask for feedback.

I have made this recipe a few times in the past but each time I made it, I didn't measure. Sure there's a ton of recipes out there but for the most part, I cook and use ingredients that I normally would have at home. I'm not buying ingredients that I would just use once and let it sit at the back of the cupboard collecting dust. Growing up, we were taught not to waste food. My father would cringe if he sees half-eaten food on our plates. His usual line is, "only get what you can eat". My kids know that.

The last time I made this, my family quietly ate aside from the few, "Mmmms, and yumms" at the dining table. Plates were clean and I was happy. This will surely put a smile on your family's faces.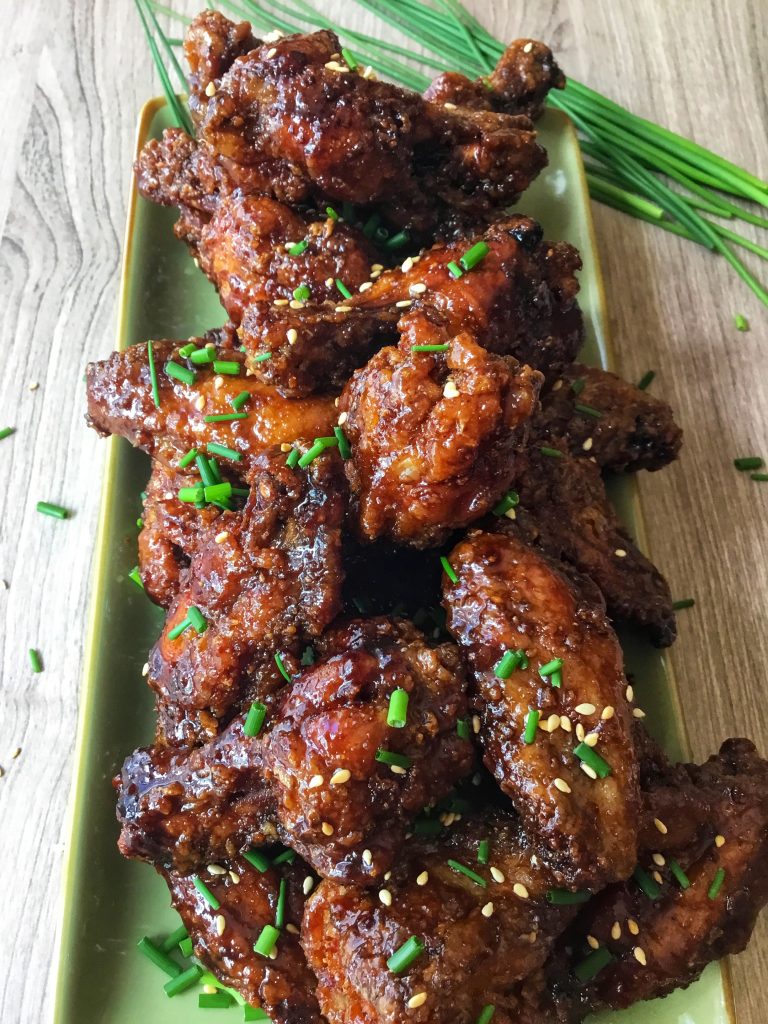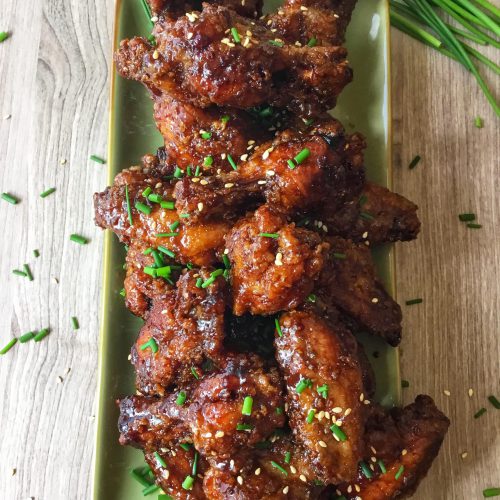 Crispy Honey-Soy Glazed Chicken Wings
This finger-lickin' fried chicken recipe is crispy with the perfect balance of sweetness and tang. You will surely crave for more!
Ingredients
2 – 2 ½

lbs

split chicken wings

washed,drained and patted with paper towels

½

teaspoon

salt

½

teaspoon

garlic powder

½

teaspoon

onion powder

¼

teaspoon

ground black pepper

½

teaspoon

grated ginger

½ – ⅔

cup

cornstarch

Toasted sesame seeds

garnish (optional)

Cooking oil

for frying
Honey-Soy Glaze:
¼

cup

honey

¼

cup

soy sauce

I used Datu Puti

3

tablespoons

vinegar

I used Datu Puti

3

tablespoons

white sugar

½

teaspoon

garlic powder or 3 garlic cloves

chopped

1

teaspoon

red pepper flakes

optional
Instructions
Place the chicken wings in a large bowl and add the seasonings (salt, garlic powder, onion powder, ground black pepper and grated ginger). Mix well and let sit while you prepare the rest of the ingredients.

Combine all the ingredients for the honey-soy glaze in a bowl and mix. Set aside.

Place the cornstarch in a bowl and coat the chicken wings well, one at a time. Place the dredged wings on a clean plate.

Heat the oil in a large frying pan. Oil should be at least one inch high. Once hot enough, fry the chicken on medium heat for 10- 12 minutes or until lightly browned on both sides. If your pan is not wide enough, fry in batches. Drain on a rack or strainer. Once everything's done, strain the extra crumbs in the frying pan using a small strainer. Put all the chicken back in the hot oil and fry again for about 10 minutes, flipping and turning to make sure everything's browning evenly. Remove from the oil and back to the cooling rack to drain. The wings should be very crunchy at this point.

In a wok or a large pan, add 1 tablespoon oil. Pour the honey-soy glaze and bring to a boil over medium heat. Once boiling, cook for 2 minutes. The sauce will be bubbling and starting to thicken at the same time. Add the fried wings all at once and toss with the sauce using 2 wooden spoons or any cooking utensils. Continue tossing until all the sauce is absorbed, about one minute.

Turn the heat off and serve immediately. Garnish with toasted sesame seeds and thinly snipped chives or green onions.
Notes
*Make sure the oil is hot enough (but not smoking) when frying. Otherwise, the wings will absorb a lot of oil and be greasy. To test, place a wooden chopstick or the back of a wooden spoon in the middle of the pan while heating the oil. If bubbles appear around the chopstick, it's ready.