Paksiw na Pata is a braised pork hock dish that is similar to Adobo. The main difference is the addition of dried banana blossoms or, in my case, dried lily flowers (because it is more readily available here).
Like Adobo, it has different versions. Some lean towards the sweeter side which calls for more brown sugar and some add more soy sauce for a saltier taste. How I cook it has just enough salty and sour taste with a hint of sweetness. The important thing is that the pork hock pieces are cooked tender, like almost fall-off-the bone tender.
---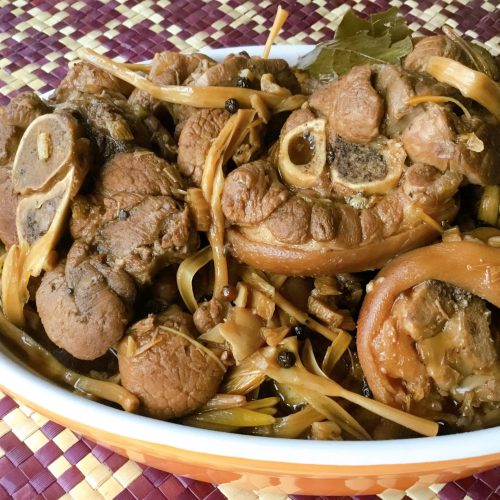 Paksiw na Pata
The Paksiw na Pata (braised pork hock) dish is very similar to Adobo. The main difference is the addition of dried banana blossoms (or lily flowers in my case). Enjoy!
Ingredients
1.5 to 2

kgs

pork hocks

sliced into 1-1.5" slices

1

whole head of garlic

coarsely chopped

1/2

cup

soy sauce

1/2

cup

vinegar

4

pcs

bay leaves

1.5

teaspoons

whole peppercorns

1/4

teaspoons

ground black pepper

2

Tablespoons

brown sugar

2 to 2.5

cups

water

50

grams

dried Lily Flowers

or dried banana blossoms
Instructions
Wash the pork hock slices thoroughly in cool running water and place in a large pan with a tight fitting lid. Wash and soak the dried lily flowers in warm water for about 5 minutes to rehydrate. Drain and discard the liquid.

Add the rest of the ingredients except the soaked flowers.

Stir well to combine, cover and bring to a boil on medium-high heat. Skim off the dark, foamy scum that rises to the top as it starts to boil. Replace the lid and simmer for 45 minutes or until meat is tender. After the first 30 minutes of cooking, stir the meat so all the pieces are submerged in the sauce.

Add the soaked lily flowers and cook on medium for 5 minutes. Add more water (1/2 cup) if needed. Taste and adjust seasoning.

If you want a thicker sauce, increase heat and continue cooking until the desired amount of liquid is left. Serve over rice or even between slices of pandesal.
Notes
*Add more brown sugar if you want it sweeter.
**If you want a thicker sauce and worry your meat might overcook, remove the tender pork hock pieces from the pot and reduce the liquid (on high heat) to the desired amount. Pour the sauce over the pork hock.
***Dried lily flower is available in asian markets in sealed plastic packaging. This is used in Chinese cooking particularly as a flavoring in vegetarian and braised meat dishes.
****Choose the leaner and meatier part of the pork hock which are the two front legs of the pig. Or if the whole leg is not available, choose the pork hock packages with more meat and smaller bones.