Got pork? Want to see what Filipino food you can cook with it 'eh?
For pork and meat lovers around the world, we've compiled below a list of popular Filipino pork dishes. Try them out.
---
List of Filipino Pork Dishes
---
1) Lechon de Leche (Roasted Suckling Pig)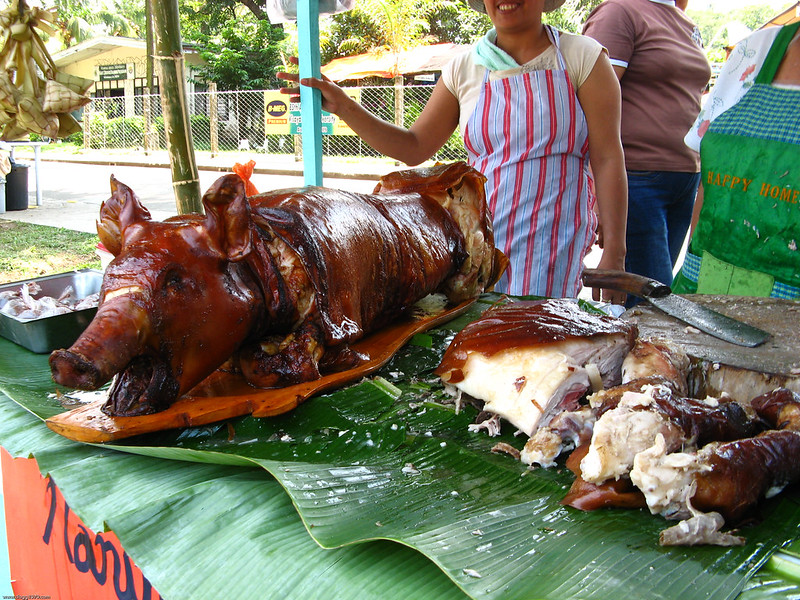 Roasted to perfection over smoldering coals, when one thinks of a fiesta or a big celebration, a lechon is always top of mind.
2) Pork Adobo
The Filipino Adobo is one of the easiest and most forgiving dishes to cook. You just need to put all the ingredients in the pan and cook on the stove. Pork adobo is probably the most common as pork is easily sourced anywhere.
3) Inihaw na baboy (Grilled Pork Belly)
Inihaw na baboy is a grilled pork dish marinated in a mixture of calamansi, ginger, garlic, lemon grass, and coconut vinegar.
4) Lechon Kawali (Deep-Fried Pork Belly)
Lechon Kawali is a deep-fried crispy pork belly dish that is served chopped into smaller pieces. It is usually served with toyomansi, atchara or lechon sauce on the side.
5) Crispy Pata (Fried Pork Knuckles)
Crispy pata is a popular Filipino dish served in special occasions and is fairly common to find in Filipino restaurants abroad. It is best eaten with a dipping sauce of soy sauce (toyo), vinegar and calamansi.
6) Pork Barbecue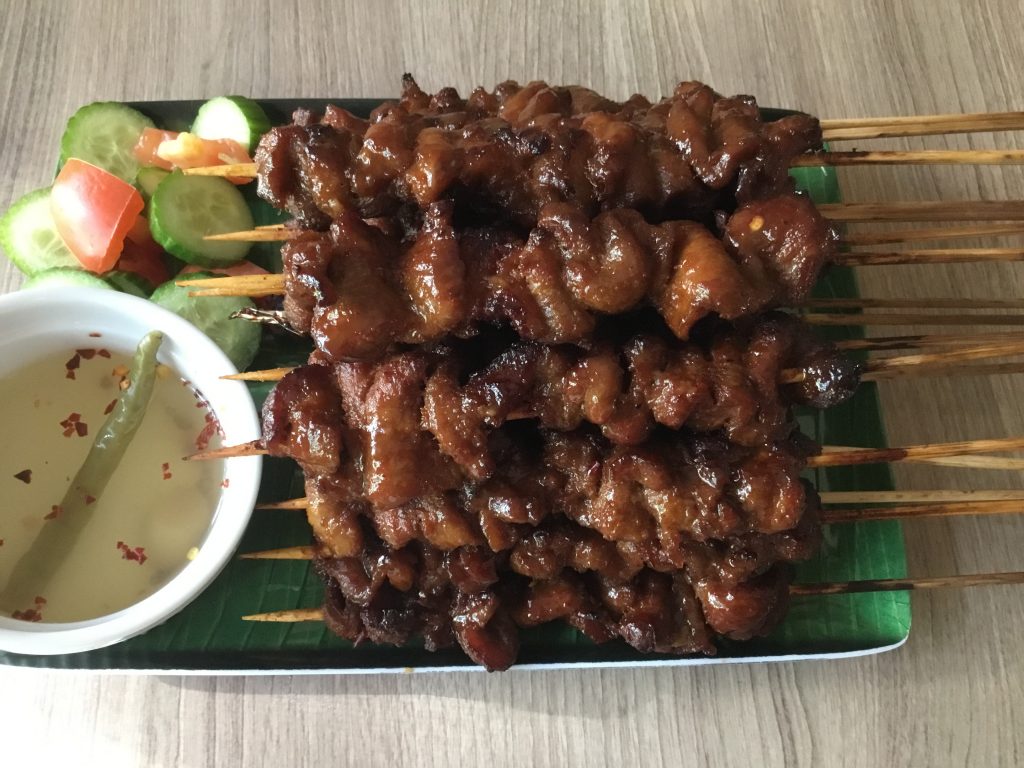 Pork barbecue is very popular and is usually served on Filipino parties or picnics. Marinated Filipino-style (on the sweet side), it is best grilled on the same day you want to eat it.
7) Humba
Humba is a Filipino braised pork dish originating from the Visayas Islands of the Philippines. It traditionally uses pork belly slow-cooked until very tender in soy sauce, vinegar, black peppercorns, garlic, bay leaves, and fermented black beans (tausi) sweetened with muscovado sugar.
8) Estofado (Stewed Pork)
Pork Estofado is a stewed pork dish served with fried plantains. This pork recipe is comparable to pork adobo but, the use of carrots and friedplantains provide distinction to this dish.
9) Pork Tocino (sweet pineapple cured pork)
Tocino is a popular cured meat 'ulam' among Filipinos. It is reddish and little bit on the sweet where the best part is the overcooked fatty meat portion. It is usually eaten with garlic fried rice and egg and the trio is called to-silog.
10) Menudo (Diced Pork in Tomato Sauce)
Menudo is another popular Filipino dish usually seen in handaans (gathering). This dish has different variations but is usually compose of diced pork meat and liver cubes with potatoes, carrots and tomato sauce.
11) Longganisa (Pork Sausage)
Longganisa is a popular Filipino sausage traditionally made from ground pork. There are a lot of regional variations of longganisa with varying differences in flavor, sweetness or saltiness. Like the tocino, longganisa is usually served with garlic fried rice (sinangag) and egg. This trio is called long-silog.
12) Pork Binagoongan (Crisp Pork Sauteed in Shrimp Paste)
Pork Binagoongan is a delicious and tasty Filipino dish that combines sweetness, sourness, and the saltiness of the shrimp paste. Usually, chili is added to add heat to the dish.
13) Sisig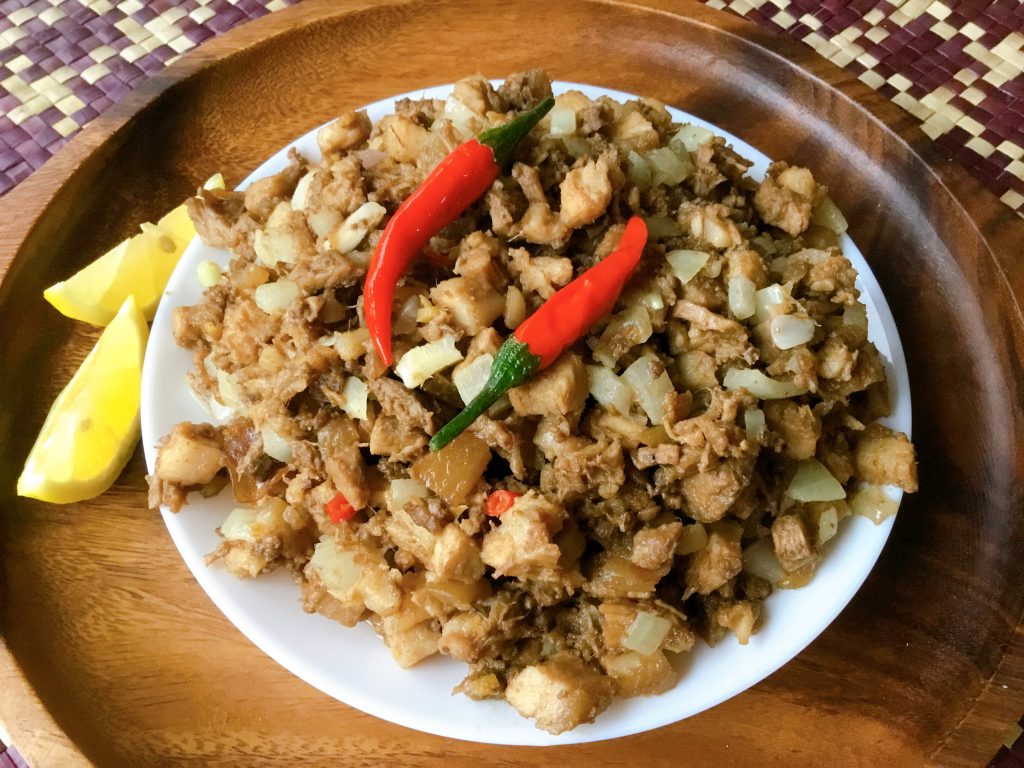 Sisig originated from Pampanga, a province in the Philippines known for its culinary prowess. It is a Filipino dish traditionally made from the pig's face and ears. It is usually seasoned with calamansi, onions and chili peppers.
Not quite using the traditional ingredients for sisig but with readily available meat from your local supermarket, try out our equally delicious pork belly sisig recipe here.
---
Have you had any of the above? Did you like it? What is your favorite Filipino pork dish?
---
Do you want us to prepare a recipe for you? Let us know in the comment below.