It has been raining lately to think that it's almost summer. Since March, we have only used our outdoor barbecue grill a couple of times. It's not only because of the weather but mostly it's the cleaning part after. Besides, in our part of the world, we have more cold and/ rainy days than beautiful sunshine. But that's not gonna stop us from enjoying skewered pork barbecues all-year-round. There's always a way!
At first, I was hesitant to do it in the oven. I thought it might easily burn or come out dry. But I have to muster some strength somehow and get on with it. At the end, I gave it a go and so glad I did. Now, even when the weather is nice outside, I roast it in the oven…saves me time and cleaning up is a breeze.
This recipe can be done either in the oven or on the outdoor grill. The result is almost the same as if you did it outside. Broiling it at the end makes a big difference and your guests won't believe it's not done on the grill.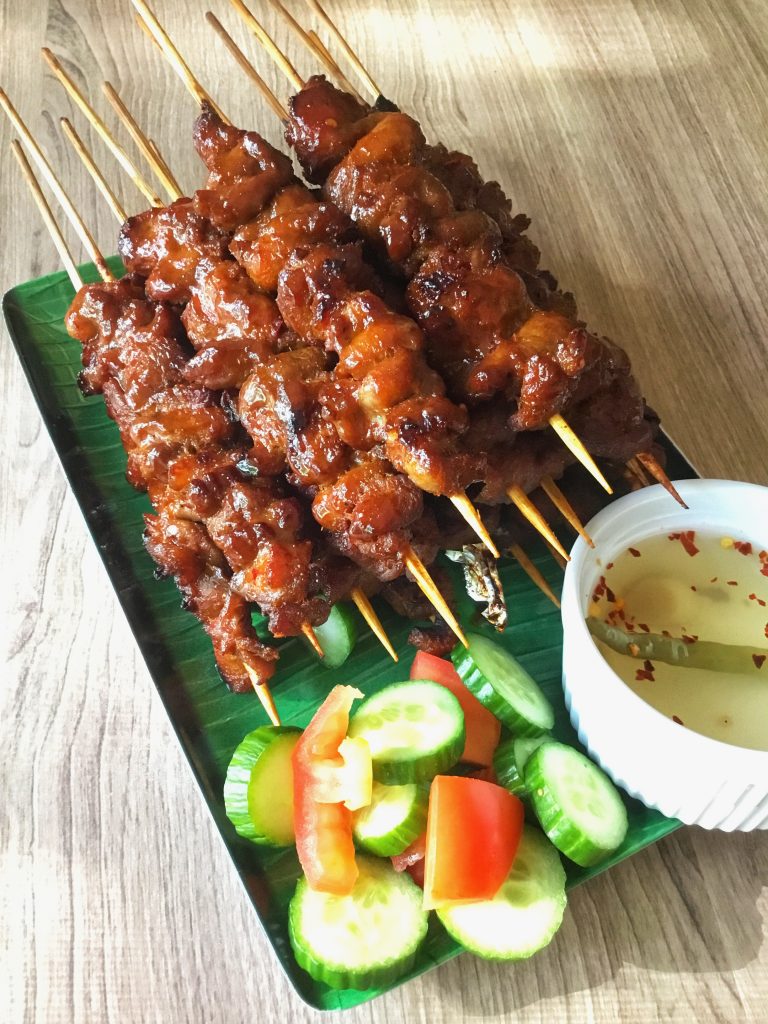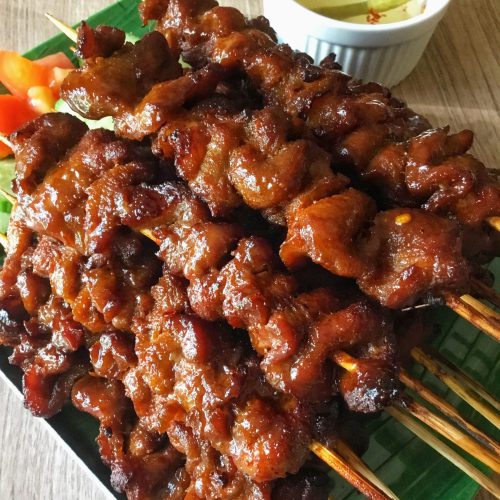 Oven-Roasted Pork Barbecue
This oven-roasted Filipino Pork Barbecue can be made any season and tastes as delicious as the ones cooked on the grill
Ingredients
Pork Barbecue Sauce (enough for 4-5lbs or 2.2 kgs of meat)
1

cup

brown sugar

1

cup

Sprite

lemon-lime soda

½

cup

ketchup

½

cup

sweet chili sauce

or more ketchup

½

cup

soy sauce

¼

cup

vinegar

2

Tablespoons

garlic powder

1

Tablespoon

sea salt

1

Tablespoon

paprika

optional

1

teaspoon

ground black pepper

1-2

teaspoons

chili flakes

optional
Combine all the ingredients in a large bowl and mix very well. Transfer to a container and refrigerate until ready to use. Can be kept in the fridge for a week.
For the barbecue:
Thinly sliced pork shoulder or pork belly (up to 5 pounds)

sliced like bacon

¼

cup

of canola oil mixed with ½ cup barbecue sauce

for basting**

Wooden skewers

soaked in water for 1 hour

Thin strips of foil

to cover the exposed skewer sticks

Baking sheet lined with foil and topped with rack that's been brushed with oil

I used 12×18 pan with 1 inch border
Instructions
Marinate the meat in the refrigerator for at least 4 hours or overnight. Thread the pork slices on the skewer, making sure to leave about 2 – 2 ½ inches of the stick exposed and cover the top of the skewer completely with meat to avoid burning. Once done, cover each exposed stick with foil and place on top of the greased rack and arrange side by side.*

Preheat the oven to 400F and position the oven rack in the middle. Brush the skewered pork with the sauce used for marinating. Roast for 20minutes. Remove pan from the oven and flip each skewer. Brush this side with the new sauce that's been combined with oil.** Put back in the oven and roast for another 15 minutes.

Remove from the oven again and flip. Baste with the remaining sauce or make more if needed. Transfer the oven rack one slot up or third position from the top and switch oven setting to BROIL. Broil for 3-5 minutes on each side, making sure the oven door is slightly open. Keep an eye on it as it burns quickly. Brush or spray a little bit more oil to speed up browning.

Serve with spiced vinegar** (see notes)
Notes
*I was able to fit 20 skewers, facing each other using a 12x 18 inch baking pan with sides.
**To make spiced vinegar, combine ½ cup vinegar, 2 chopped garlic, chopped red chilli or chili flakes (optional) and season with salt and cracked black pepper.
***The sauce is good for 4-5 lbs of meat, depending on how "saucy" you want it. I usually use about 1 ¼- 1 ½ cups sauce for every 2.2 lbs (1 kg) of meat.