This is one of my family's favorite comfort dishes (next to Sinigang – Pork in Sour Tamarind Broth). I used pork ribs in this one but you can definitely substitute beef ribs or even chicken. Regardless of the type of meat you prefer, the process is the same. Just keep in mind that the essence of Nilaga is its full-flavored broth, so using bone-in cuts of meat is a must.
Nilaga means something boiled. Cooking this dish is not complicated at all. It's literally just boiling the meat in water until tender then adding some vegetables afterwards. What you'll end up with is a delectable broth with impeccably tender meat. What's even better is that this is a complete meal by itself. But for us Filipinos, rice always completes every meal.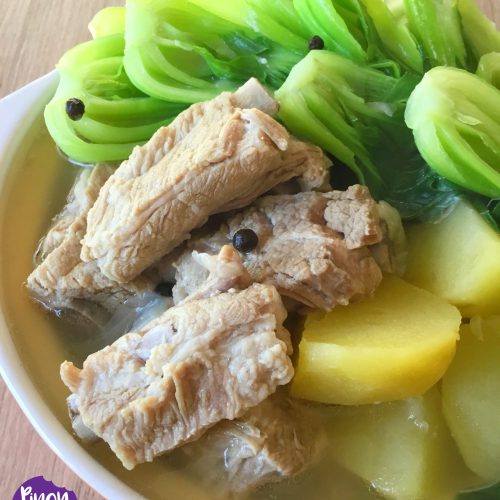 Nilagang Baboy (Pork Ribs Soup)
This is one of the most beloved soup dishes in the Philippines that's so simple (to make) yet so comforting and very filling. It's an everyday fare.
Ingredients
2-3

lbs

Pork Ribs

cut into individual bones

1

large onion

peeled and quartered

1 ½

teaspoons

whole peppercorns

3

yellow potatoes

peeled and quartered

1

pack bok choy

4-5pcs, cleaned and quartered** (see notes)

8

cups

water

plus more for pre boiling

1

tablespoon

salt

1-2

tablespoons

patis

fish sauce

Sawsawan

Dipping Sauce, Optional

Juice of half a lemon

2 tablespoons or calamansi

2

tablespoons

fish sauce

I use Three Crabs Brand

1

Thai chili

chopped (optional)
Instructions
For a clearer (and cleaner) broth, pre boil the meat. Here's how: Fill a big pot ⅔ full of water and bring to a boil. Slowly drop the meat, stir and let boil (uncovered) for 5-8 minutes. Drain and rinse the meat a few times until clean. You can skip this step if you want but I recommend it for a clearer broth.

In a large pot, place the cleaned meat, onion, peppercorns, 1 tablespoon salt and 1 tablespoon patis (if using). Fill with 8 cups of water then bring to a boil. Skim off the scum that floats to the top as it boils. Simmer on low for an hour or until ribs are tender.

Add the potatoes and simmer until cooked. Then add the bok choy and cook for 2 more minutes. Taste and add salt or patis, if needed.

Serve with rice and calamansi-patis dipping sauce, if desired (recipe above).
Notes
*If you don't want to pre boil the meat, proceed to step 2 then skim off the top for the scum and impurities that float as it comes to a boil. Then follow the rest of the recipe.
**Aside from the vegetables mentioned above, green beans, cabbage, sweet potatoes or saba (plantains) can also be used.