However long we have been living outside of the Philippines, my taste buds remain the same. I still crave and long for the food I grew up eating – the taste, nostalgia and for some reason, even a simple Adobo tastes different when eaten while vacationing home. Is there something in the water…or the air perhaps? Whatever it is, even the simplest dish tastes magical to me in that setting.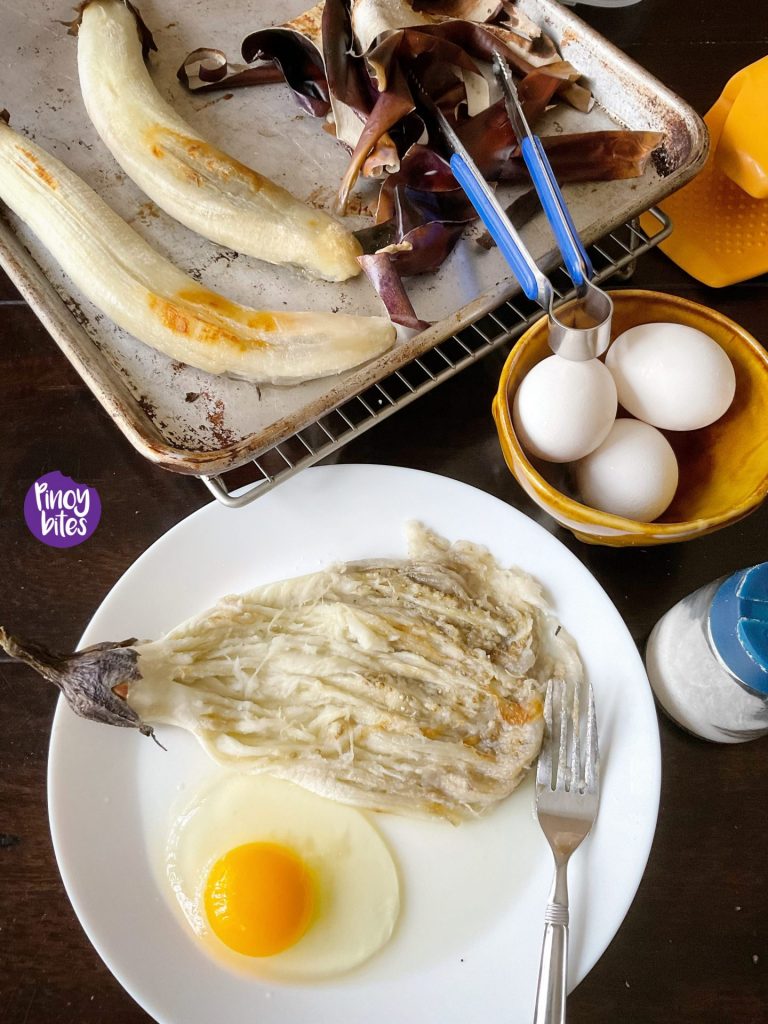 Chinese eggplants, as it's known here, are available in almost all grocery stores. Though it can be used in plenty of dishes like Sinigang, Paksiw na Bangus, Pinakbet, Kare-Kare etc., Torta is the first thing that comes to mind when I see one. This very simple dish is one of my favorite ways to prepare eggplants and somehow tastes exactly like when eating 'em in the Philippines.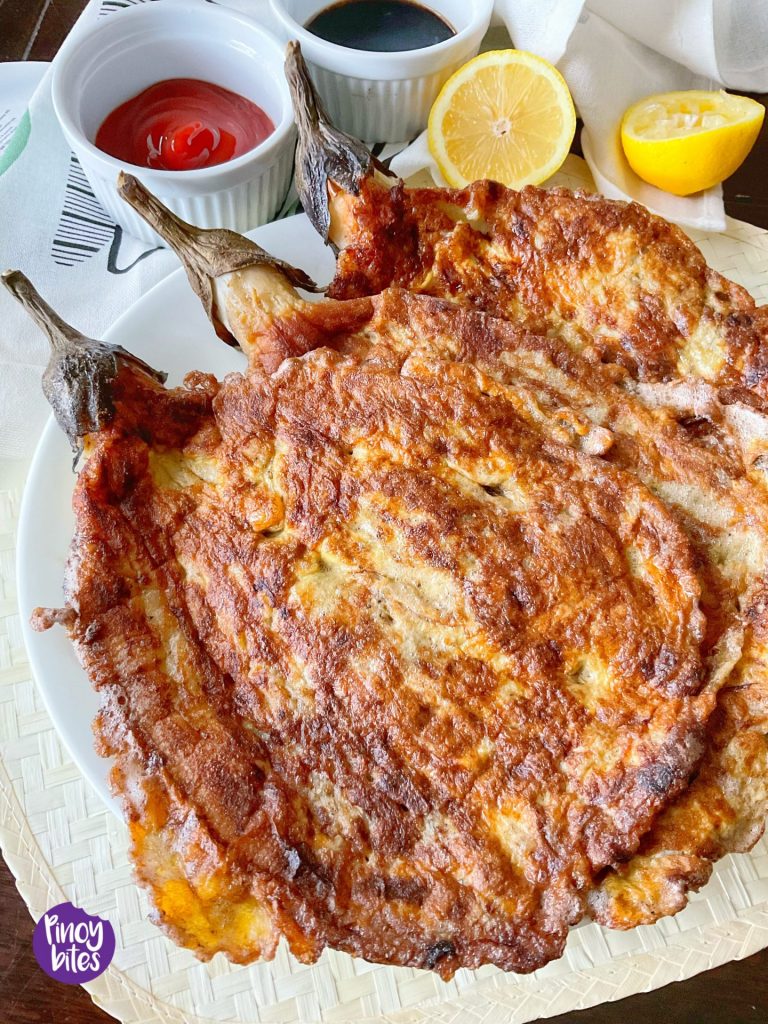 Broiling in the oven gives it that distinct aroma from the charred skin. Sadly, we have winter here and I can only grill them outside in the summertime. I once tried cooking it directly on top of the stove but I won't do that again. It took forever to babysit and the burnt marks left weren't fun to clean…at all!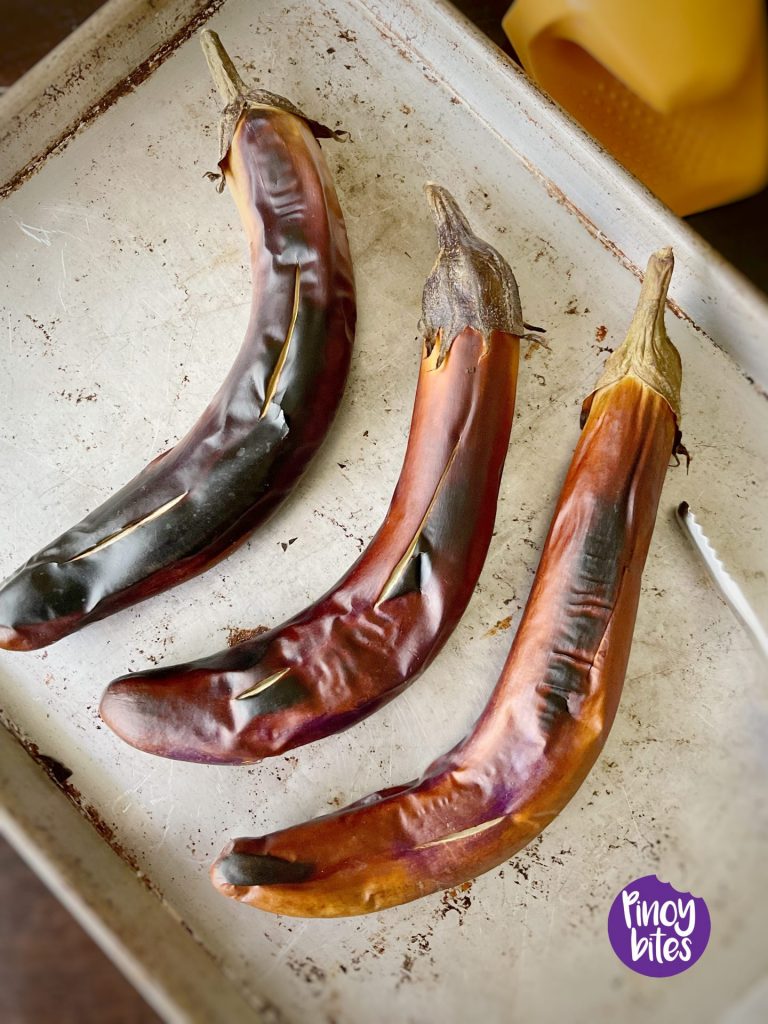 As you've probably noticed, I only use one egg per eggplant.  Depending on the size of the eggplant, I would add more. If you want that browned, crisp eggy crust, go ahead and add another.  I sometimes do that but it all depends on my mood or on how many eggs are left in the egg carton. Either way, I always eat this with rice and some added protein like fried or smoked fish. It even tastes better with Sinangag (fried garlic rice). Yum!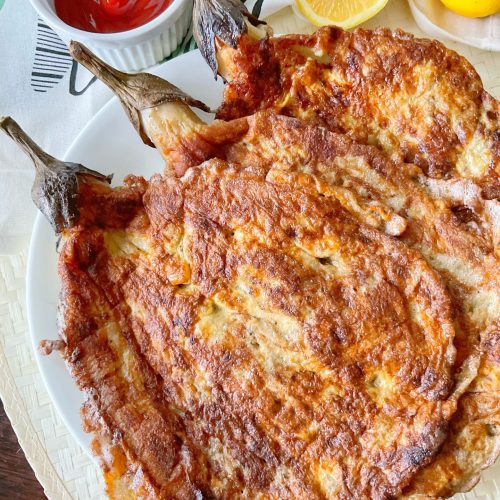 Tortang Talong (Eggplant Omelette)
a simple yet filling and satisfying vegetable dish that's great as a side or main dish. A bowl of rice is a must!
Ingredients
3

medium-sized Chinese eggplants

3

large eggs

or more

Salt and pepper

to taste

Oil

for frying
Instructions
Pierce the eggplants (in a few spots) with a fork/paring knife and arrange on a baking sheet (give at least an inch space in between).

Position the oven rack at the second slot from the top. Turn the broiler on to HIGH and place the pan in the oven. Broil for 10 to 15 minutes or until soft and skins are starting to char. Remove from the oven and cool a bit then peel the skins off.

In a small bowl, beat an egg (or use 2 for each eggplant, if you prefer) with a tiny pinch of salt . Place an eggplant on a plate and flatten with a fork then season with a pinch of salt and pepper. Pour the egg over the eggplant and lift to make sure all sides are well coated.

Heat 3 tablespoons of oil in a nonstick frying pan (medium heat). Once hot, slide the eggplant-egg mixture and cook until golden and crisp on both sides. Repeat with the rest of the eggplants. You may need to add more oil after each batch.

Serve with either ketchup or lemon-soy sauce and a bowl of hot steamed rice.