If Adobo is the unofficial national dish of the Philippines, Pinakbet (to me) is its equivalent in the Ilocano cuisine. With a myriad of vegetables that represent the bounty of the north's fertile soil, this dish definitely speaks what Ilocos region has to offer.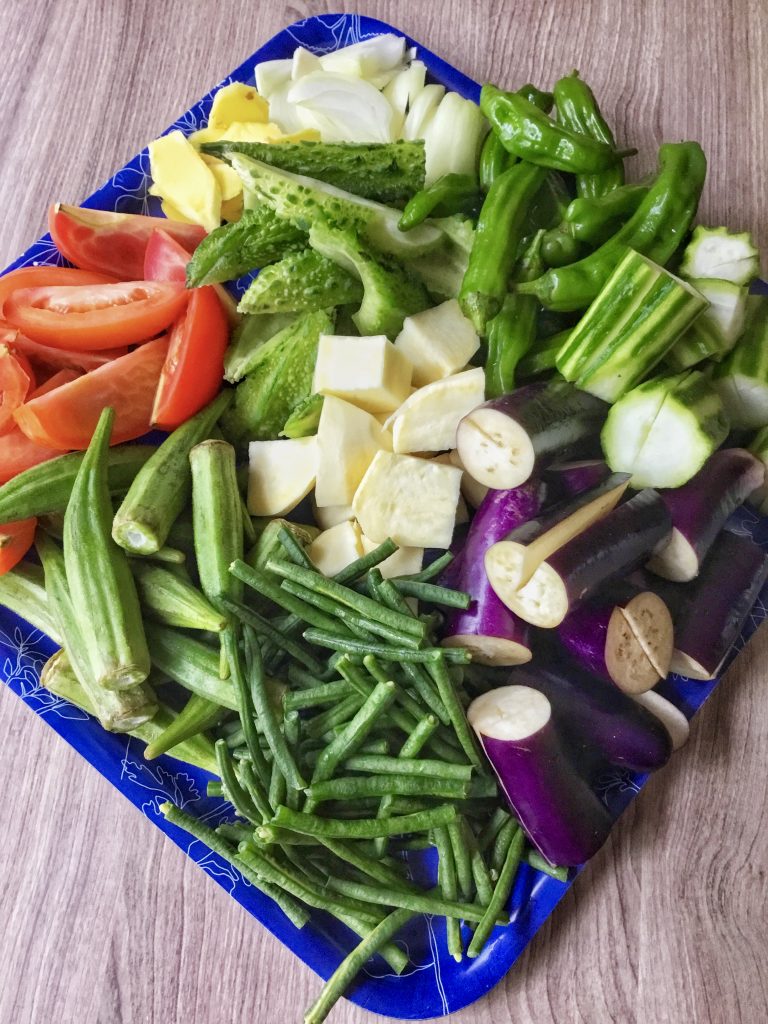 The name originated from the word pinakebbet which means "shriveled" or "shrunk". All the ingredients are neatly arranged in a pot and cooked on high heat until rapidly boiling then tossed by shaking the pot to evenly cook the vegetables. Not to be confused with the Tagalog version of the Pinakbet, which uses shrimp paste and adds squash to the mix. Sweet potato is used instead which gives a good balance to the bitterness of the ampalaya (bitter melon). For a more indulgent Pinakbet/Pakbet, top it with slices of our Crunchy Puffed Skin Lechon Kawali (recipe here) or the famous Ilocos Bagnet if you have some.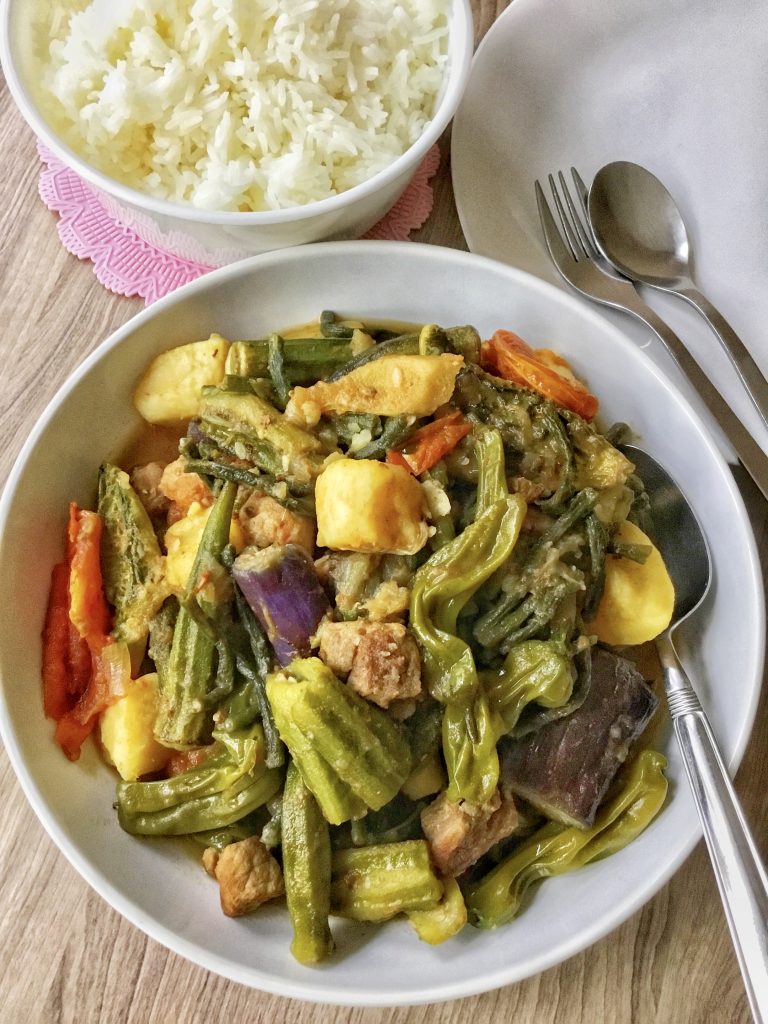 Unlike in the Philippines where all the possible Pinakbet vegetables are abundant, the veggies I use here differ every time. As long as I can get my hands on at least 4 major ingredients, it's on! Just remember to buy the best bagoong isda you can find for a delicious outcome every time.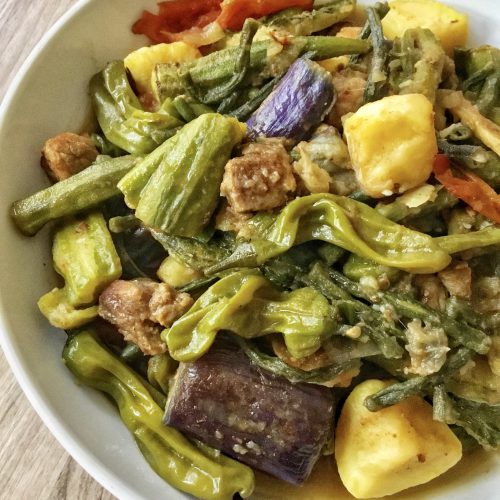 Pinakbet (Ilocano-Style)
Pinakbet is a classic Ilocano dish that is easy to prepare. This umami-rich food is salty, sweet and bitter that's pleasing to the Filipino palate.
Ingredients
½

lb

pork belly or pork shoulder

cut into small cubes*

4-5

Roma tomatoes

sliced

1

onion

thinly sliced

2 – 2 ½

inch

ginger

peeled and thinly sliced

1

cup

water

1/4

cup

Bagoong Isda

fermented fish sauce

1 ½

" diameter bundle of Sitaw

Chinese long beans , cut into 2" long

1

medium-size bittermelon

halved,seeded and cut into 2" slices

1

Patola

Sin Qua cut into 2" slices

About 10 pcs okra*

tops trimmed

10

pcs Shishito peppers

make a long slit on one side

1

sweet potato

cut into chunky cubes

2

pcs Chinese eggplant

cut into 2" slices (slit one side w/o cutting all the way through)

*Vegetable amounts can vary. You can either add or omit some depending on your preference.
Instructions
Place the cubed pork in a large pot. Add a pinch of salt and 3 tablespoons of water. Cook until the fat is rendered and meat is nicely browned.

Then, place the vegetables on top of the meat in this order. Onions, tomatoes, ginger, sweet potato, eggplant, sitaw, patola, bittermelon and okra. Except for the first 3 ingredients, arrange the vegetables based on cooking time. The ones that take longer to cook go in first, for even cooking.

Combine water and the fish sauce then pour over the vegetables. Strain if the bagoong has some solids included.

Cover and bring to a boil on high heat. Cook for 7 minutes (covered) then take the lid off and either shake the pot so the bottom vegetables flips with the ones on top or use a ladle to gently stir. Continue cooking (medium-high heat) for another 5-10 minutes or until the liquid is reduced significantly and vegetables are tender but not mushy.

Best served with fried fish/meat and steamed rice.
Notes
*You can omit the pork for a meatless version or use dried alamang (dried baby shrimp) or Lechon Kawali.
**Other vegetables that can be used in addition to or to replace some of the others are as follows: lima beans (patani), winged beans(sigarilyas), green onions, small round eggplant
***Bagoong isda is different from Bagoong alamang. Bagoong Isda is made from fermented fish while shrimp fry is used to make alamang. Saltiness varies so make sure to taste the dish before the cooking process is done.