To tell you the truth, I was not a fan of Kare-Kare. I actually don't remember, but maybe the very first dish of this kind that I had tried wasn't to my liking. It's like eating pineapple for the very first time and it had that "itchy" feel on the tongue. That latter experience stuck with me and it took me until adulthood before I started eating it again.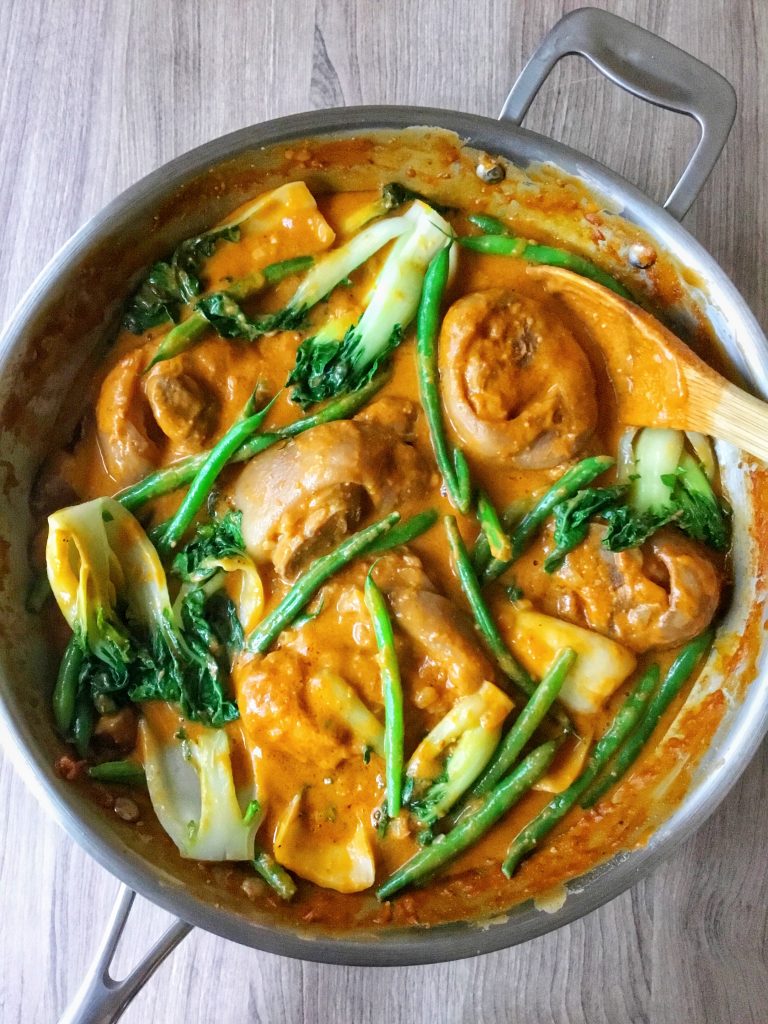 On one of our trips back home, I had this "mission" to eat at restaurants which serve classic Filipino dishes cooked the old fashioned way. I googled and found this cozy and eclectic restaurant in Pasig, Cafe Juanita. We tried a few items but for me, their Kare-Kare was the dish that stood out. It wasn't pretentious, just done the traditional way. The meat was extremely tender and the sauce was "the one" that I was looking for. It was rich and creamy and it was thick enough that it pours like gravy when I scooped it over my rice. And for the very first time, I loved Kare-Kare!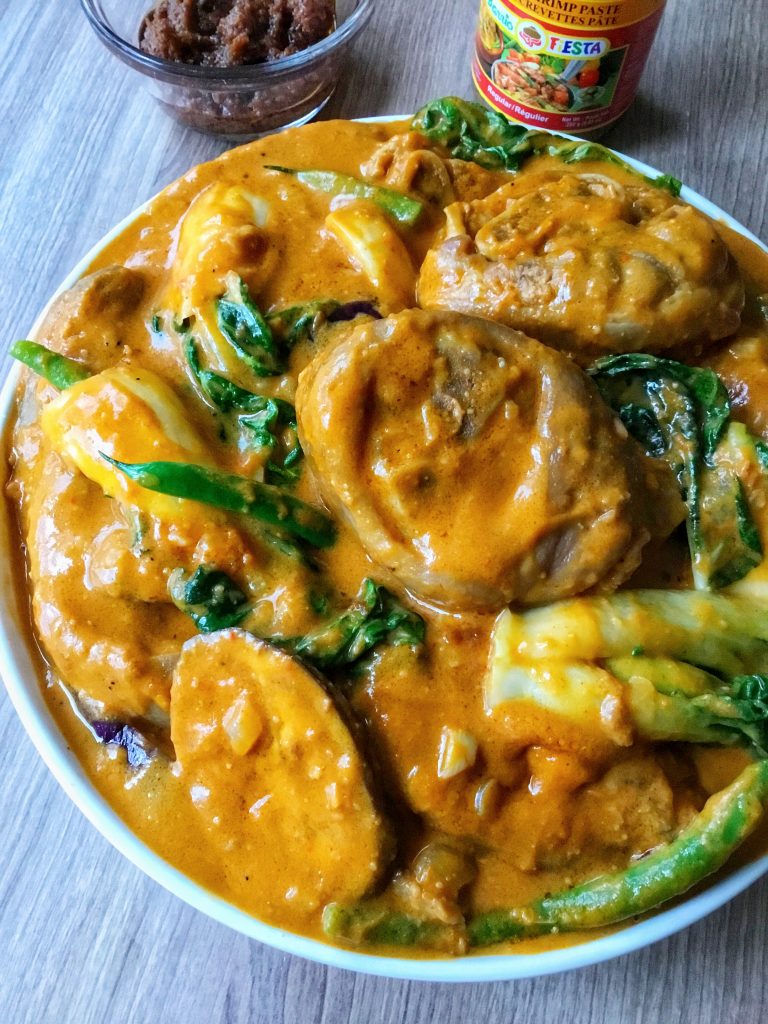 My version is (of course) not exactly the same as Cafe Juanita's but this is also really good. I didn't grind my own peanuts but used the commercial peanut butter with only one ingredient… peanuts. And take a few extra minutes to toast that rice flour in the recipe, it's worth doing it. That added nuttiness gives it an extra oomph in flavor and texture. You can choose to cook your meat in the pressure cooker, but that low and slow simmer on the stovetop made the broth richer in flavor. Of course, oxtail is traditionally used but sliced pork hocks are readily available in my local supermarket (and much cheaper too!). But go ahead and use oxtail if that's what you prefer. The rest of the recipe stays the same.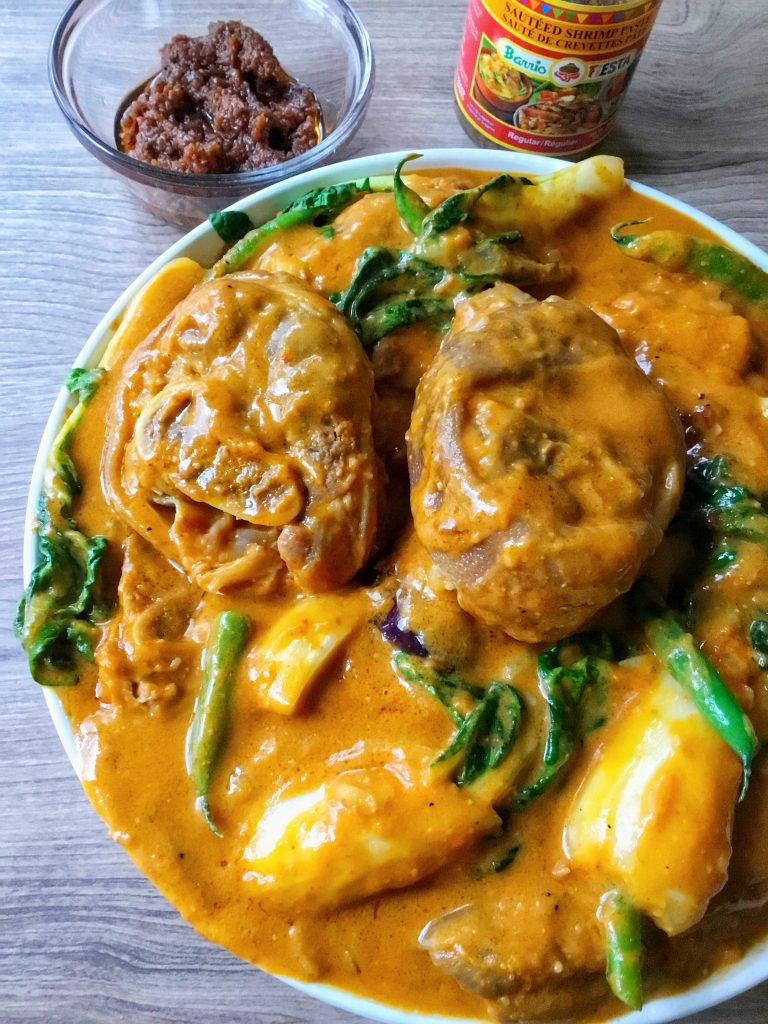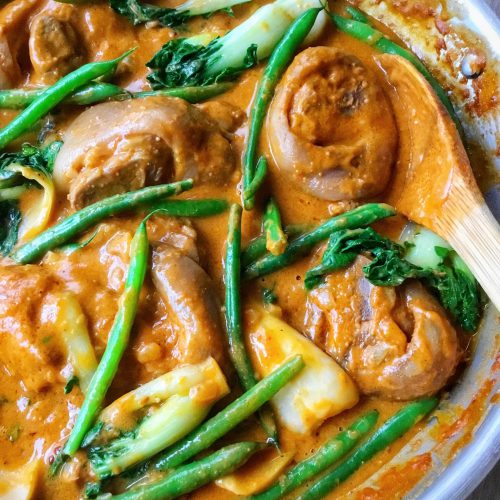 Pata Kare-Kare (Pork Hocks in Rich Peanut Sauce)
Pata Kare-Kare (Pork Hocks in Rich Peanut Sauce)
Ingredients
For the Pata:
6

Pata

Pork Hock slices ( about 3 lbs, 1 – 1 ½ inch thick)

1

teaspoon

sea salt

1

teaspoon

whole peppercorns

3

bay leaves

1

onion

halved

Water

enough to cover the meat by at least 1 inch… 8-10 cups
*Place all the above ingredients in a large pot. Bring to a boil and simmer until the meat is tender. Transfer the meat to a plate and strain the liquid and discard aromatics. You'll need 4 ¼ cups of broth for the Kare-Kare (reserve 4 cups for the stew and ¼ for the annatto powder).
To make the stew:
3

tablespoons

cooking oil

1

small onion

finely chopped

4

garlic cloves

finely chopped

1

tablespoon

regular shrimp paste

2

teaspoons

annatto powder

atsuete

¼

cup

of the reserved pork broth

mix with annatto powder

4

cups

reserved pork broth

1

cup

smooth peanut butter *

(see notes)

2

tablespoons

rice flour

toasted ** (see notes)

½

lb

string beans

cut in half

½

lb

bok choy

separated into individual stalks

1

Asian eggplant

sliced diagonally into ½ inch slices

Sauteed shrimp paste

to serve alongside Kare Kare
Instructions
Heat oil in a large pot and add the onions. Stir until translucent. Add garlic and the precooked pata (pork hocks). Saute for a minute before adding the shrimp paste.

In a small bowl, mix the annatto powder with ¼ cup of reserved broth. Pour over the pata together with the remaining 4 cups of broth.

Cover and bring to a boil then add peanut butter. Lower the heat and stir in toasted rice flour. Mix well and simmer for 3 minutes (low heat). Taste and sprinkle 1- 2 teaspoons sugar (only if using unsweetened peanut butter).

Stir in the vegetables, beginning with the ones that take longer to cook. Eggplants and string beans first then after 2 minutes add the bok choy. Cover for another minute. Done!

Serve with more sauteed shrimp paste on the side.
Notes
*If using natural peanut butter (without any additives), you'll need to add a teaspoon or two of sugar. **How to toast rice flour : Place the rice flour in a dry pan (no oil) and cook on medium heat for a few minutes or until it's lightly browned.