Whenever I cook this, my daughter would come to the kitchen. She loves sour food, and vinegar is at the top of the list. In fact, her favorite way of eating apples is dipping it in either Apple cider vinegar or Sukang Iloko (Ilocano vinegar) … with a sprinkling of salt. I always make sure to hold the bowl otherwise, she would chug the leftover vinegar that we used to soak the thinly sliced apples. I guess she learned it from me. Haha!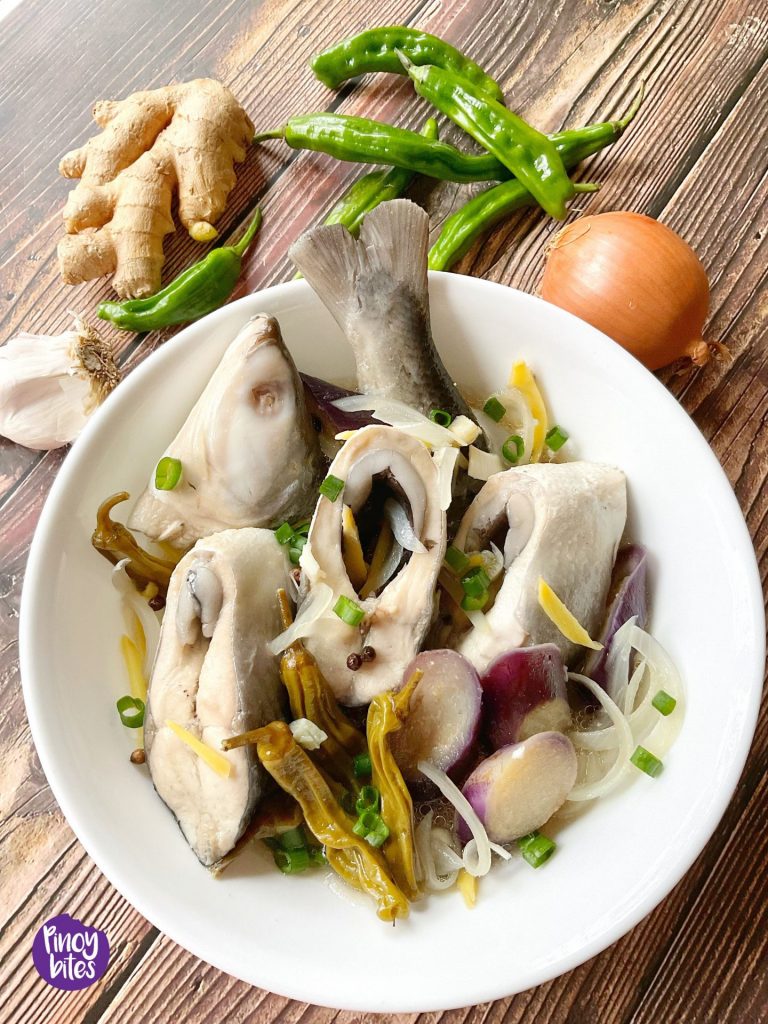 Every household has their own take on this one. The amount of vinegar used depends on your tastebuds. The recipe below is exactly how I want my paksiw. Though the prominent taste is sour, the other ingredients impart flavor creating a perfect blend (at least according to my family). Before PinoyBites was born, the way I cooked this dish (and everything else) was the "a little bit of this and a little bit of that" method. Somehow, it always comes out to our liking. Whether I use bone-in or boneless fish, the ingredients remain the same. The only thing with using boneless Bangus is the slight change in the cooking time. While the kids prefer the boneless ones, I always lean towards the ones with bones. This is exactly how I remember having it, back home when I was younger.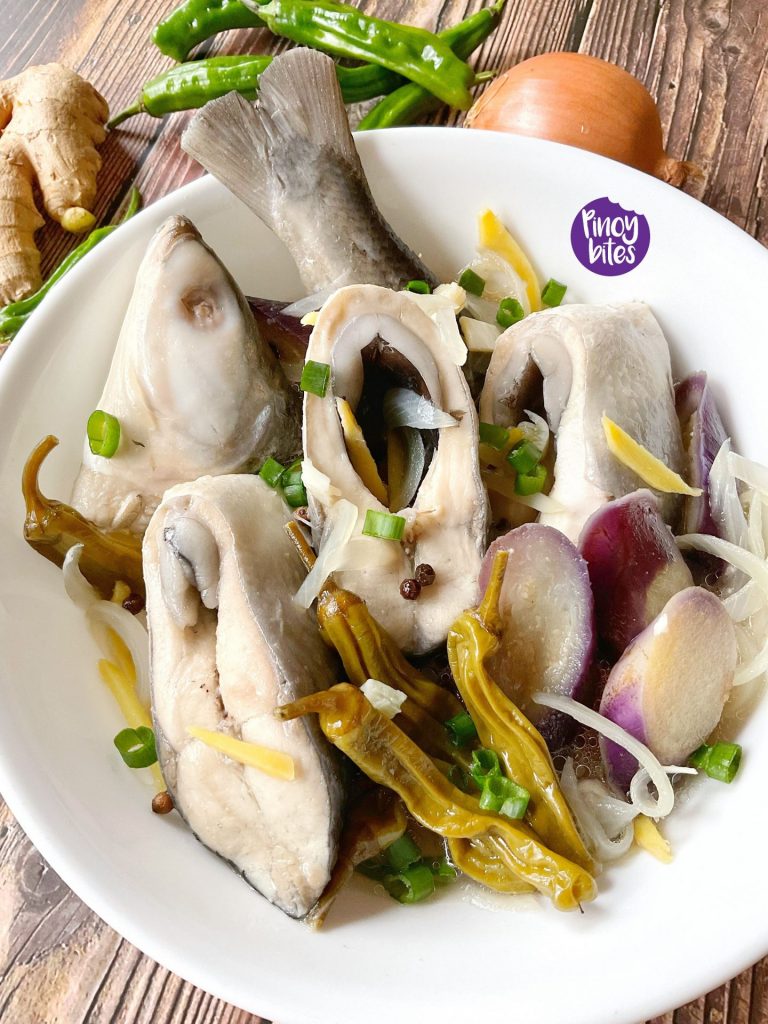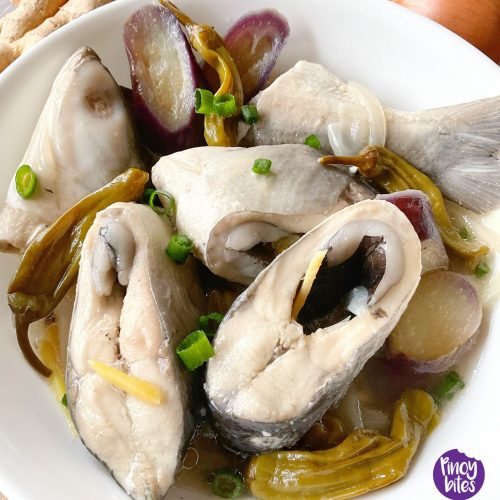 Paksiw na Bangus
Cooked in a pleasantly sour liquid with a prominent ginger taste, this is a staple Filipino dish.
Ingredients
1

whole bangus

gutted and scales removed, cut into steaks

1

cup

water

½

cup

vinegar

2

Tablespoons

Patis

fish sauce

½

teaspoon

sugar

optional

A knob of ginger

thinly sliced (about 2-3 tablespoons)

1

onion

thinly sliced

4

garlic cloves

chopped

1

teaspoon

whole peppercorns

½

teaspoon

sea salt

1

asian eggplant

sliced diagonally into ¾ inch thickness

4

Shishito or 2 Jalapeno peppers

1

Tablespoon

oil
Instructions
Add half of the sliced onions and ginger in a large pot (with lid). Place the bangus pieces on top then add the rest of the ginger and onion, garlic, peppercorns, patis, salt, sugar, water and vinegar. Cover and bring to a boil on medium to medium-high heat.

Once boiling, remove the lid and add the vegetables (eggplants and peppers). Put the lid back and cook for 5 minutes. * (see notes)

Then, partially uncover the pot for 2 minutes to reduce the liquid slightly. Taste and adjust seasoning, if needed. Drizzle oil then turn the heat off.
Notes
*Boneless bangus (cut into quarters) can also be used. Reduce cooking time when using boneless Bangus. It cooks faster. Add the vegetable WITH the fish because they cook at the same time.