Though bone-in fish has more flavor, the pain of picking the bones is never welcome. This is one dilemma I constantly have with my fish-loving 6 year old. It doesn't matter to him how it's cooked, if it's fish…..he's happy.
I always have some Sarangani boneless bangus stashed in the freezer but there are recipes where whole bangus (bone-in) is much preferred. I normally have a couple when I need it but lately, I haven't been seeing whole milkfish at asian stores (I only buy the ones from the Philippines). Once I bought another brand (also from the Philippines) that sells bangus slices, I was disappointed. Though it came already cut into steaks which is convenient, the whole fish only weighed a mere 400 grams. It was a size that I wouldn't even consider buying at the wet market (in the Philippines) unless I'm making Daing na Bangus.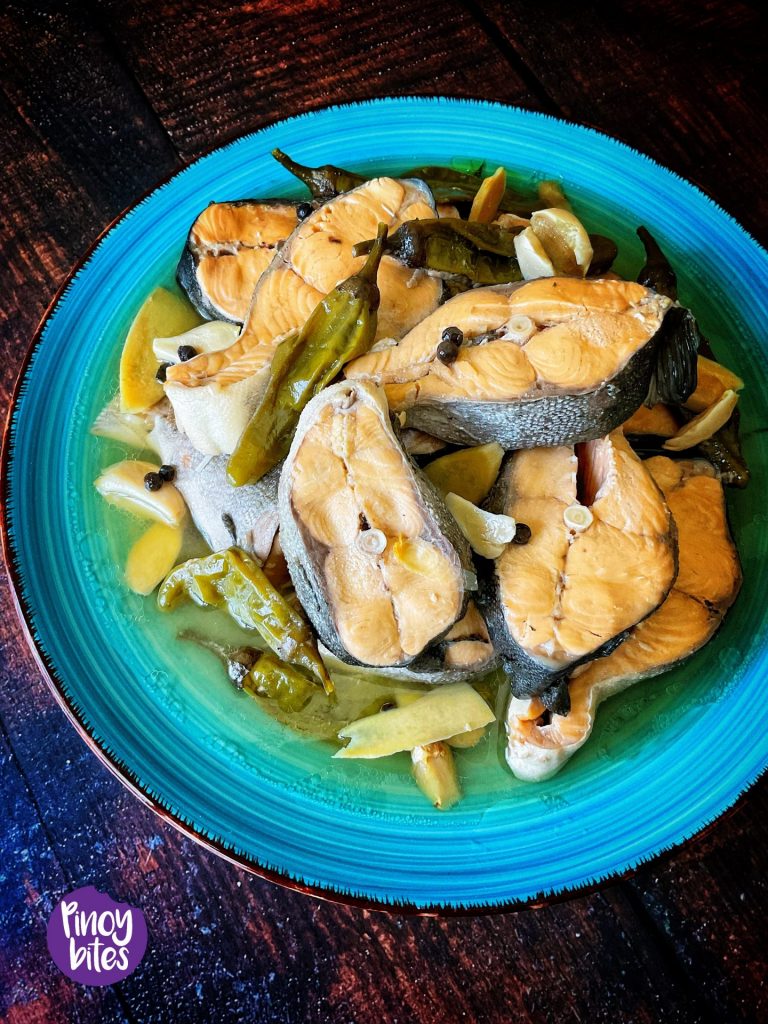 I was craving Paksiw na Bangus when I remembered that I still have a whole wild-caught pink salmon in the freezer. When I was about to cook it, I realized how much my 'lil one loves fish so I would end up picking a lot of pin bones again. So, instead of cooking it on the stove-top, I took out the Instant Pot and treated the paksiw as if I was making my Spanish-Style Salmon. It totally worked! Not only did I not have to pick the bones, it turned into an edible calcium-rich part of the dish. How great is that?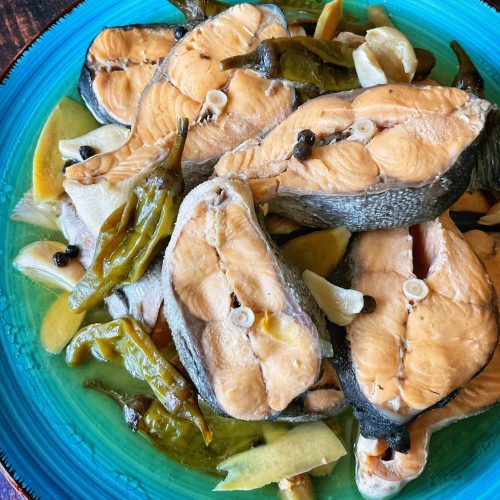 Tender-Bone Paksiw na Salmon (Instant Pot)
Loaded with the healthy omega-3 fatty acids and calcium, eating this popular Filipino dish has never been easier. With its tender bones, fish-loving kids (and grown ups) can eat the whole thing…bones and all.
Ingredients
1

whole bone-in pink salmon

headless and gutted (2 to 3 ½ pounds)* see Notes

1 ¼

cups

water

¾

cup

vinegar

2

Tablespoons

canola oil

2

tablespoons

Patis

fish sauce

1 ½

teaspoons

sea salt

1

teaspoon

whole peppercorns

1

large onion

thinly sliced

A big knob of ginger

thinly sliced

5

garlic cloves

halved

5

Shishito or 2 Jalapeno peppers

Extra water and salt to soak the salmon

for Step 1
Instructions
Cut the salmon into 1 inch steaks. In a large shallow food container (I used a 9×13 inch pan), dissolve 3 tablespoons of sea salt in 1 ½ cups of cold tap water. Arrange the fish slices in one layer. Add more water just until the steaks are covered. Set aside for 20-30 minutes.

Rinse and drain the salmon after soaking. In the inner pot of the IP, evenly spread half of the sliced onions. Position the salmon steaks snugly beside each other on top of the onions. Just place the remaining pieces on top.

Sprinkle the peppercorns, the remaining onion, garlic and the ginger slices then add the peppers. Combine the water, vinegar, patis and salt in a small bowl and pour over the salmon. Lastly, add the oil.

Cover, seal the vent and set to Manual for 60 minutes. Then, natural release after 15 minutes. Serve with steamed rice. Enjoy!
Notes
*I used Wild Pink Salmon which is sold frozen. It's smaller and inexpensive compared to the other varieties of salmon. You can also use about 3 pounds of bangus (2 medium or large) cut into 1 inch steaks