I never knew anything about Shishito peppers up until about a few years ago. Though it's Japanese in origin, it seems to be a staple at Korean supermarkets. I would normally pass the "chili pepper " aisle (yup, they have a number of varieties) but got curious one time when it was on sale. It clearly stated "Japanese Sweet Peppers" so I got curious and asked a Korean customer of its spice level. She described it as very mild with the occasional "heat" in one of 5 (or 10) with a pronounced pepper aroma. That was the start… and I was hooked!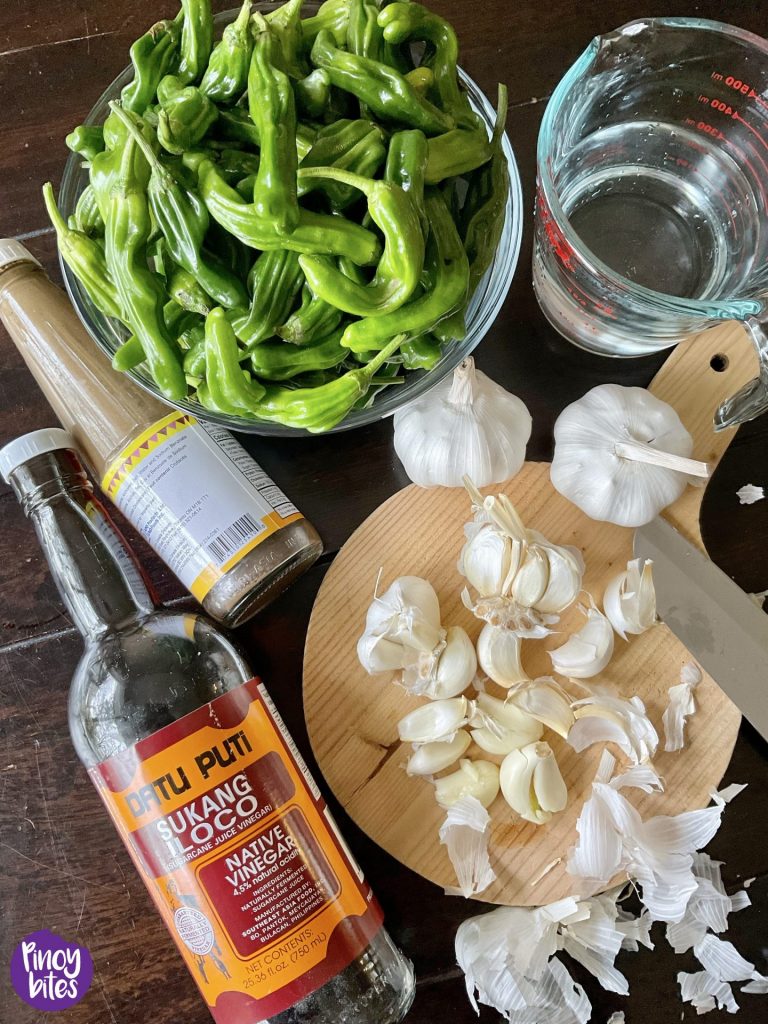 This dish is not the same as the typical Pinakbet. Yes, it's from the Ilocos region but cooking pinakbet using only a single main ingredient differs from the norm. It's more like the flavors of Paksiw because of the vinegar's presence. Though you can use any vinegar you have in your pantry, I'm loyal to Sukang Iloko (sugarcane vinegar). It gives this dish that sharp tanginess that mellows nicely in combination with the bagoong isda (fresh fish mixed with lots of salt then fermented for a few months). The  peppers soak up these condiments (with the addition of a lot of crushed garlic) while cooking, resulting in this dish that can be served as a main, side dish or even a condiment in itself.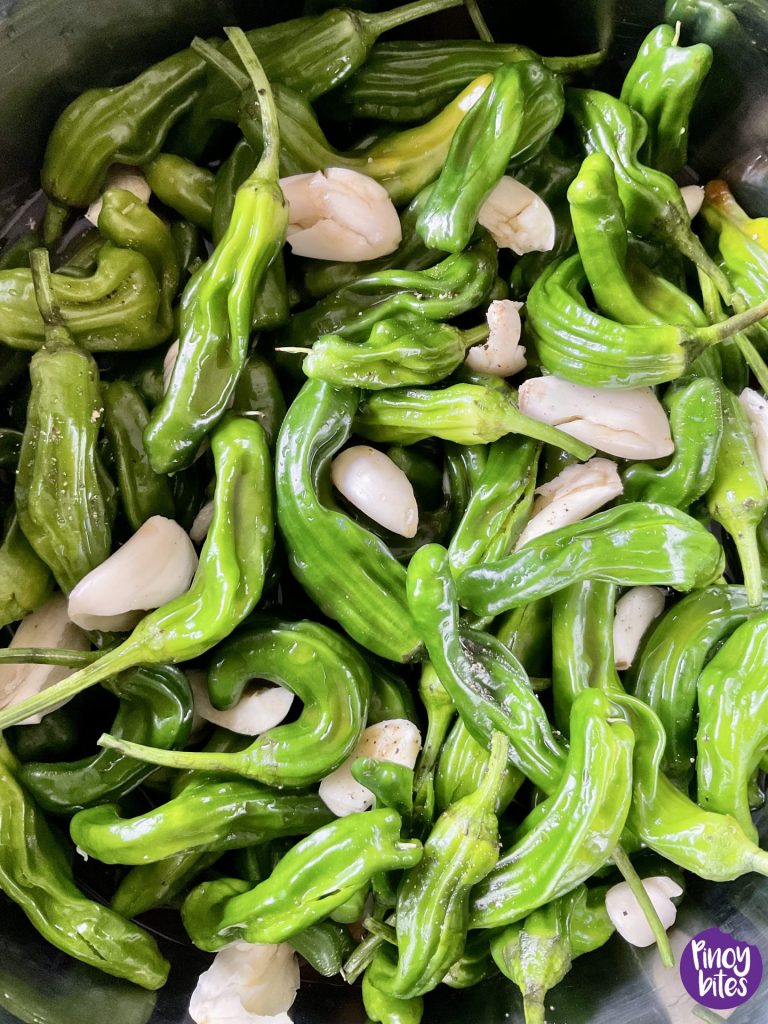 There's a lot more Filipino dishes where this ingredient can blend perfectly.  It possesses that familiar smell, taste and texture of the local long peppers in the Philippines like the siling haba (used for Sinigang) or the fragrant and not spicy Ilocano peppers that we use in Pinakbet. Though more often than not I have a taste of the spicy ones in the bunch, I still make this dish every time I have fresh Shishito peppers. Hubby and I enjoy it so much that a little heat won't stop me from eating them from time to time. It's that good, especially when served with fried or grilled fish or meat! Hope you give it a go.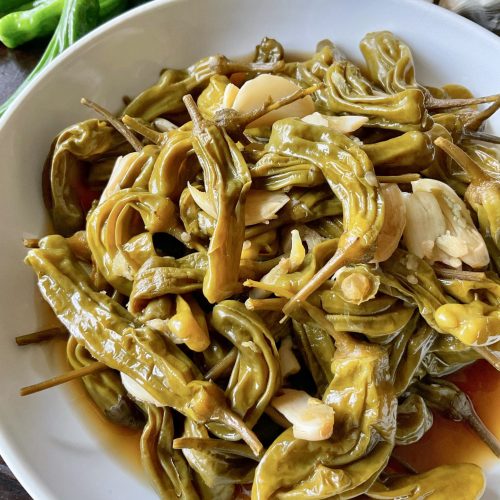 Pinakbet na Sili
Shishito peppers with lots of crushed garlic and a vinegary liquid that's mellowed nicely by the saltiness of fish sauce. A common dish in the Ilocos region of the Philippines!
Ingredients
1

lb

Shishito peppers

Japanese sweet peppers

1

head of garlic

peeled and each clove crushed

1 ¼

cups

water

¼

cup

vinegar

Sukang Iloko

3

tablespoons

bagoong isda or patis

fish sauce

Salt and pepper

to taste
Instructions
Slit one side of each pepper lengthwise with a paring knife. This will help in better flavor absorption. Combine the water, vinegar and bagoong and mix well.

In a large pot (with lid), add in the peppers and garlic then pour in the combined liquid. Add a couple of pinches of ground black pepper.

Cover and bring to a boil on high heat. Once boiling, lower the heat to medium and cook for 5 minutes. Toss the peppers to make sure everything absorbs the liquid. Taste and add salt, if needed.

Cover and cook for another 5-10 more minutes or until the peppers are wrinkled and the liquid is reduced to more than halfway. You can leave a little opening when putting the lid (ajar) if you prefer your Pinakbet with just a bit of liquid.