Dried krill is another name for dried alamang (shrimp fry). It's the same kind used to make Ginisang Alamang except it's dried the same way as tuyo (dried fish) and usually unsalted. It's packed with flavor which elevates the likes of Dinengdeng and Pinakbet. It also makes my Crunchy Sweet Potato Okoy taste better when added to it. It's versatile, budget-friendly and keeps very well.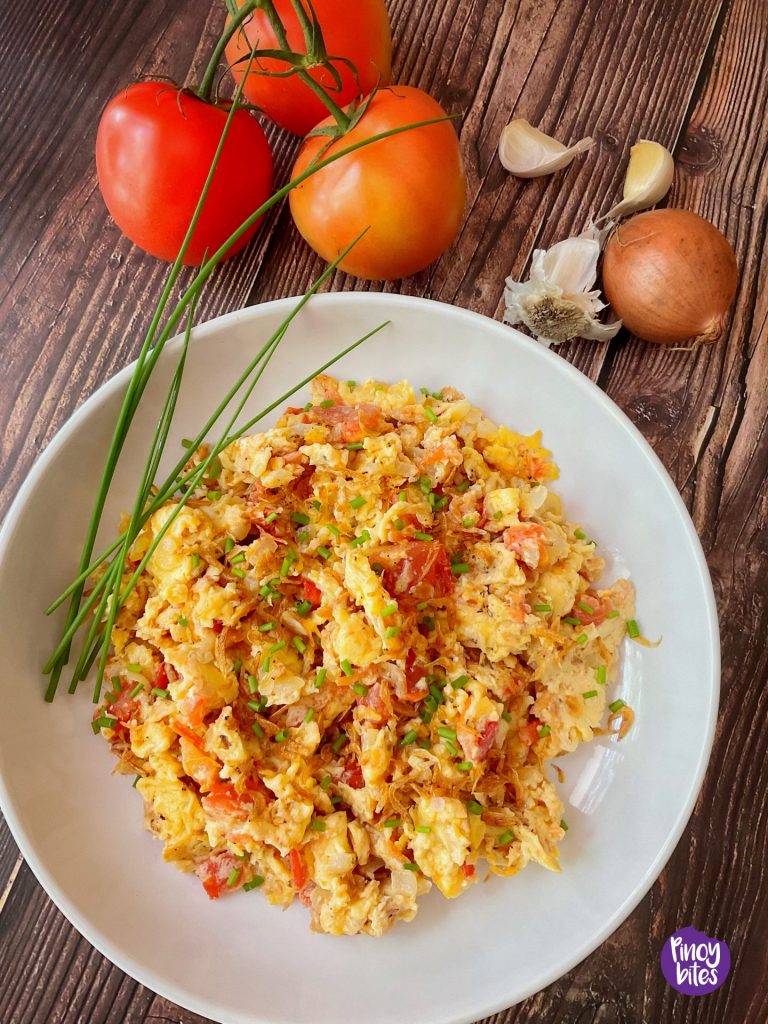 I've had this dish a number of times when I was a kid (ages ago!) but whenever I think of this, my memory takes me to the time when my Auntie Betty cooked it during my first visit to California. Apparently, she made it regularly because my niece loved it.  I don't remember how much rice I ate with it then but I am certain that I enjoyed it so much. From then on, it always comes to mind whenever I have kuros (dried krill in Ilocano). Recently, I was able to get my hands on some dried alamang when my sister-in-law went home to the Philippines.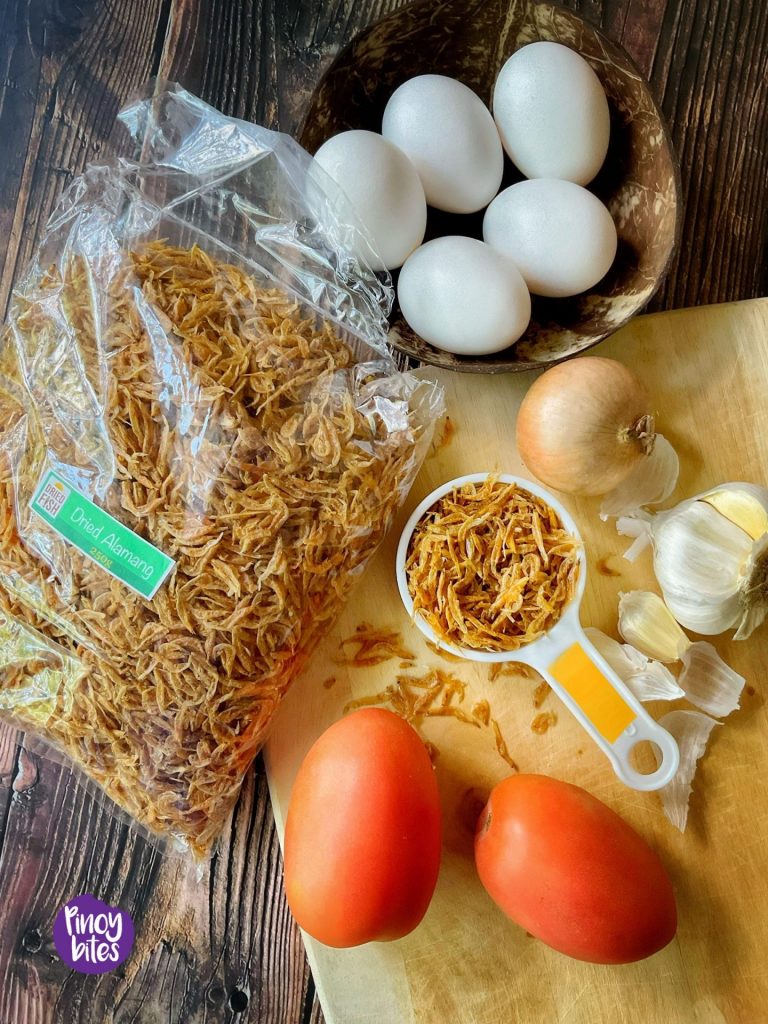 My aunt's way is pretty straightforward. She sauteed everything then added the beaten eggs and mixed until it's cooked.  I included one minimal step which gives the alamang a more pronounced flavor. By toasting it on a dry pan prior to sauteing, it releases a distinct aroma and deepens the krill's taste. Trust me, this simple step makes this dish even tastier than it already is.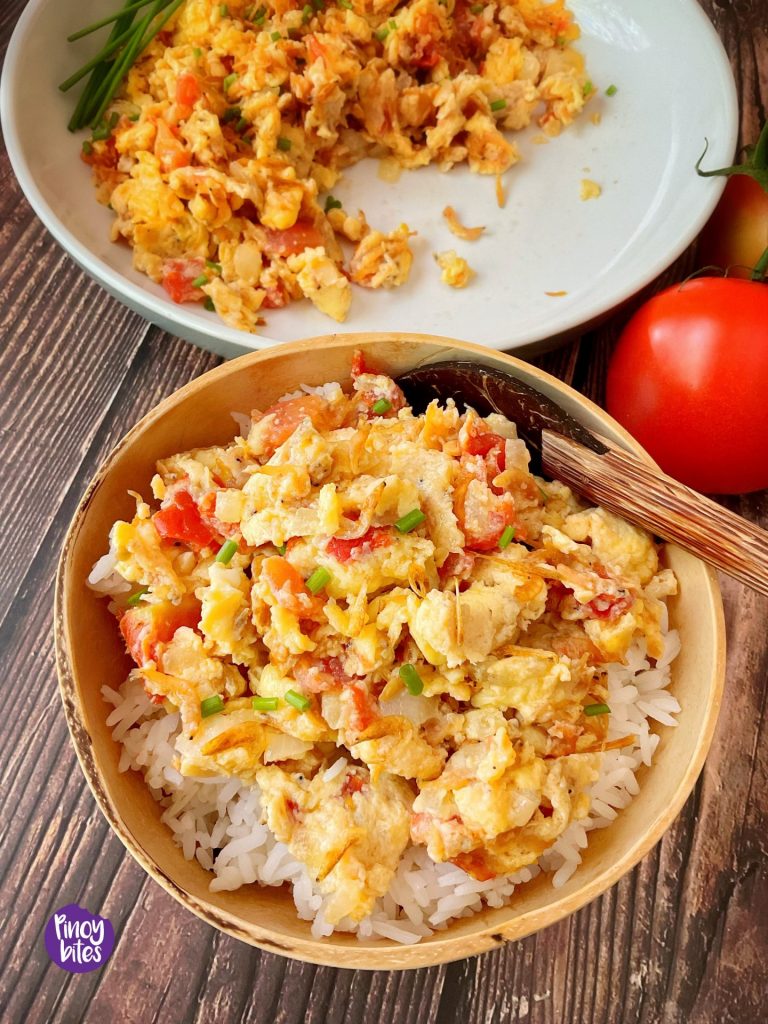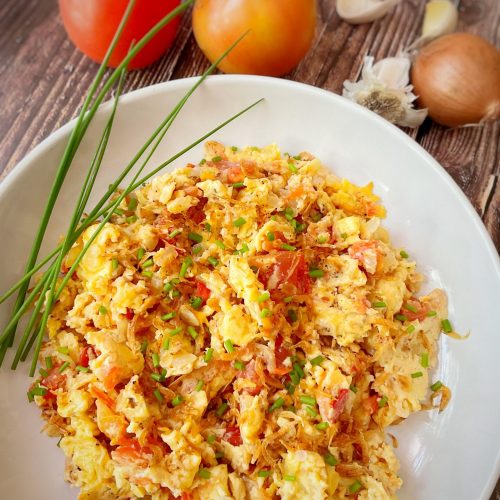 Scrambled Eggs with Dried Alamang and Tomatoes
a quick and easy egg recipe that's rich in protein and easy on the budget. Very tasty and filling!
Ingredients
3

tablespoons

oil

1

small onion

chopped

3

garlic cloves

finely chopped

2 to

matoes

seeded and chopped

½

cup

dried Krill

dried alamang*

5

egg

well beaten

1

sliced green onion

green part only, for topping (optional)
Instructions
Add the dried alamang to a dry frying pan (preferably non-stick). Cook (while stirring continuously) on medium heat until lightly toasted and aroma is released (about 2 minutes). Set aside.

Wipe the pan clean and add the oil. Saute the onions for a bit then add the garlic and tomatoes. Cook for a minute then mash the tomatoes a bit. Set aside 1 tablespoon of the toasted alamang to use as topping (optional). Add the rest of the alamang to the pan and stir.

Pour in the beaten eggs and gently mix until the eggs are cooked (1-2 minutes). Transfer to a serving platter. Sprinkle the reserved toasted alamang and some sliced green onions, if using.

Best served with rice and some breakfast meats.
Notes
*Dried alamang (krill) is sold at asian stores in the frozen aisle. It usually comes in a 100g clear plastic pack. Some Filipino stores may sell them in their dry goods section, not frozen. This is NOT the same as the bottled alamang. Pls refer to the image above