Okoy is a dish consisting of julienned vegetables and shrimps mixed in a batter and deep fried until crunchy. It's always served with a vinegar-garlic dip.
For most people, shrimp is a "must" ingredient in making okoy but my family is not a big fan of shrimps. We seldom buy this crustacean. In fact, I still have a pack stashed somewhere in my freezer which I bought a few months ago. This is why, I always make a vegetarian version. And it doesn't stop there. They want it very crunchy. If it's not, just skip the okoy and make them something else. Haha!
I played with a few batter combinations and this is what I think is the crunchiest batter (at least according to my family). The batter is very light and as long as you drop the fritters when the oil is hot enough for frying, it won't be oily .
Give it a try and feel free to add your shrimps or other vegetables as long as you stay within the ratio of the veggies to the batter.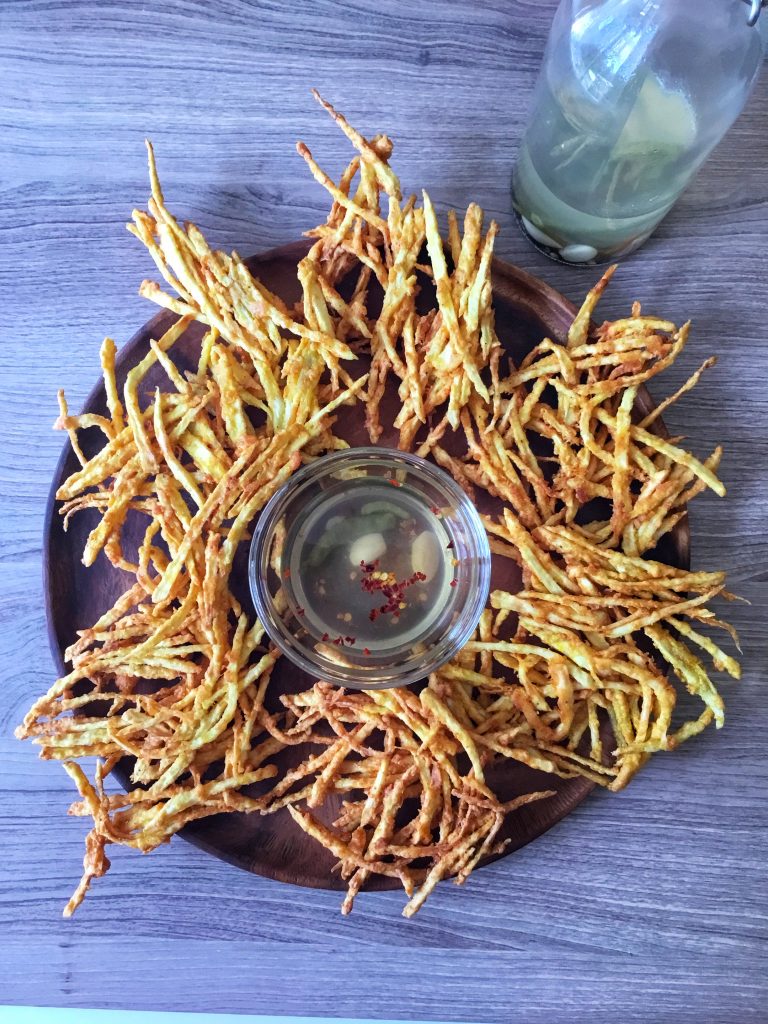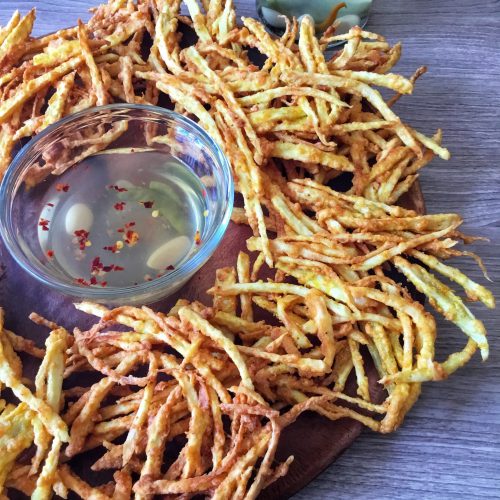 Crunchy Sweet Potato Okoy (Vegetable Fritters)
Okoy is a versatile dish that can be served as an appetizer, snack or main (just add shrimps). The crunchy texture makes it so appetizing even with picky eaters
Ingredients
For the Okoy:
2 1/2 to 3

cups

sweet potatoes

(julienned)

3/4

cup

rice flour or cornstarch

3

egg whites

(beaten)

1

tsp

garlic powder

1

tsp

onion powder

1/2

tsp

salt

1/2

tsp

ground black pepper

1/4

tsp

turmeric powder

1 to 2

Tbsps

if cold water or 1 ice cube

(optional)

Canola Oil

(for frying)
For the Dipping Sauce:
1/2

cup

vinegar

3

cloves

of garlic

(minced)

1/2

tsp

ground black pepper

pinch

of salt
Instructions
Heat a large frying pan and pour oil until it reaches 1 / 2 inch deep.

In a large bowl, combine sweet potato slices (***or other vegetables), spices, flour and egg whites. Add water. Mix until well combined.

When oil is hot, place about 1 / 4 cup of the mixture. Fry and flip halfway until golden and crunchy. Place on a wire rack to drain excess oil and keep it crunchy while frying the rest.

Serve with the vinegar dipping sauce.
Notes
*** Substitute some of the sweet potatoes with julienned squash and bean sprouts.
*** Make sure oil is hot enough before placing your batter to prevent fritters from being soggy and oily.
*** Oil temperature should be 350F. I just test it by placing a bamboo chopstick in the middle of the oil and if it forms bubbles around the stick, it's ready.