Whenever I think of Tinapa (smoked fish), I'm reminded of 2 Catholic churches in Manila – Our Lady of Loreto (Sampaloc, Manila) and Quiapo Church (Minor Basilica of the Black Nazarene). These are churches that I frequented when I was still living in the Philippines and street vendors selling tinapa lined up outside its walls in the afternoons. You just have to follow that distinct smoked fish smell and you'll end up seeing bamboo baskets filled with neatly piled, nicely golden-colored smoked fish.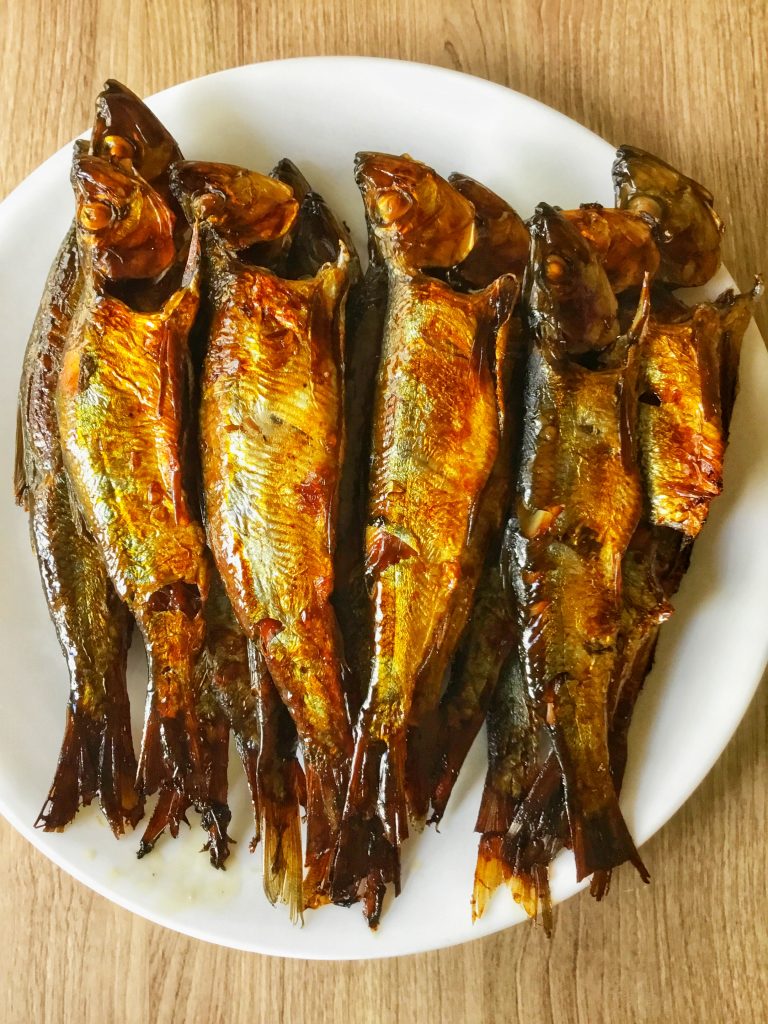 Living away from home has some downsides and one of them is definitely the food. Though some of them are available here, I try to make those that are possible to make from scratch with the resources around me.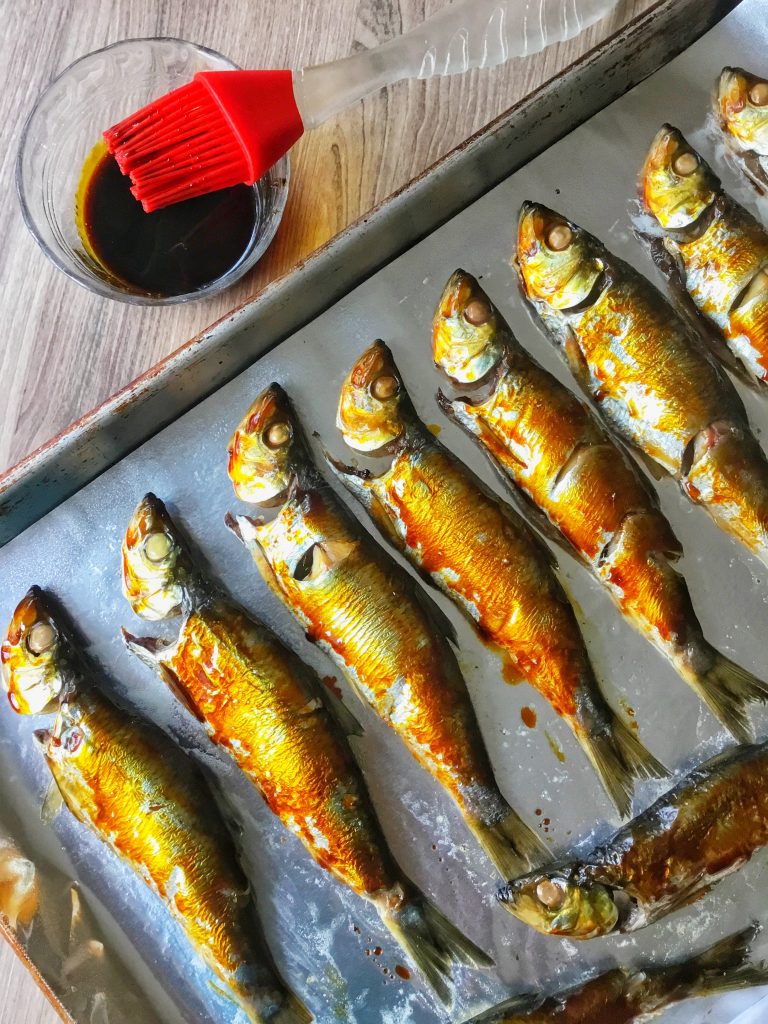 It's Herring season here in B.C. so they're very inexpensive. Tinapa came to mind instantly as they're in the same family as the Tamban that we have back home. I based this recipe on my other post, Easy Tinapang Salmon (Oven-Smoked Salmon) and just added an extra step (steaming the fish). Don't worry, this doesn't involve any special equipment like a smoker. Like I said, this is my way of recreating a dish that we miss and I can proudly say that it looks and tastes like the ones done in a smoker. Hope you give it a try!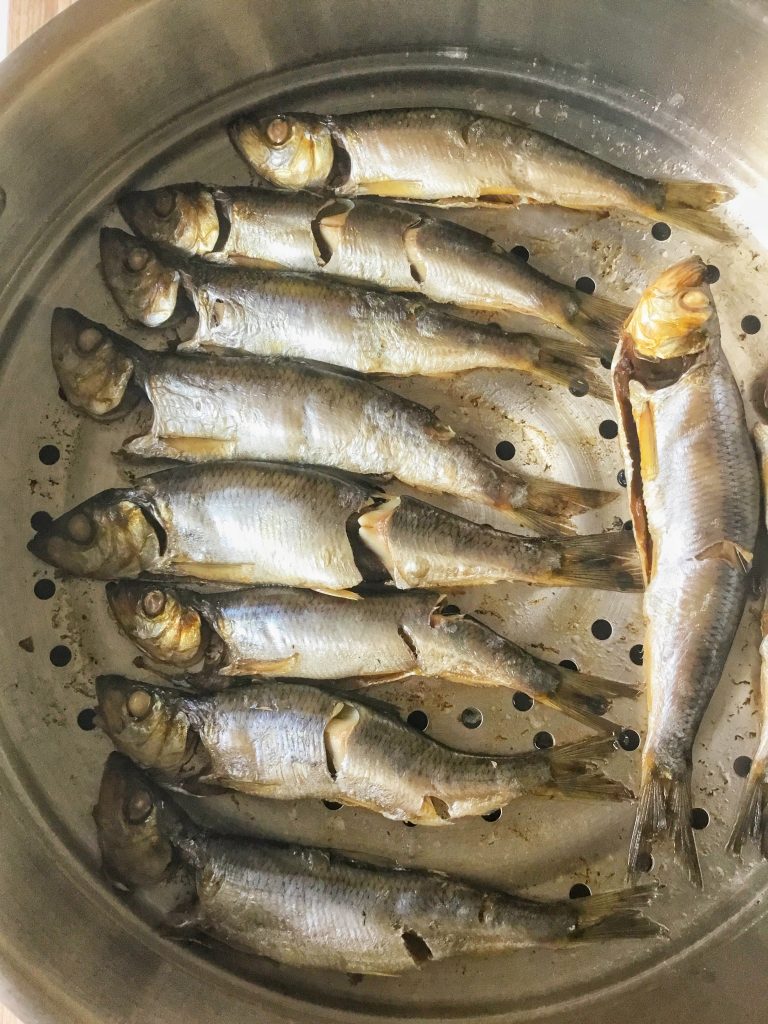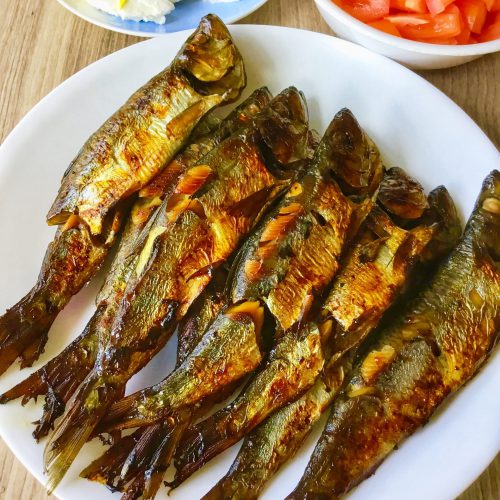 Oven-Baked Homemade Tinapa (Smoked Fish)
Smoked fish that is a native delicacy in the Philippines and is commonly made with Herring, Scad or Milkfish. It's best eaten with rice, sliced fresh tomatoes and salted eggs.
Ingredients
3

lbs

Herring

Tamban cleaned* (see notes for substitutions and cleaning )

¾

cup

fine sea salt

for cleaning and rinsing fish

¼

cup

dark soy sauce with a pinch of salt

for basting before baking
Marinade:
½

cup

light brown sugar

4

teaspoons

fine sea salt

3

tablespoons

liquid smoke

I used Colgins Hickory
Instructions
Add ¼ cup sea salt in a large bowl then fill with cool tap water, enough to submerge the fish. Stir to dissolve the salt then add the fish. Swirl a few times. Clean the fish** (see notes) one at a time while the rest is submerged in salted water. Onced cleaned, rinse 2 more times in clean salted water (another bowl of water with ¼ cup of salt). Drain well in paper towels.

Transfer the cleaned fish in a large food container (with lid). In a small bowl, mix brown sugar and 4 teaspoons sea salt. Sprinkle over the herring (also inside the fish). Drizzle the liquid smoke evenly, turn the fish to completely coat. Cover and refrigerate overnight (at least 6 hours).

Brush the steamer with oil then arrange the fish, side by side in one layer. Spoon marinade over each fish then steam on medium heat for 10 minutes. Remove the lid and let the fish cool slightly so it's easier to handle.

Preheat the oven to 375F. Line a baking sheet with aluminum foil then brush with oil. Arrange the steamed fish on the prepared sheet. Lightly brush both sides with ¼ cup dark soy sauce mixed with a pinch of salt. Bake in a preheated 375F oven for 15 minutes, gently flipping after 10 minutes.

Store leftovers in the refrigerator or freeze in batches to enjoy later. Just thaw and fry briefly in oil before serving.
Notes
*You can use other fish like galunggong (round scad) or mackerel. Adjust baking time if using bigger fish.
**How to clean the fish: Using kitchen shears, insert the scissors in the fish opening between the head and the body ( point your scissors towards the belly and snip until you have enough space to remove the innards. Starting from the head, pull the gills and the innards connected to the belly. Repeat with the rest and wash in prepared salted water. Drain.