Today is the first real taste of "almost summer" weather, and I'm loving it! Up until a few days ago, it still felt like winter for most of the day. This year, the warm weather has been inching ever so slowly because old man winter is overstaying its welcome.
It's a good sight to see Ataulfo mangoes by the case again. For me, that's one of the indications that summer is almost here (though it still feels like a winter-spring combo). I saw some really nice ones last week while at a Korean supermarket. They looked so perfect that I found myself grabbing a boxful though it wasn't the reason why I went there. After just a couple of days, they were nicely and evenly ripening. Luckily, not only did every single one perfectly ripened but they were all sweet and juicy. Great buy indeed!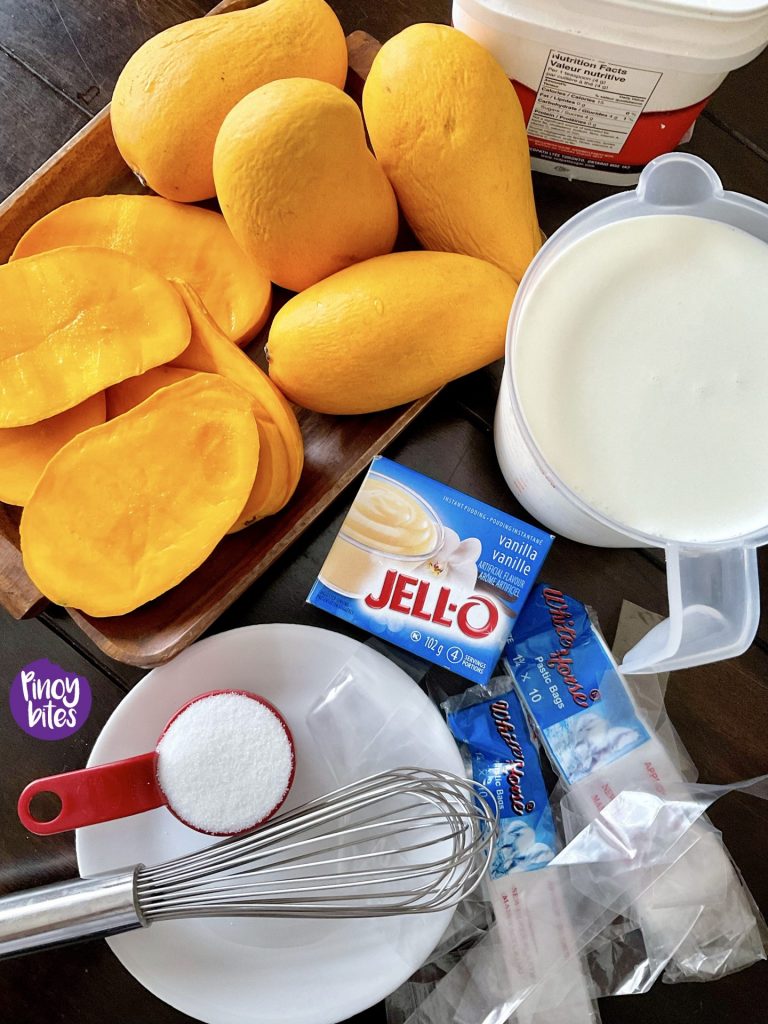 My youngest immediately thought of ice candy upon seeing my haul. You see, my son doesn't like fresh mangoes…at all! No bribe would make him even nibble a tiny piece. Funny thing is, he loves mango in smoothies, ice pops and ice cream. Those are the only 3 ways he would happily eat them. Now you know the motivation (and challenges) behind my recipes.
There is ONE not-so-secret ingredient in all my ice candy recipes…. Jell-O Instant Vanilla Pudding mix. It was a random thought when I was cleaning my food pantry and realized I still had some of these tiny boxes of pudding. I got curious and checked the list of ingredients and zeroed in on the modified starch. It was an aha moment and soon after I put my thoughts to the test. It came out exactly as I imagined after playing with the amount of liquid and sugar. Now, this is a constant at home…even in the dead of winter.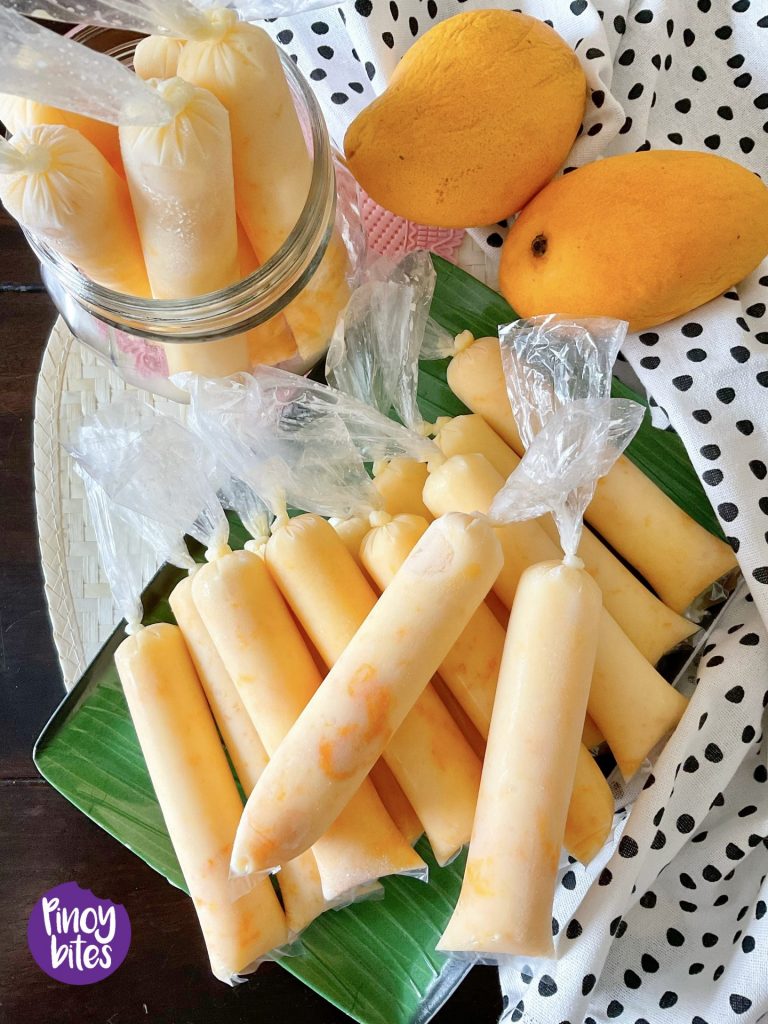 This recipe is like the 5-Minute Super Smooth Avocado Ice Candy and the Super Easy and Smooth Strawberry Ice Candy. Both have the same base but slightly differ in its sugar content. I bet this is the easiest way to make the smoothest ice candy ever! It's the same way as making Jell-O Vanilla Pudding with sweet mangoes added to . You literally can put this recipe together in 5 minutes and you're rewarded with a smooth and addicting Mango Ice Candy….no sweat! It can't get any easier than that.
Make this ahead and park 'em in the freezer so your kids (or yourself) have a healthy snack when the weather calls for it or just when you need something cold and refreshing. I always make these in the summertime and pack them when we go to the beach or have picnics with friends. It's always a hit with both the young and the young at heart. Enjoy!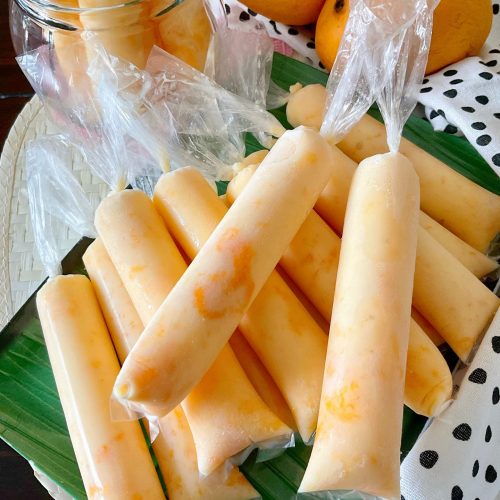 The BEST and EASIEST Mango Ice Candy (Super Smooth)
This super creamy and crave-worthy frozen treat only needs 4 ingredients and less than 10 minutes to make! You won't believe my secret ingredient!
Equipment
Ice Candy bags / Ice Pops baggies / ice pops mold

Funnel

Ladle
Ingredients
2

ripe Ataulfo Mangoes

4

cups

whole milk

102

g

pack Jell-O Instant Vanilla Pudding

6

tablespoons

sugar
Instructions
Locate the seed in the middle of each mango and slice down both sides to divide it into 3. Gently scrape all the meat thinly using a teaspoon. Do the same with the rest including the meat clinging to the seeds. Set aside in a small bowl.

Combine instant pudding mix and sugar in a large bowl. Slowly add milk while whisking to avoid lumps. Once smooth, mix in all the scooped mango bits.

Fill ice candy wrappers a little over halfway. Twist the bag where the liquid ends and tie a tight knot. Repeat. If using reusable ice pop bags or containers, fill to its capacity.

Freeze until completely frozen. To eat: Snip the top end (if using disposable ones) and enjoy!