There was a time when my kids were obsessed with Biscoff cookies. I used to buy them on a regular basis and they always reminded me whenever we're low on stock. It was pricier than other biscuits of its kind so I was happy when I saw it at Costco, for a much lesser price. At least I didn't have to scour the flyers for a sale every single week.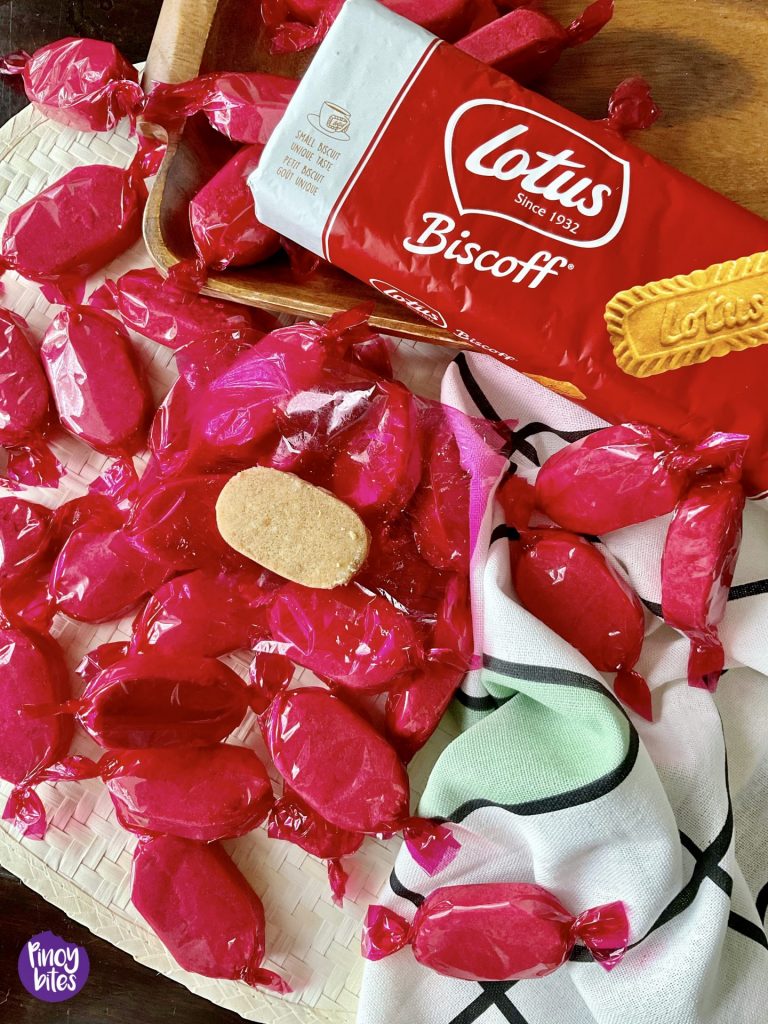 Funny thing is, their obsession with these dwindled significantly. It was their school snack for some time but suddenly, I kept seeing leftovers in their snack containers. I found myself stuck with a few unopened packs and didn't know what to do. Hubby and I could only eat so much with our morning coffee. Bottomline is, I hate wasting food…. and my kids know it.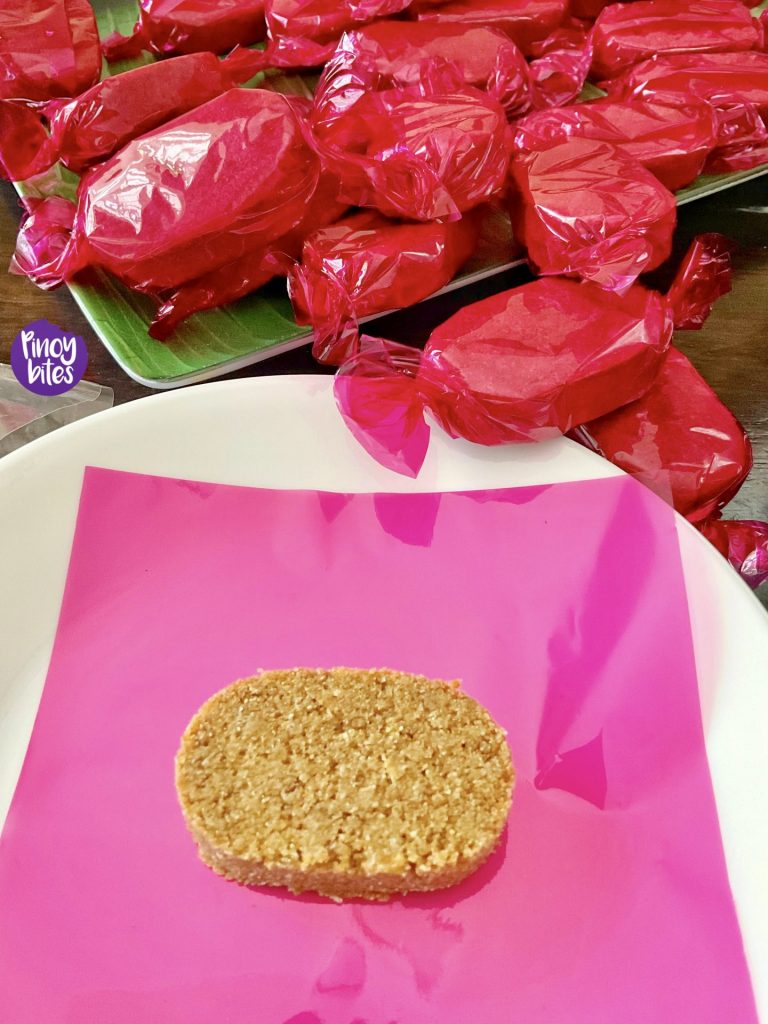 One time I was making Pulvoron, I had this thought of toasting the powdered milk together with the flour.  I was curious if it'll give the cookie a better aroma and added nuttiness. Then, I thought of the packs of Biscoff we still have. I was sure that adding some crushed biscoff cookies would enhance its taste even more. And I instantly loved it when I had my first bite! The mouthfeel was spot on with some uneven crumbs here and there from the manual pounding. Adding the cookies gave that overall delightful taste of nuttiness with a hint of caramel. Soooo good!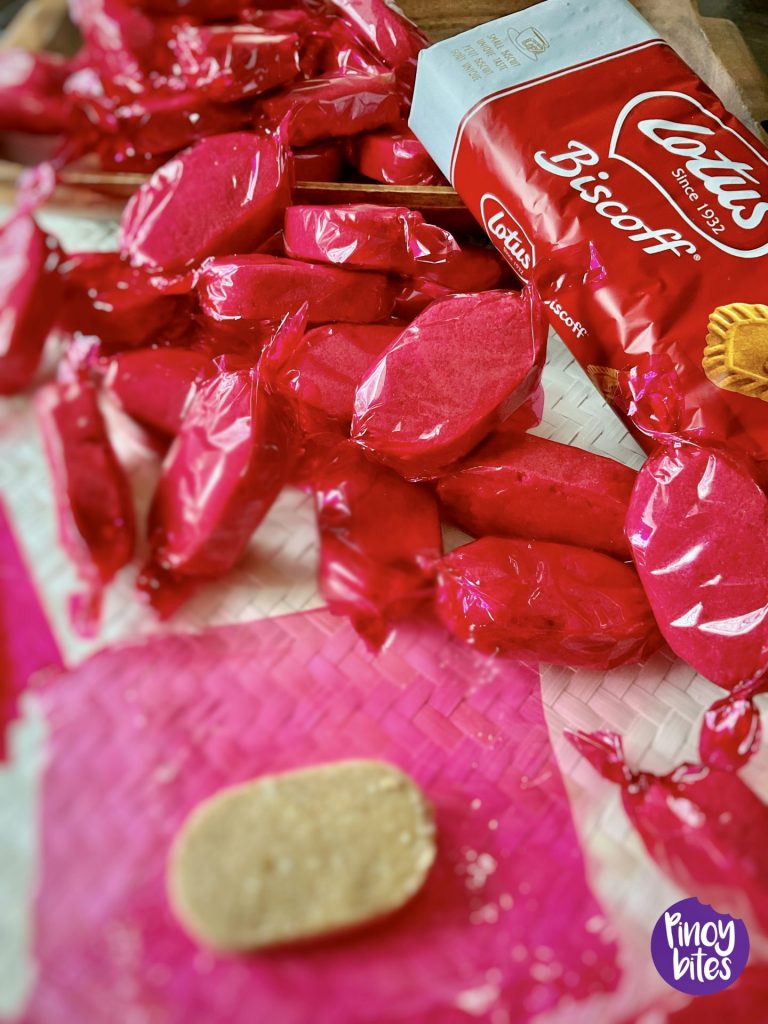 Whole milk powder is best in making pulvoron. I used skim milk powder in the past but when I tried the Medallion Whole Milk powder at Costco, I was hooked. It's creamy and made from pure Canadian Milk with some added Vitamin D3. If you're not from around here, I'm sure you have a go-to brand that your family loves.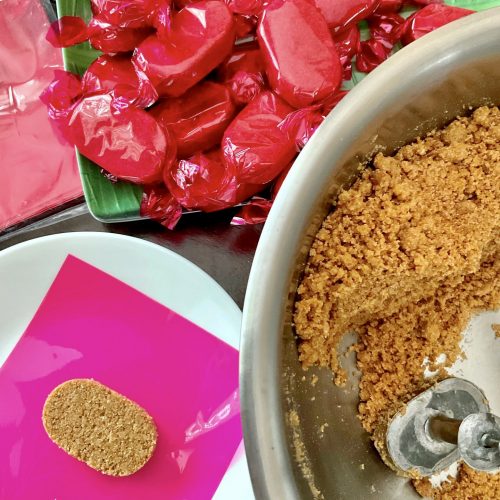 Biscoff Pulvoron
this version of the Filipino shortbread cookie has a nutty, toasted, deep caramel flavors and subtle hints of warm autumn spices. It's like a warm hug in a tiny package!
Equipment
Food-grade cellophane wrapper, about 4×4" square** (see Notes)

Pulvoron molder
Ingredients
1

cup

cake flour

or all purpose

1

cup

powdered whole milk

⅓

cup

sugar

2

cup

crushed Biscoff cookies

28 cookies* (see Notes)

1

cup

butter

melted
Instructions
Place the flour and milk in a dry frying pan. Cook on medium-low to medium heat until lightly toasted. Adjust the heat to prevent burning. Transfer to a large mixing bowl and let cool.

Add the sugar and crushed cookies to the cooled mixture and whisk well to combine.

Pour the melted butter and mix until everything is completely coated.

Press the mold against the mixture until packed before releasing on a piece of wrapper. Wrap and repeat with the rest.

Keep in an airtight container and enjoy.
Notes
*You can lessen the amount of the cookie crumbs if you want. Just substitute with equal amount of flour (ex. If you use only 1 cup of Biscoff, add 1 more cup of flour) **Size of the wrapper depends on the pulvoron mold used.