Every year from mid-July to September, Sockeye salmon is in season. This prized aquatic animal is leaner, very flavorful and has a deep orange-red hue. Needless to say, it's packed full of the healthiest omega-3s. Though there's plenty of this type of salmon on the west coast, the price has always been on the steeper side and got even more expensive post pandemic.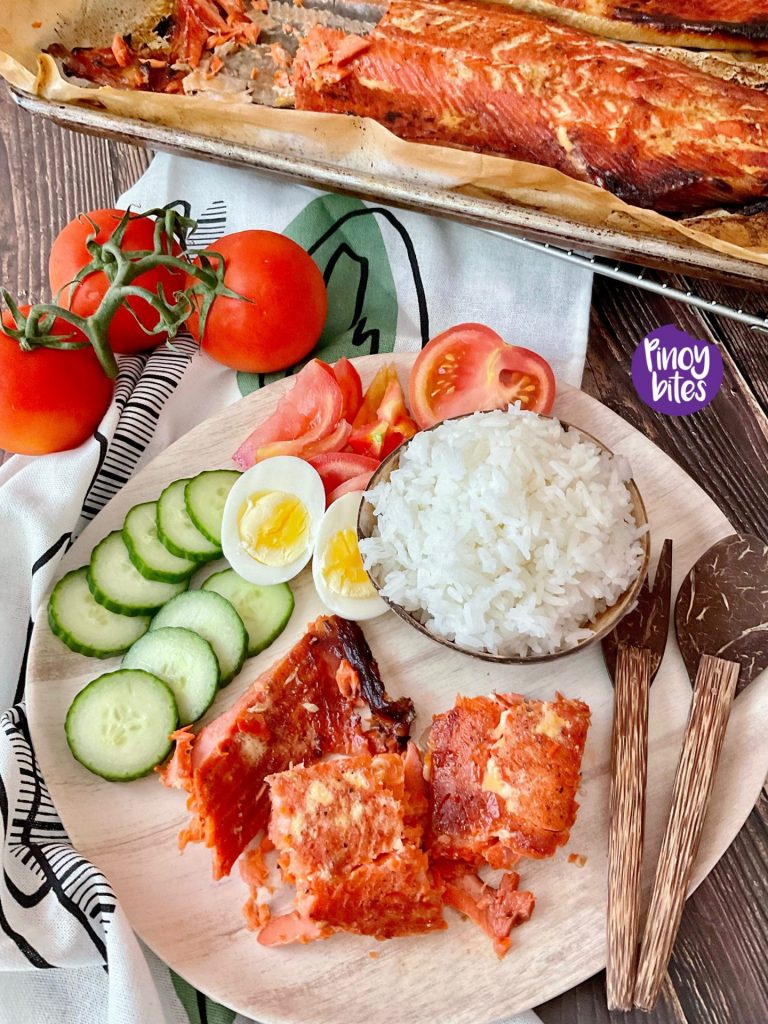 There's a grocery store in our neighborhood that holds an annual one day sale of this coveted fish. I would always keep my eyes peeled for their printed ads to make sure I don't miss it. Like I mentioned, this is a yearly event (Fresh St. Market) and the prices of both fileted and whole are both "reasonable"… just for a day. Funny thing is, once I'm faced with piles of salmon at the store, I always have second thoughts which ones to buy…filets or whole. The latter is significantly less expensive but the extra labor I had to do at home is also a valid argument in my decision making. Do I want to spend the extra time of fileting a whole salmon or just take the easier (but expensive) route and buy the filets? Though it's very tempting, the "wais" (wise) mom in me gravitates towards the cheaper whole … always! The savings add up if you're buying more than a couple, you know.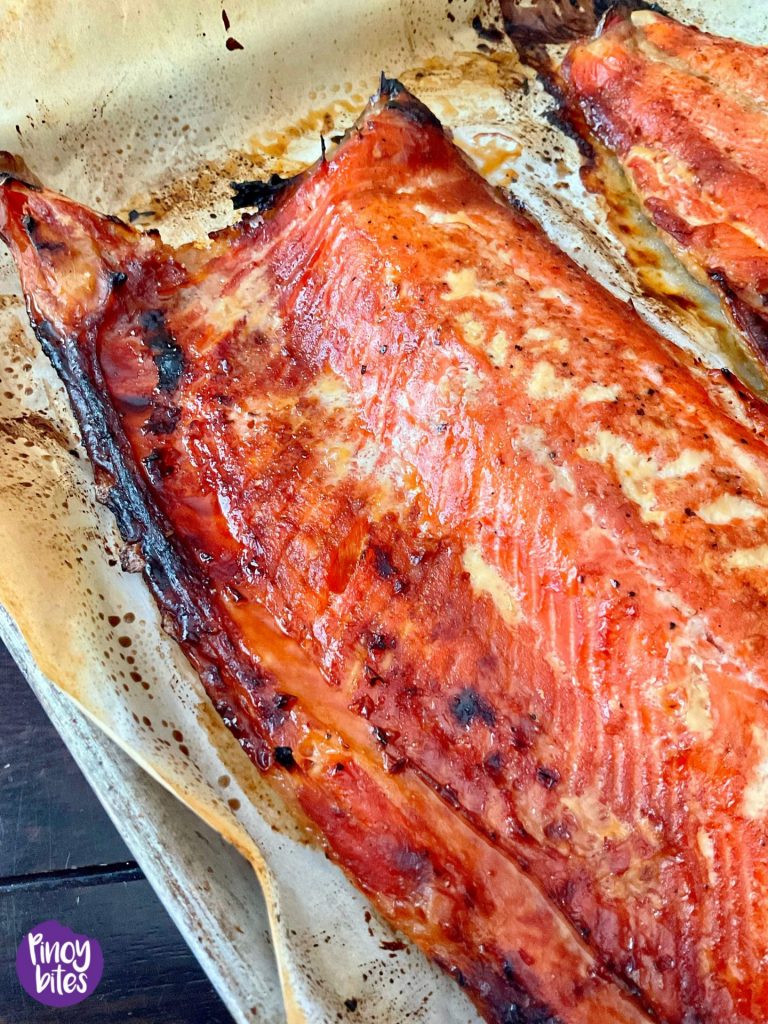 Smoked fish is one of the dishes that remind me of home. Actually , hot smoked salmon is available at the supermarket but the price is sky-high. The price of a single serving portion is far from affordable and is definitely not within my budget. I guess our cravings and love for this dish were the reasons this recipe came about.
Buying a smoker, even how small it is, is out of the question. That's how the store-bought liquid smoke became one of my pantry staples. I could only find the Colgin Hickory Liquid Smoke before but I recently tried another brand that I saw, Wright's Hickory Liquid Smoke and they equally work. It gives the salmon that "smoke" flavor without the need for a smoker.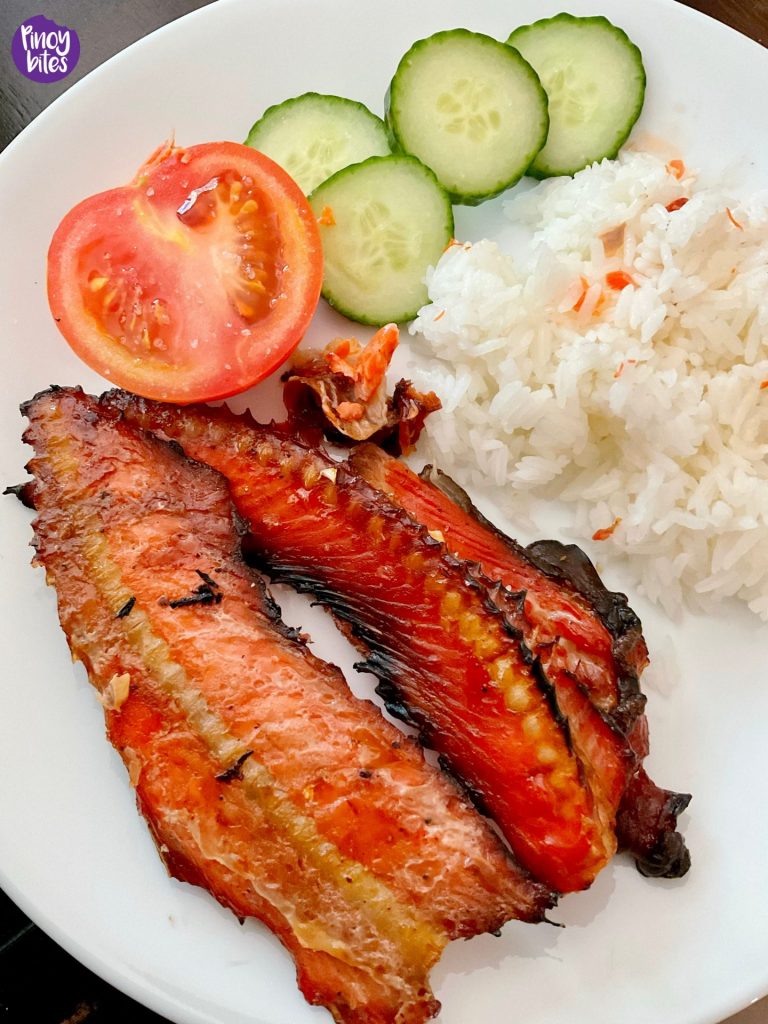 This dish is even easier to make than the Oven-Baked Homemade Tinapa (I skipped the steaming part in this one) and tastes as if it came out of the smoker! This sure is one of my must-try recipes and my picky tinapa eaters can attest to it. I use leftovers (if any) in my Special Pancit Palabok. Hope you love it as much as we do!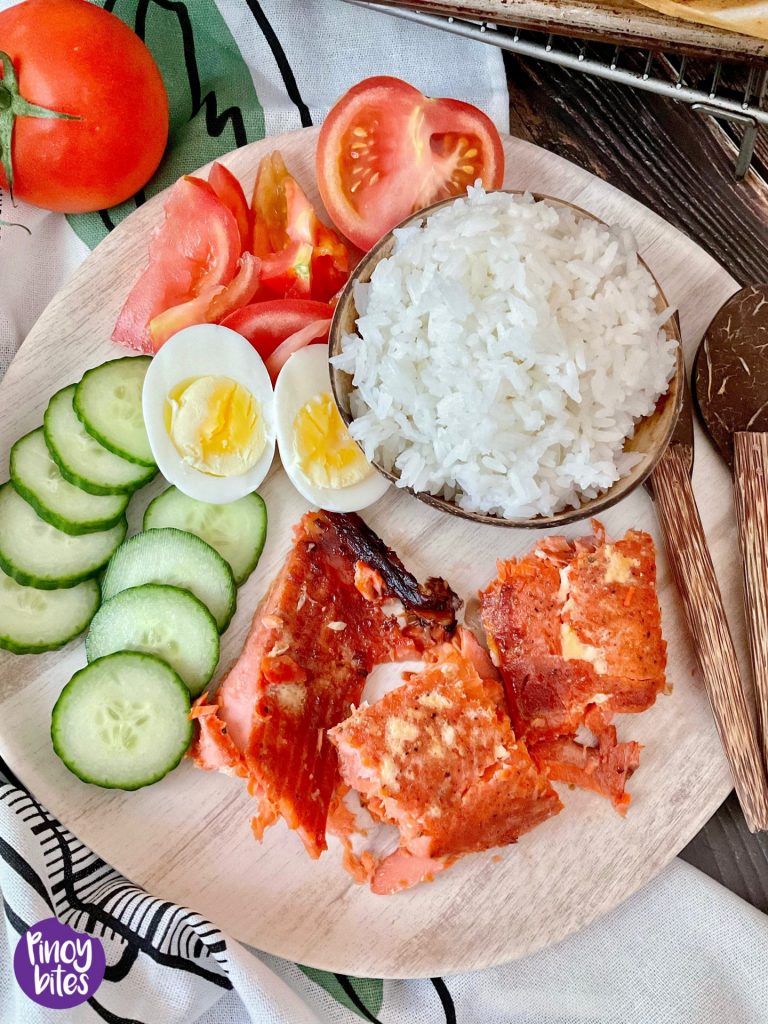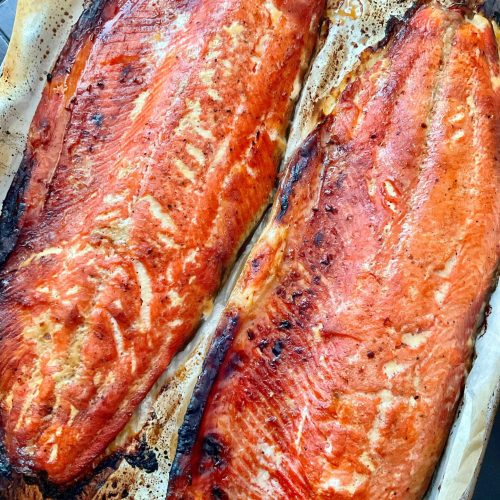 Easy Tinapang Salmon (Oven-Smoked Salmon)
Ingredients
2

Whole Sockeye Salmon filets, abt 2 – 2 1/2 lbs

(or 1 whole Atlantic Salmon filet)

1/3

cup

brown sugar

firmly packed

2 1/2

tsps

salt

1/2

tsp

ground black pepper

2

Tbsps

liquid smoke
Instructions
Pat salmon dry using paper towels and place in a food-safe container with lid. Combine brown sugar, salt and pepper in a small bowl and spread evenly over the salmon pieces. Drizzle with liquid smoke. Make sure the fish is coated with the marinade.

Cover tightly and marinate in the refrigerator for 8 hours, turning the fish after 4 hours. ( It'll still be fine if you forget this step )

Take the fish out of the fridge. Discard liquid and transfer to a greased baking tray or line it with parchment ( I used a 12×18 cookie sheet ).

Preheat the oven to 375F. Spray some oil on top of the fillet then bake for 20 – 25 minutes. Fish will flake easily once cooked.

Switch to BROIL (High) then cook for about 3 – 5 minutes. Ends and fatty parts will start to caramelize (see images above). Watch carefully to avoid burning the fish.

Remove from the oven and serve with rice and vegetables of your choice on the side.
Notes
* Oven temperatures vary so watch the salmon especially after the first 20 minutes of baking.
** Use leftovers ( if any ) in place of regular tinapa for your Pancit Palabok.