Smoked fish is one of the dishes that remind me of home. Once in a while we buy the commercially packaged ones from the local Asian store but I noticed the prices of frozen fish has been getting steeper each time I go. My family, especially my kids love it! It's a treat for them when they see it on the dinner table. So, I thought of making something like it without buying a smoker.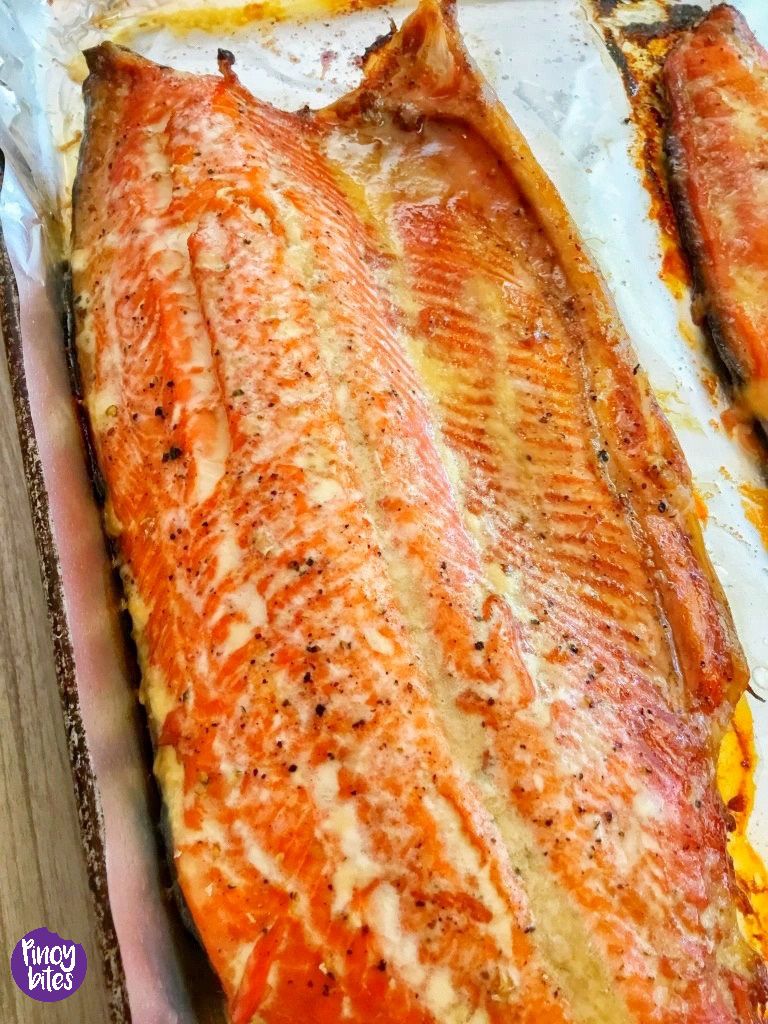 I first tried it with a whole fillet of salmon (Sockeye). It was good and lean. The thing is, even here in BC where there's an abundance of Salmon, it's still pretty expensive. I saw vacuum-sealed salmon belly at the asian store near me and thought of trying it for the same recipe. Salmon belly is always available in my area and it's pretty inexpensive. I used liquid smoke which I found at my local supermarket. After a couple of tries, I finally got the right smokiness my family likes. This dish is very easy to make and tastes as if it came out of the smoker.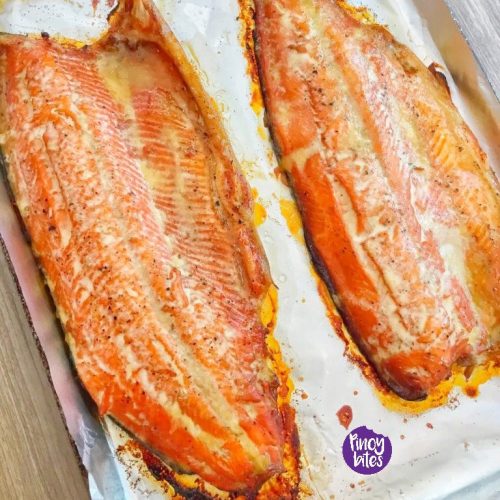 Easy Tinapang Salmon (Oven-Smoked Salmon)
Ingredients
2

lbs

Salmon belly*(see notes)

1/3

cup

brown sugar

2 1/2

tsps

salt

1/2

tsp

ground black pepper

2

Tbsps

liquid smoke
Instructions
Pat salmon dry using paper towels and place in a food-safe container with lid. Combine brown sugar, salt and pepper in a small bowl and spread evenly over the salmon pieces. Drizzle with liquid smoke. Make sure the fish is coated with the marinade.

Cover tightly and marinate in the refrigerator for 8 hours, turning the fish after 4 hours. ( It'll still be fine if you forget this step )

Take the fish out of the fridge. Discard liquid and transfer to a greased baking tray ( I used a 12×18 cookie sheet ) meat side down.

Preheat oven to 350 F and bake for 20 minutes (use the middle rack of the oven). Turn the salmon pieces skin side down this time and place it back in the oven.

Crank the oven up to 400 F for bake for another 10 minutes. (You don't have to wait for the temp to reach 400 F)

Broil on HIGH for 2 more minutes to caramelize the top.
Notes
* For a leaner Tinapa, use a whole fillet of salmon. Just bake for 20 minutes at 350 F skin side down. Switch to broil for 2 minutes if you want a little browning on top. It's done when the fish flakes easily with a fork. 
** Oven temperatures vary so watch the salmon especially after the first 20 minutes of baking.
*** Use leftovers ( if any ) in place of regular tinapa for your Pancit Palabok.