When I was young, my mom used to make this often. She would go to his favorite butcher to buy caul fat (a thin fat netting used to wrap embutido) and a big slab of pork which the butcher will then freshly grind. A quick stop to the ladies who sell "Baguio" vegetables and finally at a small dry goods shop for the rest of the pantry ingredients. Her embutido is really delicious!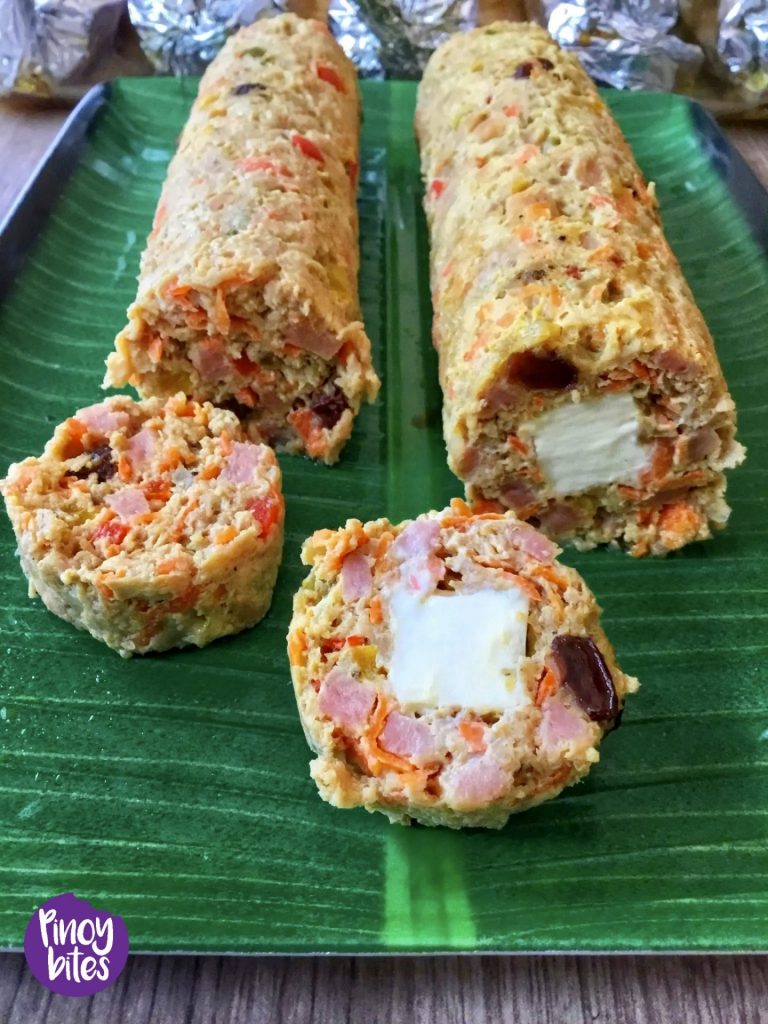 When I moved to North America, I started tweaking a lot of the recipes I used to cook back home. The main reasons were the ingredients and the other, is the process. Adapting to what's locally available but still staying true to the recipe was my personal challenge. Freshly grated coconuts (to make coconut milk) turned into the canned variety and dried taro leaves into Kale for my healthier Kale Laing.  In my version, I added (and omitted) some ingredients and changed the way it's cooked. Unlike her, I'm not keen on babysitting the steamer so I tried sticking them in the oven and it sure worked like a charm! It was way easier and I didn't have to check if the water was running low. My mom was happy to hear it worked out when I told her. I think she even learned something from me for once. Haha!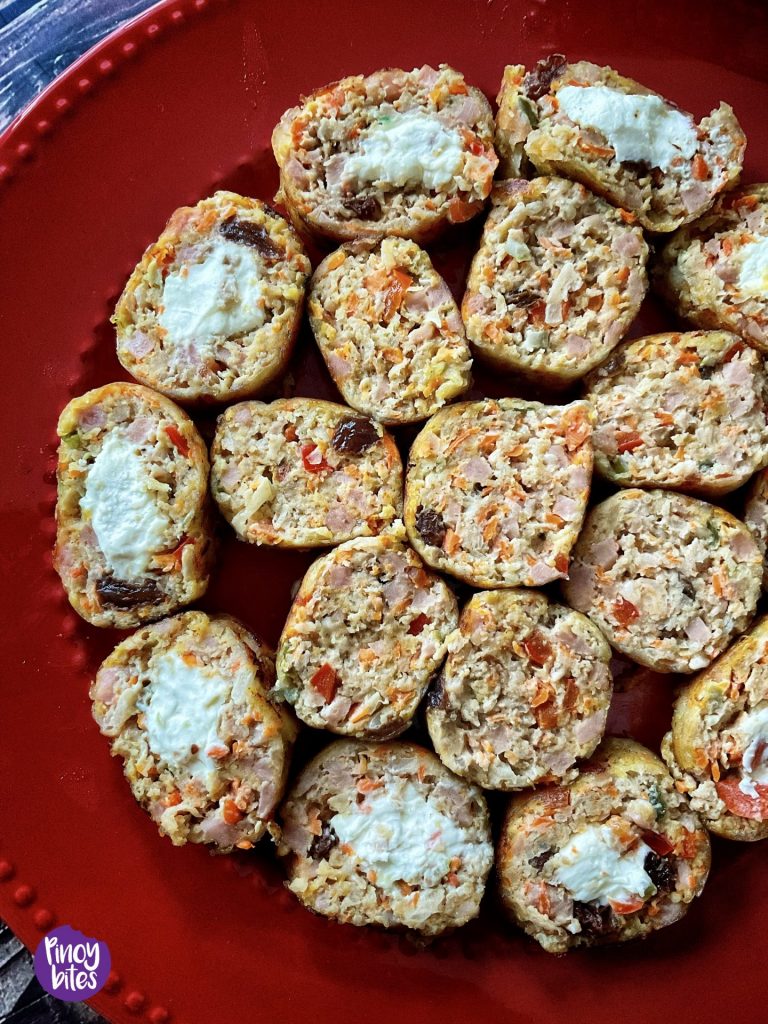 Embutido is the Filipino version of meatloaf. It used to be a dish that's served during special gatherings. Maybe it's because of its colorful look that is so presentable and appetizing when thinly sliced on a serving platter. Nowadays, it's an everyday food that's readily available and different people have their own version of this delectable dish.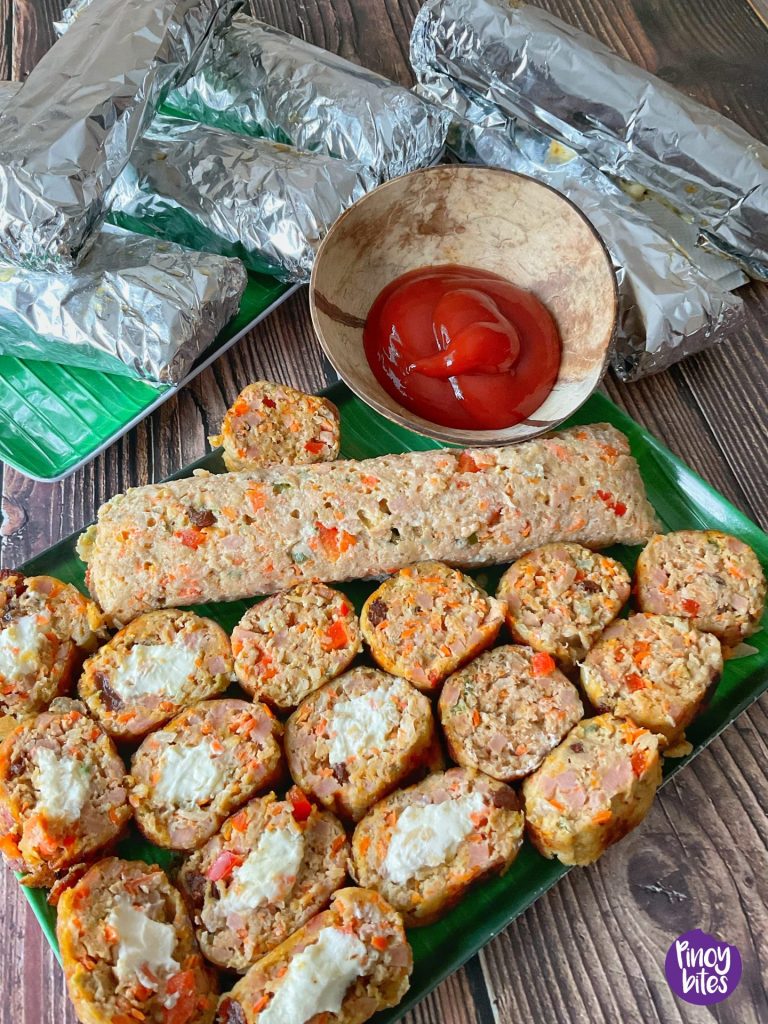 People think embutido is a tricky dish to prepare so it's mostly bought rather than made at home. It's actually a very simple meal that anybody can make. The best part is, you can make a lot of it in one go. Freeze and it keeps for months. Just thaw when you feel like eating one and warm it in a pan with a little oil. Or, if you want to make it fancier, you can dredge it in flour, dip in beaten eggs and roll in breadcrumbs before frying it in oil. You have the option of keeping it plain or add some sticks of cheese in the middle for that cheesy surprise when you slice it. It's a beautiful and creamy surprise!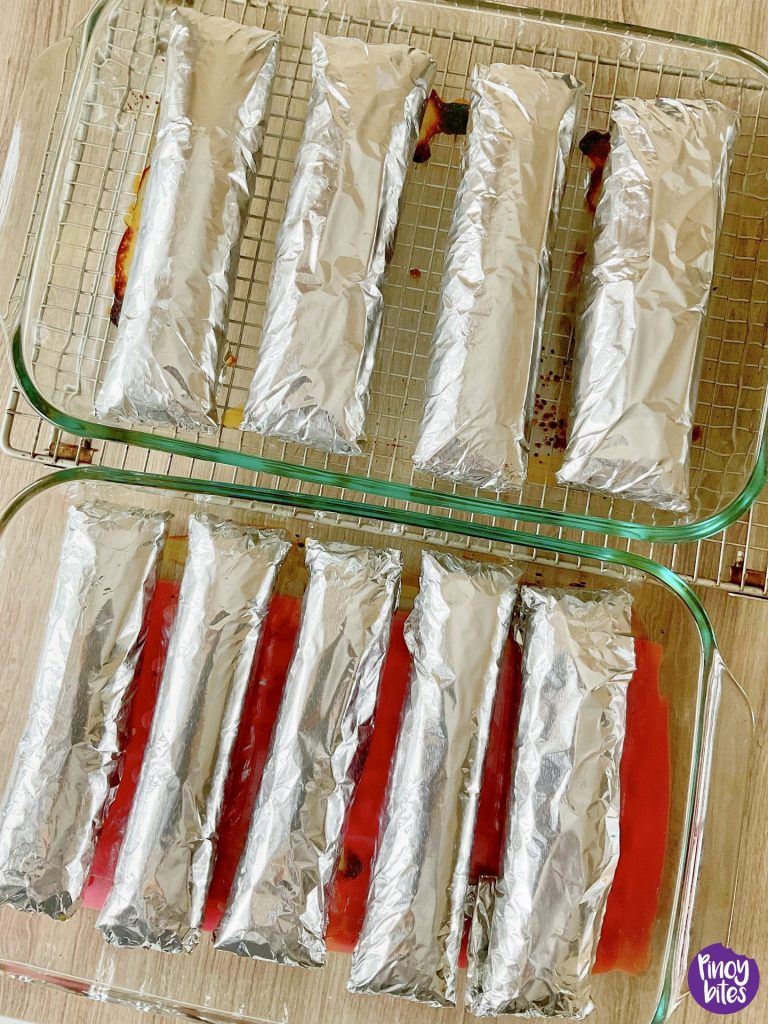 You can serve this immediately after baking or fry the whole log in a bit of oil prior to slicing. To avoid splatters, dredge it lightly in cornstarch then fry. If you're feeling fancy, you can do a simple breading. First, lightly coat in flour then dipped in beaten egg before finally enveloping in panko breadcrumbs. Shallow fry until golden on both sides. My kids love the latter part the most but I seldom do it because of the extra cooking involved. I also have my lazy days, you know.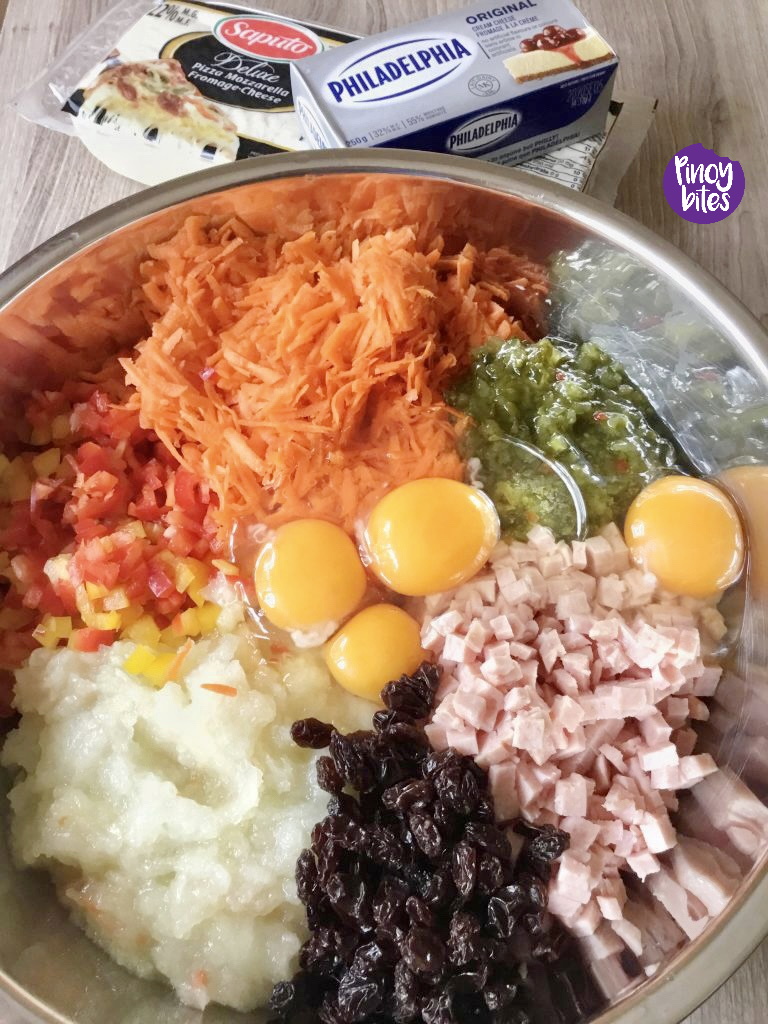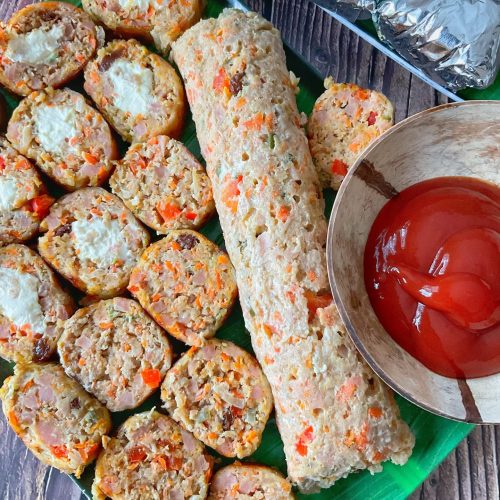 Oven-Baked (Cheesy) Embutido
An oven-baked version of the Filipino meatloaf that is moist and cheesy
Ingredients
2.2

lbs

1 kg ground pork

1 340

g

can Spam

cut into small cubes

2

medium carrots

grated

2

large onions

grated

1

large bell pepper

finely diced

½

cup

raisins

½

cup

sweet pickle relish

5

large eggs

beaten

2

teaspoons

sea salt

1

teaspoon

ground black pepper

¼

cup

plain breadcrumbs

1 250

g

pack cream cheese

cut into thick strips (for cheesy embutido)
Instructions
Place all ingredients in a very large bowl (except cream cheese) and mix very well.

Cut several pieces of aluminum foil (about 10 inches in length) and grease the middle lightly with oil. Scoop 1 cup of the mixture into the middle and spread it to form a log, leaving 2-inch space on both sides. Roll tightly into a cylinder, pinch both ends and tuck under to seal. For cheesy Embutido, place a cup of the mixture and spread it flat (leaving 2 inches of space on both sides of the foil). Place strips of cheese in the middle, fold gently to enclose the cheese before rolling it into a cylinder.

Place all wrapped embutidos on a baking tray (I used two 9×12 inch glass Pyrex pans) seam side down and bake in a preheated 350F oven for 1 hour.

Unwrap and serve as is or lightly browned in a frying pan with a little bit of oil.
Notes
*This recipe makes nine 1 cup embutido rolls.
**You can substitute the Spam with 2-3 cans of Vienna sausage that's been finely diced.
If you're a meat lover and would like to know more about pork dishes that you can try, have a look at our list of Filipino pork dishes you can try here.