Kale is part of the cabbage family and is packed full of nutrients. High in vitamins, potassium, plant-based protein to name a few. This is one leafy green that is almost always available where we live. It can be eaten raw, sauteed, baked into chips. Because of its health benefits, it's a staple in my household.
I recently bought a few bunches of freshly-picked no-spray Kale from a local store and when I got home, I hardly had space in the fridge because we also bought some fruits and vegetables that day. Like I always do, I checked what I have and it pointed me towards making something with coconut milk. I was a little skeptical because my parents are here visiting and my father is from the region in the Philippines where dishes with coconut milk is King. This must be good because even my picky Bicolano father approved of the taste.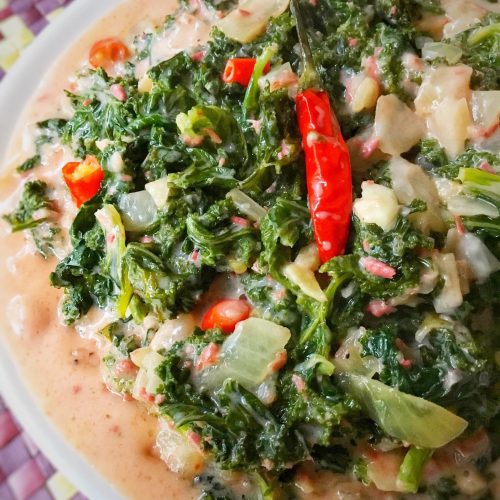 Kale cooked in Coconut Gravy (Kale Laing)
This Filipino style Kale recipe will delight you. Instead of Taro leaves, we used Kale as a substitute on the classic Filipino Ginataan dish.
Ingredients
3

bunches

green Kale

torn into bite-size pcs

1

medium onion

chopped

2 to 3

tablespoons

ginger

julienned

5

cloved garlic

minced

2

400 ml

cans coconut milk

I used Aroy-D

2

tablespoons

Bagoong alamang

sauteed shrimp paste

1 / 2

cup

water

salt to taste
Instructions
In a big pot, put onion, ginger, garlic, coconut milk, alamang and water. Bring to a boil on medium heat and simmer for 5 minutes.

Gently add Kale, pushing it down and flipping until all the pieces are added. Cook for 3 minutes then REMOVE kale from the pot and place in a bowl.

Cook the remaining liquid on HIGH until thick (about only 1 cup liquid is left).

Put the Kale back, season with salt if needed and cook for 2 minute while stirring until the coconut sauce coats the Kale pieces well.

Serve with rice