C.M. Recto in Manila is a major hub for a lot of street food. It's in the midst of the "University Belt" and is a bustling area where people come and go. Aside from it being infamous for its "processing" of major documents, street vendors line up its whole stretch.
Street food is cheap eats and served way faster than fast food. Improvised mobile carts are filled with a colorful array of sweet or savory food like Banana Cue (Caramelized Bananas on a Stick) and skewered meat parts. But the one thing that catches people's attention is the bright orange-tinged deep fried eggs that come in two sizes. Kwek-Kwek is made with quail eggs while the bigger ones from chicken eggs are called Tokneneng. Both are enveloped in a thick pancake-like batter, deep fried then generously doused with either spiced vinegar or the very popular, Manong's sauce (recipe link here).
Vendors use food coloring to create that bright color hue but I opted for the natural Annatto powder. I only used a teaspoon but feel free to add more if you want a more pronounced color. When deep frying, start with medium to medium-high heat then lower the heat a notch so the eggs won't burst. Kwek-Kwek is best eaten immediately after frying because the outer part softens as it sits longer at room temperature.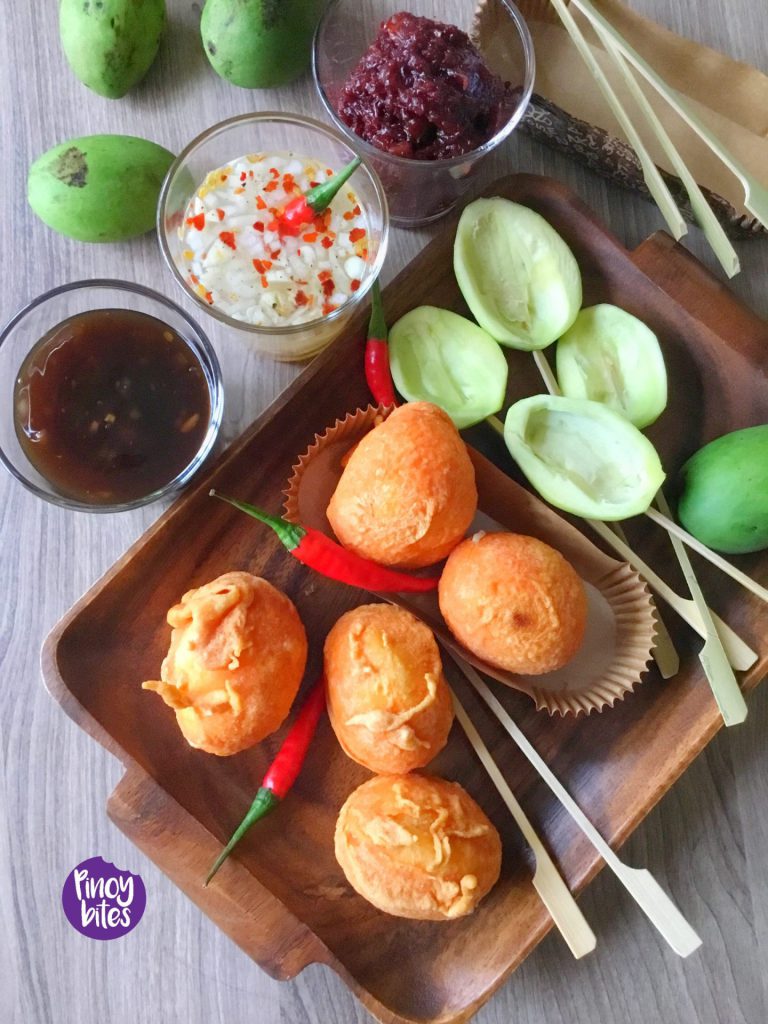 How to cook and peel Quail Eggs:
When boiling eggs, I normally use the "cold water, cold egg" method because I always cook them straight from the fridge. Using a medium pot, gently place the eggs then cover with enough cold tap water until it's about an inch from the height of the eggs. Bring to a boil on medium-heat heat then lower the heat to medium and cook for 3-4 minutes. Scoop into a bowl with cold water (I just let the tap run on cold water) and let cool for a couple of minutes before peeling.
For easier peeling, place a handful of eggs in a lidded bowl with a splash of water (to cushion the eggs) then gently shake to break the shells a bit. Then , peel away.
Kwek-Kwek (Orange-Battered Quail Egg)
Deep fried orange-tinged battered quail eggs, doused with spiced vinegar or the very popular sweet and salty Manong's sauce. A stickful is never enough!
Ingredients
2

dozen quail eggs

boiled and peeled

1/3

cup

cornstarch

for coating

canola oil

for deep frying
Batter
3/4

cup

all-purpose flour

1/4

cup

corn starch

1

teaspoon

annatto powder

2/3

cup

wter

1/2

teaspon

salt
Instructions
Heat the oil for deep frying ( about 2 inches high)

In a medium bowl, combine all the batter ingredients. You may add more annatto powder if you want a more orange tint. Add ⅓ cup cornstarch (or flour) in another bowl. Roll the egg in cornstarch then drop in the batter to completely coat.

Deep fry (on medium to medium-high heat) until golden. Make sure each egg is fully coated to prevent the kwek-kwek from bursting (while frying). Drain briefly in paper towels before serving with Manong's Sauce (recipe link above).