When I was still in the Philippines, I had a lady neighbor who used to sell banana cue on some days of the week. Since I used to get home late, I can only buy some on weekends. At times when I forgot, she would knock at our door and ask if I want some. She usually sets aside a couple of sticks of "lamog" (overripe) banana cues for me because that's how I prefer them, extra soft.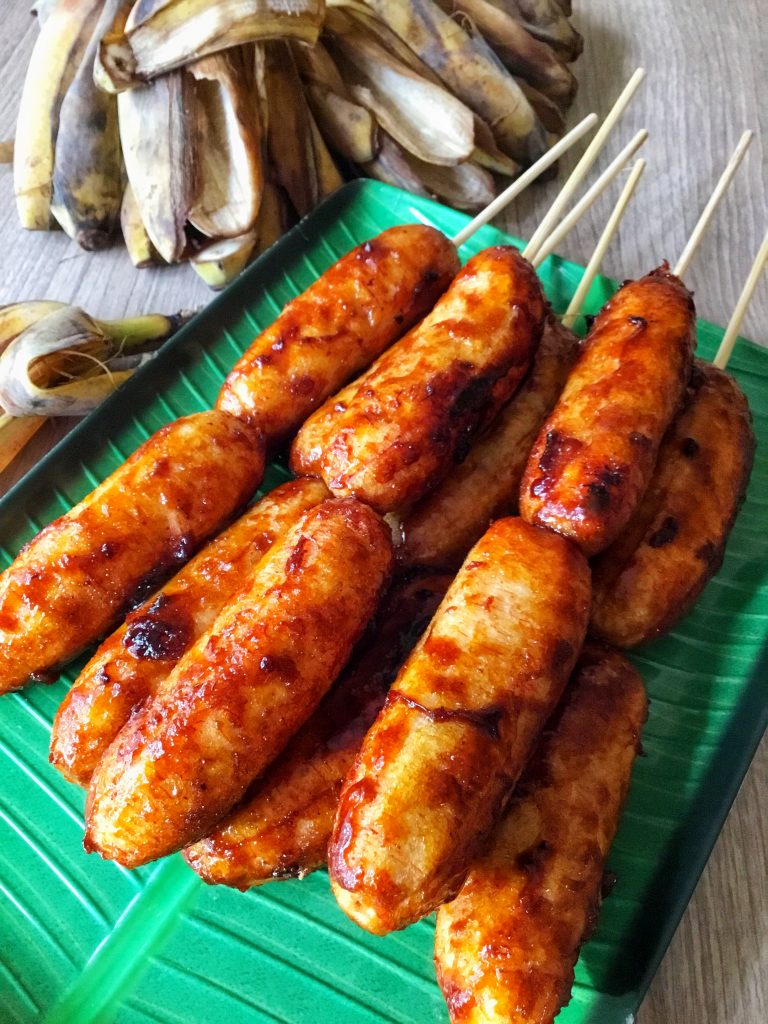 Though I can't find fresh Saba bananas here, the other cooking banana varieties available here are also similar in texture and taste. I just find the ones in the Philippines sweeter, which I prefer if given the choice.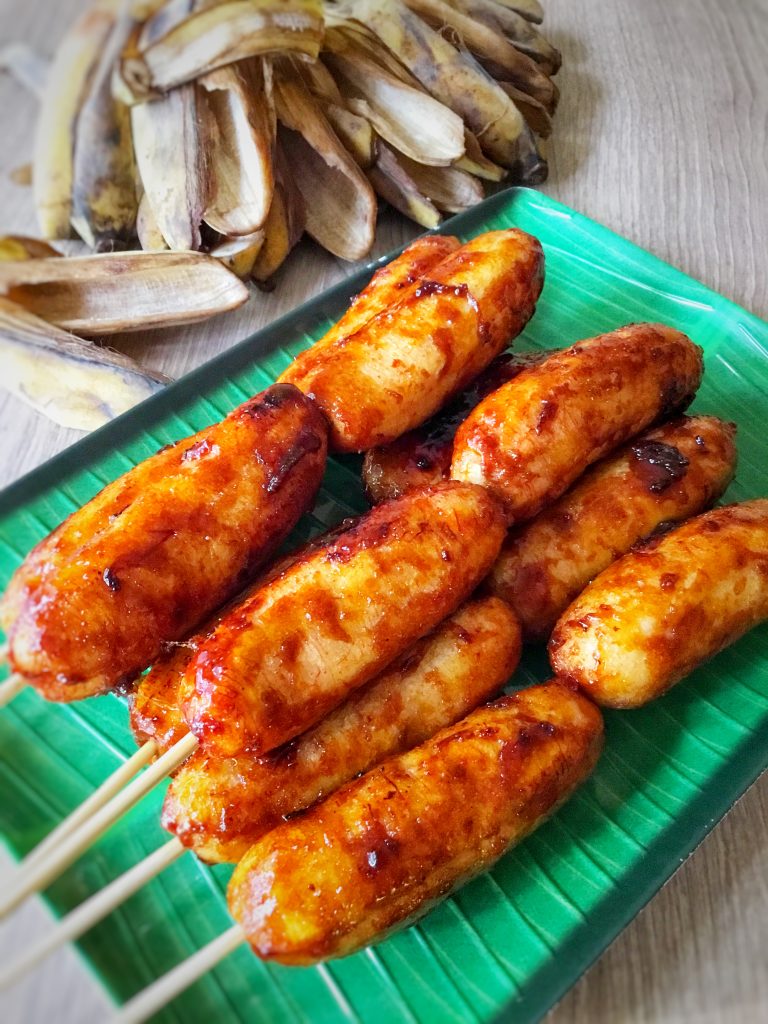 Bananas can be found everywhere in the Philippines. It grows easily there and it's planted both for personal and commercial consumption. The most common variety worldwide is the dessert banana which is also one of the main exports of the Philippines to its neighbouring Asian countries. The other variety is the Saba, which though edible raw, is mostly used for cooking. It's comparable to the burro, plantain and Thai bananas that are commonly used in North America.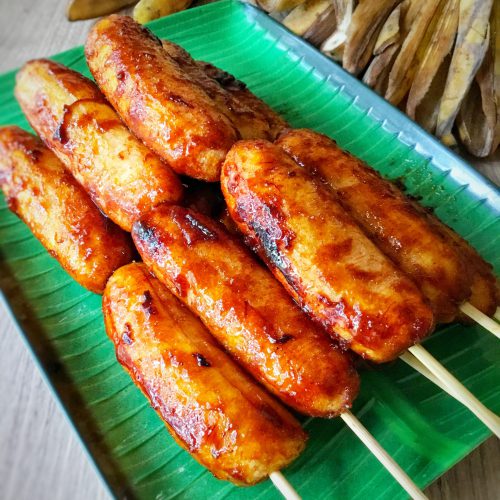 Banana Cue (Caramelized Bananas on a Stick)
A very popular snack in the Philippine that's usually sold as street food. These are cooking bananas coated in caramelized sugar threaded in bamboo skewers.
Ingredients
1

bunch saba bananas

about 15-18 pcs ( I used small Thai bananas)*

3

heaping tablespoons brown sugar**

Cooking oil

for frying

Sesame seeds

(optional)
Instructions
Peel bananas but keep them whole. Heat oil in a wok, about 1½ – 2 inches high.

Once hot, gently drop the bananas one by one and cook using medium heat for 1-2 minutes (2 minutes if you're using bigger than the Thai bananas). Turn a couple of times so the bananas cook evenly.

Sprinkle the brown sugar. Turn the bananas ONCE so the sugar caramelizes in the oil. DO NOT STIR and keep the heat on medium. Once the sugar starts to caramelize, start moving the bananas around until every single piece is fully coated with the caramel. Cook for 3-5 minutes while gently stirring continuously. Sprinkle some sesame seeds, if using. Turn the heat off.

Thread 2 bananas in a bamboo (barbecue) stick. Serve as is or with a scoop or two of vanilla ice cream.
Notes
*You can use Burro bananas or even plantains if you can't find Philiipine or Thai bananas. Avoid using overripe (lamog) ones or they will be mushy, unless that's how you prefer eating yours. Bigger bananas will take a little bit longer to cook. Lower heat when you see your caramel browning too fast.
**Add more sugar if you prefer. Just make sure the sugar is submerged in the oil so it caramelizes faster. If you're using bigger bananas, add more brown sugar.