I love coconut milk! It's just so versatile that it goes from sweet to savory yet still maintains its character. Kakanin (Filipino native delicacies) is never the same without it and dishes like our Filipino Chicken Curry and Ginataan can't be complete without its star ingredient, the all-around coconut milk.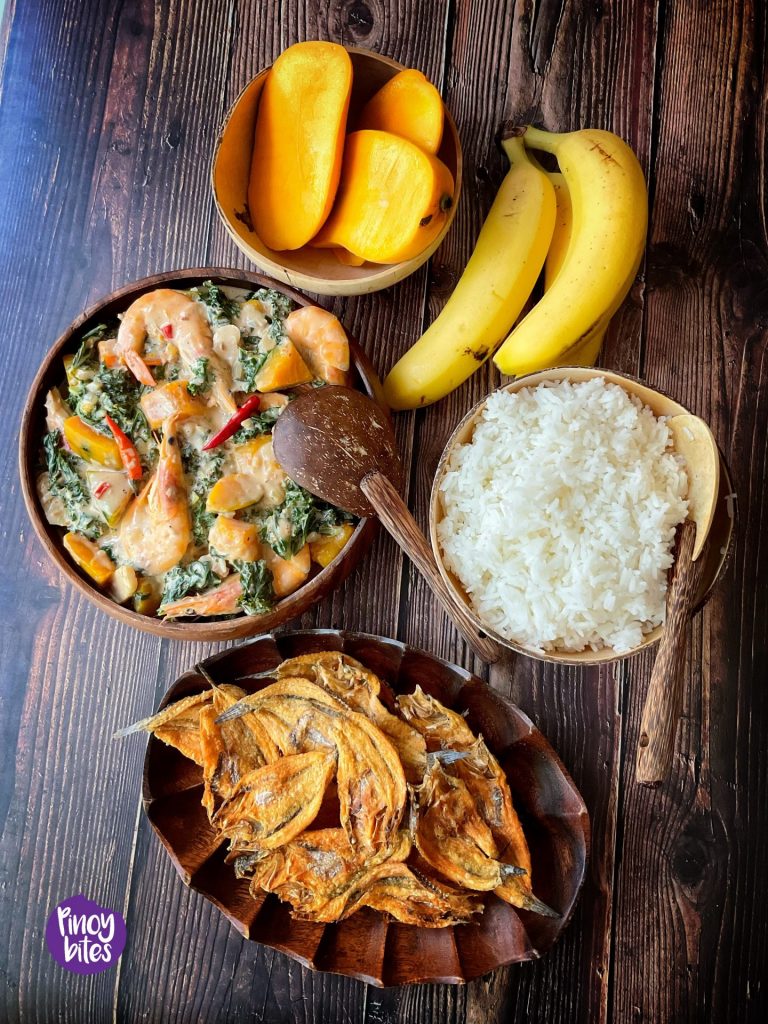 Growing up in the Philippines, I've had my countless encounters with coconut milk. My father is Bicolano (from Daet, Camarines Norte) so he's picky with his Kale Laing (Taro Leaves in Coconut Milk). And because I grew up knowing how it should properly taste (as per his standard), I learned to be quite picky with Ginataan too… and I'm glad.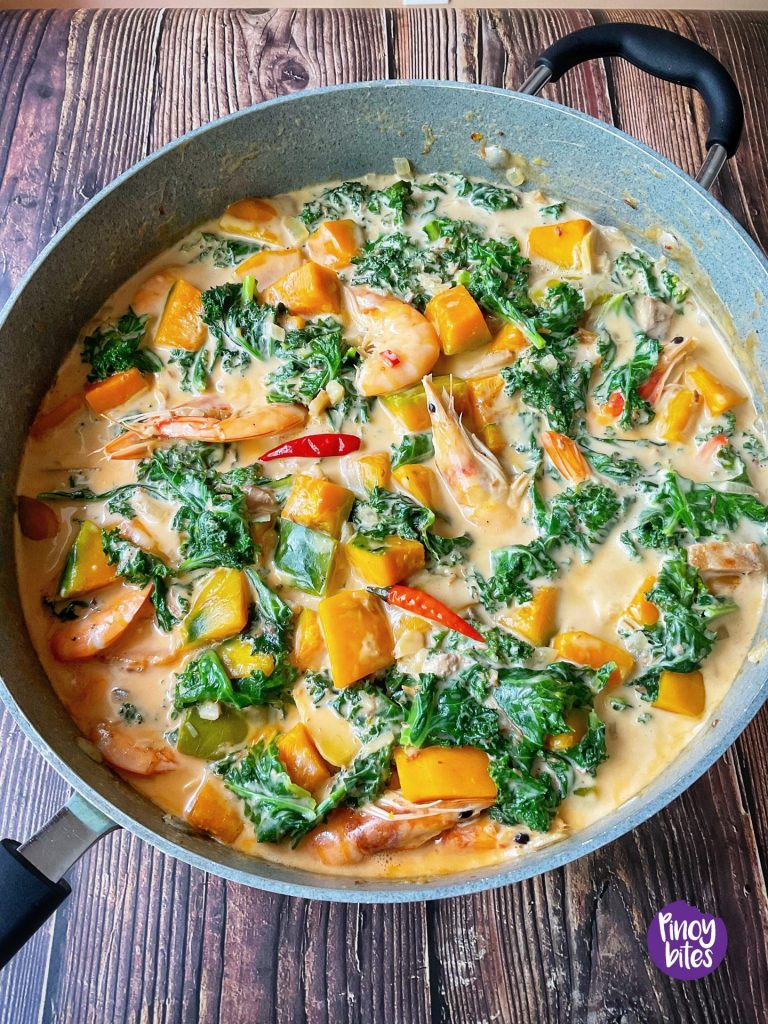 This is just my simple take on the classic Ginataang Gulay. I always use ingredients that's around me. With most of my cooking, I try to experiment and add (even just a bit) healthier ingredient/s. It's not always a hit but the misses are beautiful lessons that keep me going. This one is definitely a hit! I didn't use water in this one because I prefer a richer and thicker sauce. Feel free to add the optional ½ cup of water if you like it thinner. Either way, hold back on the rice … if you can.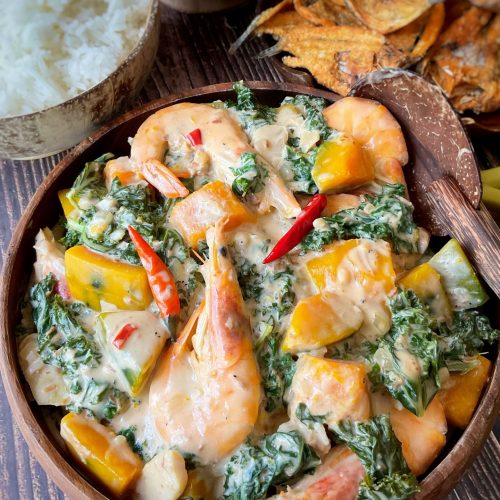 Ginataang Kalabasa at Kale (Squash and Kale in Thick Coconut Gravy)
Rich, thick and filling, this classic Filipino dish is made healthier with the addition of the nutrient-dense Kale. If you like coconut milk, you'll definitely love this!
Ingredients
4

cups

squash

cut into cubes (one small Kabocha squash)

5

cups

firmly packed Kale leaves

cut into bite-size pieces (1- 2 bunches)

2

cans

400ml coconut milk (I used Aroy-D)

½

pound

large shrimps

cleaned and trimmed*

3

tablespoons

regular shrimp paste

2

tablespoons

ginger

thinly sliced

1

small onion

finely chopped

4

garlic cloves

finely chopped

2

tablespoons

oil

3

red Thai chillies

kept whole or thinly sliced

½

cup

water

optional**

Fish sauce or salt

for seasoning
Instructions
Heat 2 tablespoons of oil in a large pan (with lid). Add the ginger and onion and cook until the onion is softened. Add the garlic and saute for a few seconds before mixing in the shrimp paste. Stir.

Pour in the coconut milk, stir and bring to a boil. If using the additional ½ cup of water, add it now. Continue cooking (on medium heat) for 5 minutes to let the flavors marry. Taste and add salt (or fish sauce) if needed.

Add the squash and cook for 2 minutes. Then the shrimps go in and cook for another minute.

Place the kale leaves, cover and cook on medium heat for 30 seconds. Covering makes the leaves subside , for easier mixing. Uncover and add the chillies. I thinly cut one and kept the rest of the chillies whole.

Continue cooking on medium-high heat until the squash pieces are tender, but not mushy.
Notes
*Either head-on or headless shrimps can be used. If using head-on, snip the pointy part between the eyes and remove the antennae. **If you prefer a thinner sauce, use ½ of water. Otherwise, leave it out like I did if you prefer a thicker gravy.