This is one of the few reasons why we always have canned coconut milk at home. There's something so satisfying about eating ginataan (cooked in coconut milk). I like mine thick and slightly warm. Chewing it slowly to savor every single bite is how I eat this sweet coconut soup. I carefully pick every single scoop to make sure I get a different ingredient/s every time. And, I always look forward to heating up the leftovers the very next day. Oh well, what can I say, it's just one of the top coconut-y desserts that I love!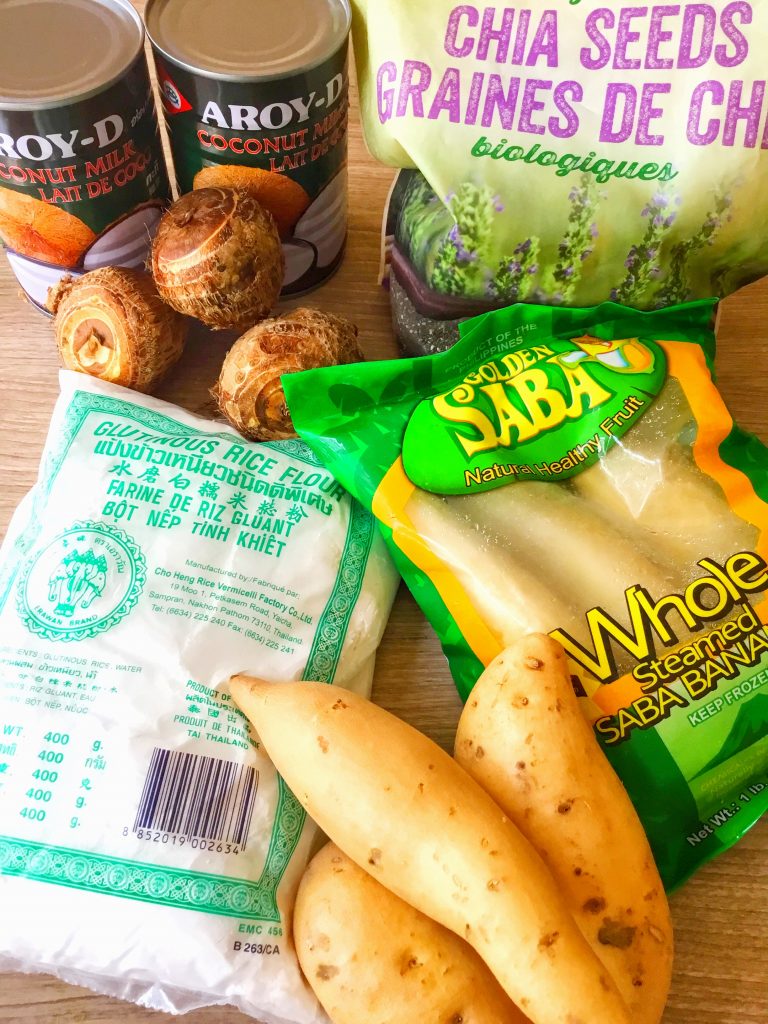 If you prefer more bilo-bilo, I have a healthy Ginataang Bilo-Bilo recipe too. Otherwise, this will surely hit the spot if you crave that classic ginataang halo-halo dish. I added a few drops of McCormick Ube flavor just to make it look prettier and replaced the sago with chia seeds…..healthier and cooks in 2 minutes unlike sago (tapioca pearls) that takes way longer to precook. I am not a fan of langka (ripe jackfruit) in this dish. Adding some pandan leaves is enough for that very distinct, inviting aroma.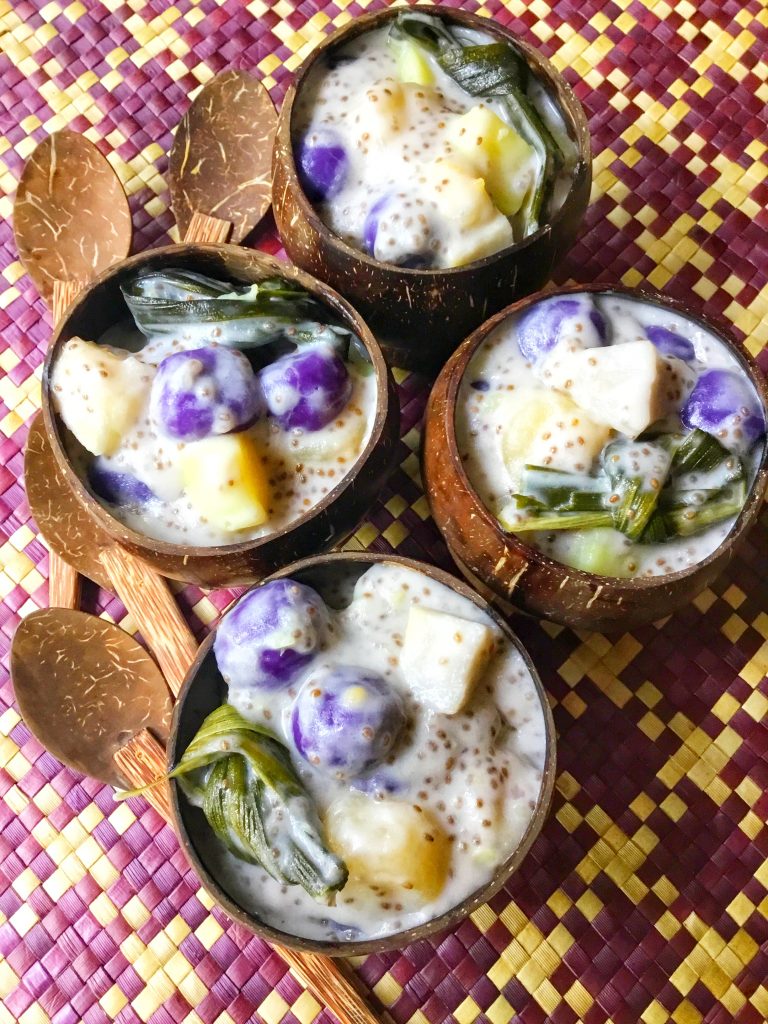 'Nuff said. Let's get cooking!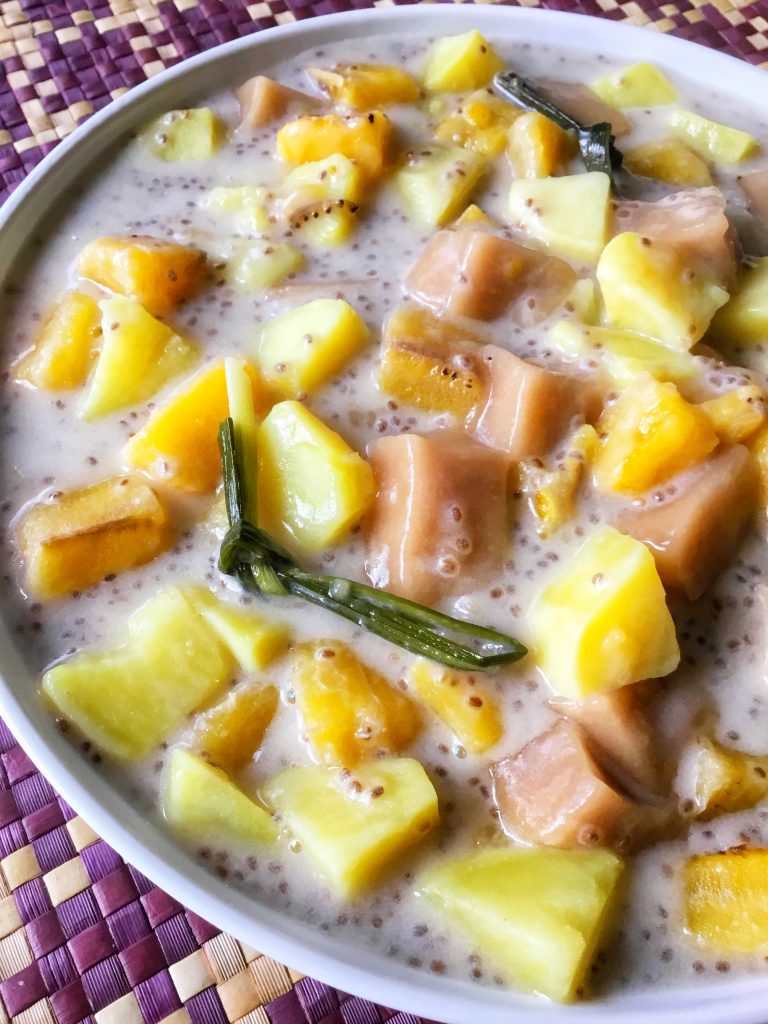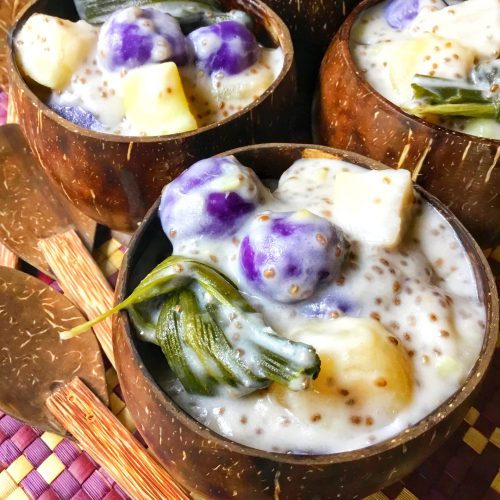 Ginataang Halo-Halo
Creamy, chunky, warm, satisfying coconut soup dessert with just the right amount of sweetness. It's like the dessert version of chicken noodle soup. So comforting!
Ingredients
For the sweet coconut soup:
2 400

ml

coconut milk

Aroy-D

2

cups

water*

½

cup

sugar

2

Pandan

screwpine leaves, halved and tied in a knot (4 knots)
For the Bilo-Bilo (glutinous rice balls):
1 ¾

c

glutinous rice flour

¾

c

water

½

teaspoon

ube flavor

optional

1

pack

thawed Golden Saba bananas (or 2 ripe plantains), halved lengthwise then cut into bite-size pcs

3

small taro

cut in bite-size cubes (abt ½-¾ inch cubes)

2

Sweet potatoes

cut in bite-size cubes (abt ½-¾ inch cubes)

3

Tablespoons

Chia Seeds or 1 cup cooked sago

tapioca pearls
Instructions
First, make the Bilo-Bilo by combining the glutinous rice flour, water and ube flavor (if using) in a bowl. Mix well to combine then shape into small balls, slightly bigger than marbles. Size should be close to the size of the other ingredients.

In a big pot, place all the ingredients to make coconut soup. Bring the mixture to a boil then lower the heat and simmer for 5 minutes.

Add taro and sweet potato cubes and cook for 5 minutes. Then, add the sliced saba (plantains). Cook for about 3-5 minutes (until tender).

Slowly add the bilo-bilo. Stir well then sprinkle the chia seeds. Cook for 3 more minutes. Taste to check if you need more sugar. Turn the heat off and serve warm.
Notes
*The liquid thickens more as it cools. If you want it thinner, simply add about 1 more cup of water to the coconut soup.