Making Tikoy from scratch is really easy but I realized that I only make it during the week of Chinese New Year. I think it's the association of this CNY staple to the event that makes it more enticing to eat. My kids love it…except the littlest one (It's a texture issue 😂).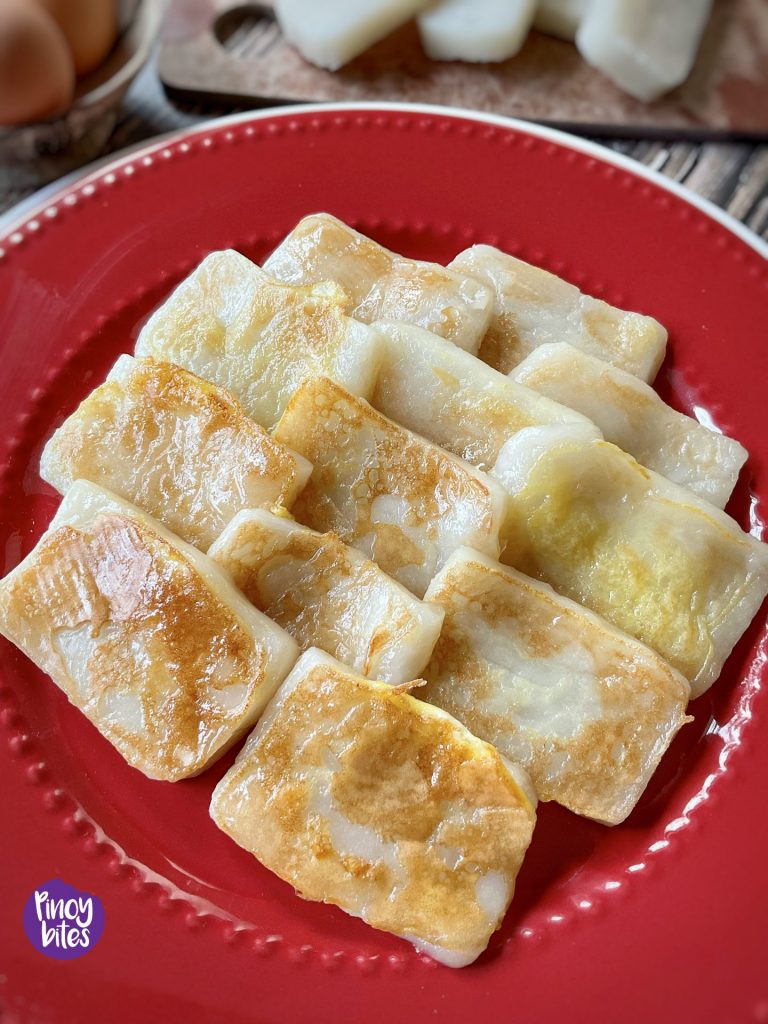 You probably can tell we love tikoy with the number of variations I have done. Most of us like the plain White and the Ube but my daughter loves the Layered Tikoy and the Brown Sugar versions. And here I go again with another one. But I promise you, this is worth your time.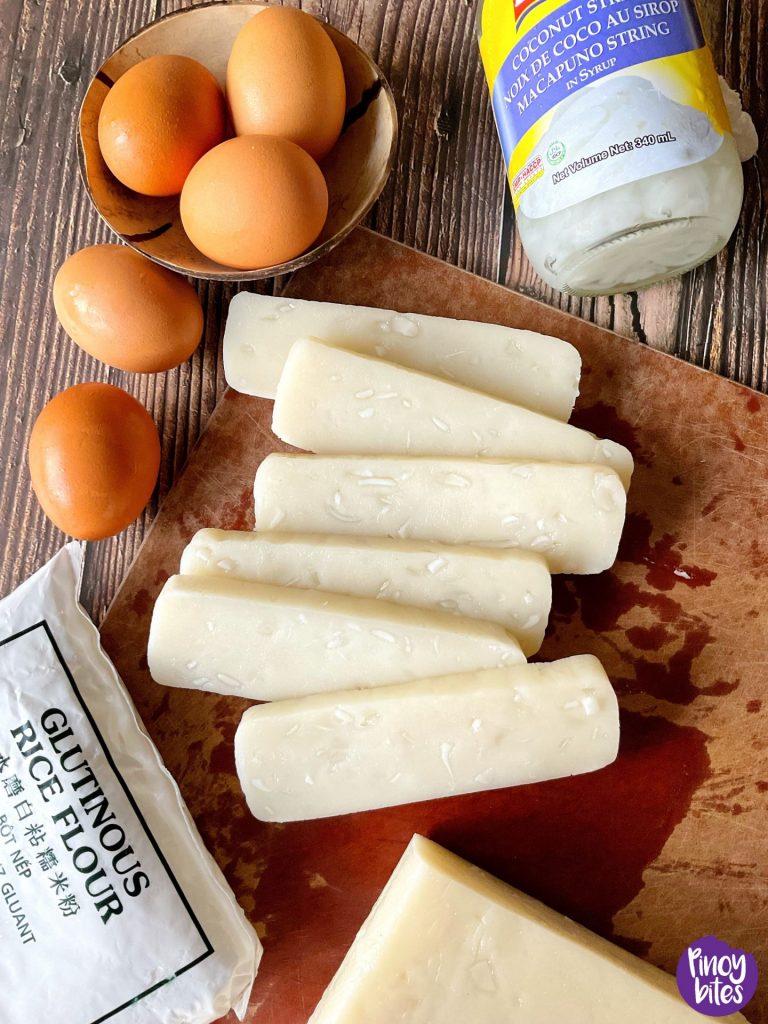 Babysitting a steaming Tikoy is not fun. The thing is, I get paranoid whenever I have to steam something that requires longer than half an hour. I have to keep checking the water level to make sure it doesn't run low or worse, dry out. Hence, this idea of baking Tikoy in the oven (using bain-marie method). It's exactly the same way of cooking Creamy Leche Flan, just a little longer. Still, you can cook this the traditional way (steaming on a stovetop).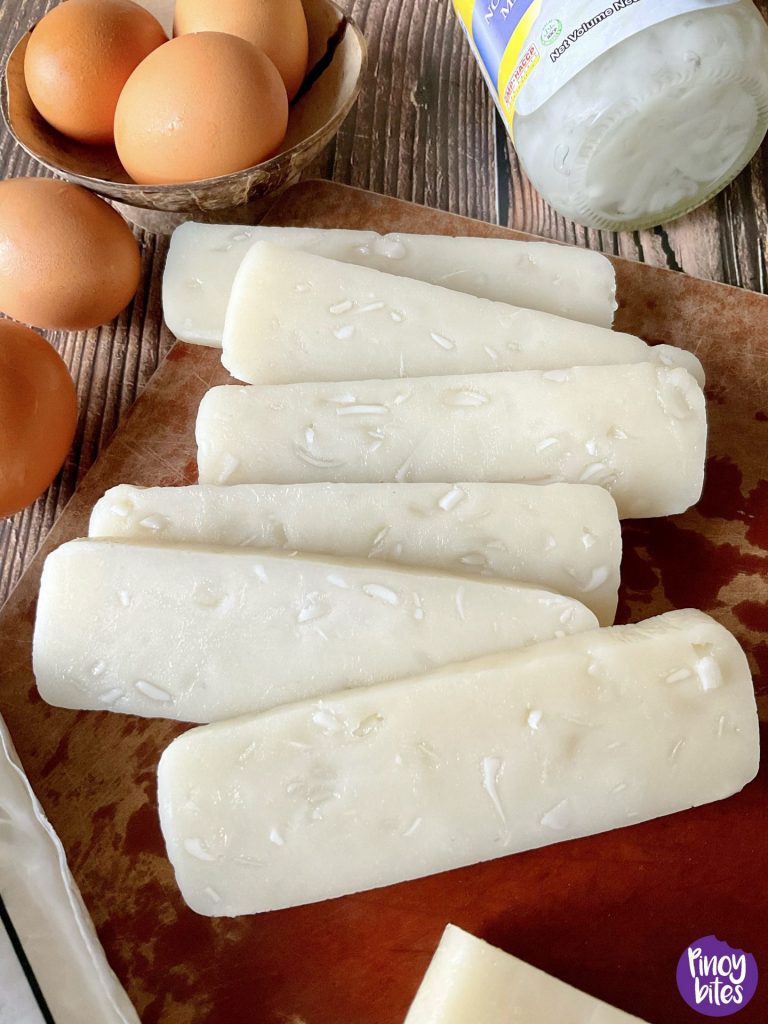 The bits of macapuno (Coconut Sport) gave it a good texture and brought the sweetness to a different level. It's not too sweet as you might think because I eased on the white sugar to compensate for the syrup's sugar content. This is so delicious, I tell you! While I was at it changing the norm, I also tried cooking it without the beaten eggs. Surprisingly, I loved it more than the typical way – a tad firmer and not oily. Leftovers will make a good addition to Ginataang Halo-Halo whether in addition to or as a replacement for the bilo-bilo. You gotta try it!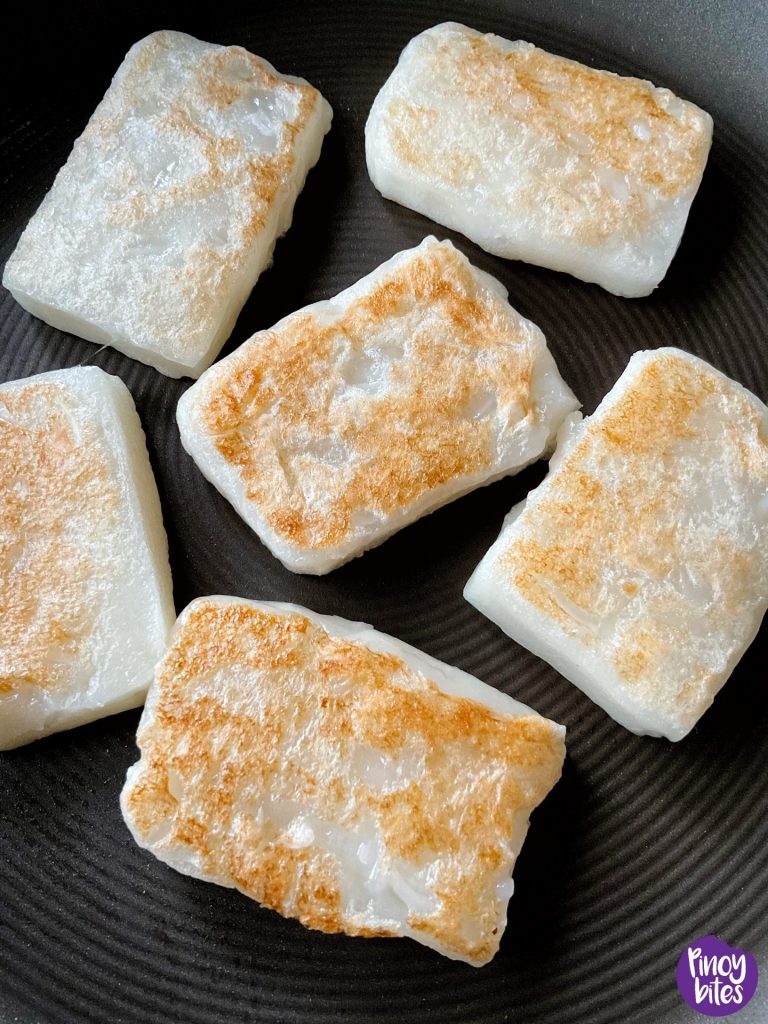 From now on, I will be sticking my tikoy in the oven rather than steaming it on top of the stove. I just need to check it once the timer goes off, without worrying the water might run out. And because of this, I think Tikoy will cease being a once-a-year thing.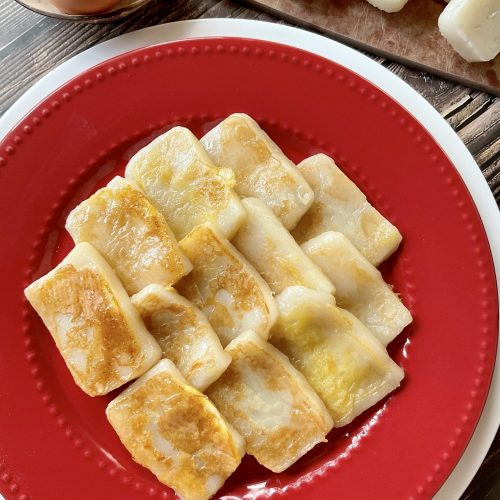 Baked Tikoy (Macapuno)
oven-baked and laminated with bits of sweetened coconut sport, this is a tastier version of the traditional one! Rice cake symbolizes better luck for the coming year.
Equipment
9×5 inch loaf pan or 8 inch baking pan

Another baking pan (with sides), bigger than the pans above (if baking)

Steamer (if steaming is preferred)

Piece of foil, to cover the smaller pan (where the tikoy is cooked in)
Ingredients
1 400

g

pack glutinous rice flour

¾

cup

white sugar

A pinch of salt

1 ¾

cups

water

⅔

cup

bottled sweetened macapuno

drained

1

Tablespoon

oil

canola or vegetable

1

tablespoon

oil

for greasing pan

1

egg beaten

for frying* (see Notes)
Instructions
Using kitchen scissors, snip the macapuno strings into about ⅓ inch lengths. This doesn't have to be exact as long as it's manageable enough to not be sticking out of the pan while cooking.

Preheat the oven to 350F. Position the rack in the lower third of the oven (2nd slot from the bottom).

In a large mixing bowl, add the flour, sugar, salt, water and macapuno and mix very well until well combined.

Liberally grease the bottom and sides of the baking pan (9×5 or 8 inch baking pan ) with oil. This will ensure easy tikoy removal once cooked. Pour in the mixture and cover the pan tightly with a piece of foil

Place the pan inside the bigger baking pan. Fill the outer pan with hot tap water, reaching about halfway through the pan containing the tikoy mixture. It'll be cooked in a water bath (bain-marie). Carefully place the covered pan in and bake for 1 hour and 30 minutes or until the middle part is fully cooked when a toothpick is inserted.

Completely cool at room temperature. Run a small knife (plastic works great) around the pan to ease the tikoy off. Unmold and double wrap in plastic wrap. Refrigerated for at least one day before frying**. (see Notes)

To fry the Tikoy: Add a tablespoon of oil in a nonstick frying pan. Slice the tikoy thinly and dip each piece in the egg. Fry using medium-low heat until lightly browned on both sides. Place it on a plate lined with a paper towel to absorb extra oil.
Notes
*You can omit the beaten egg and fry the sliced Tikoy directly in a bit of oil (1 tablespoon or less and spread with a paper towel). Cook until lightly browned on both sides. Non-stick pan works best. **If pressed for time and you want to cook it the same day, completely cool at room temperature then use a plastic knife or wrap a knife with a piece of plastic wrap for easier slicing.