Everytime we have eggplants, the first thing that always comes to mind is Torta. I just love the taste of the eggplant with egg combination. And my condiments of choice are either plain old ketchup or fresh tomatoes doused with patis and lemon juice. Yumm!
I recently posted my Tuna Sisig recipe because my hubby bought an 8-can pack of solid white tuna in Costco. I still have a few left and my thinking cap has been on lately because I have more time to do some recipe testing because everyone's home. So, I thought of adding a crunchy element (and some much needed protein) to my regular "Tortang Talong". I did it a few times to be sure everything's on point and now I can totally say that this recipe is a keeper and will be a part of my regular menu.
I made it more exciting, healthier and in our opinion, yummier! Try it and let me know what you think.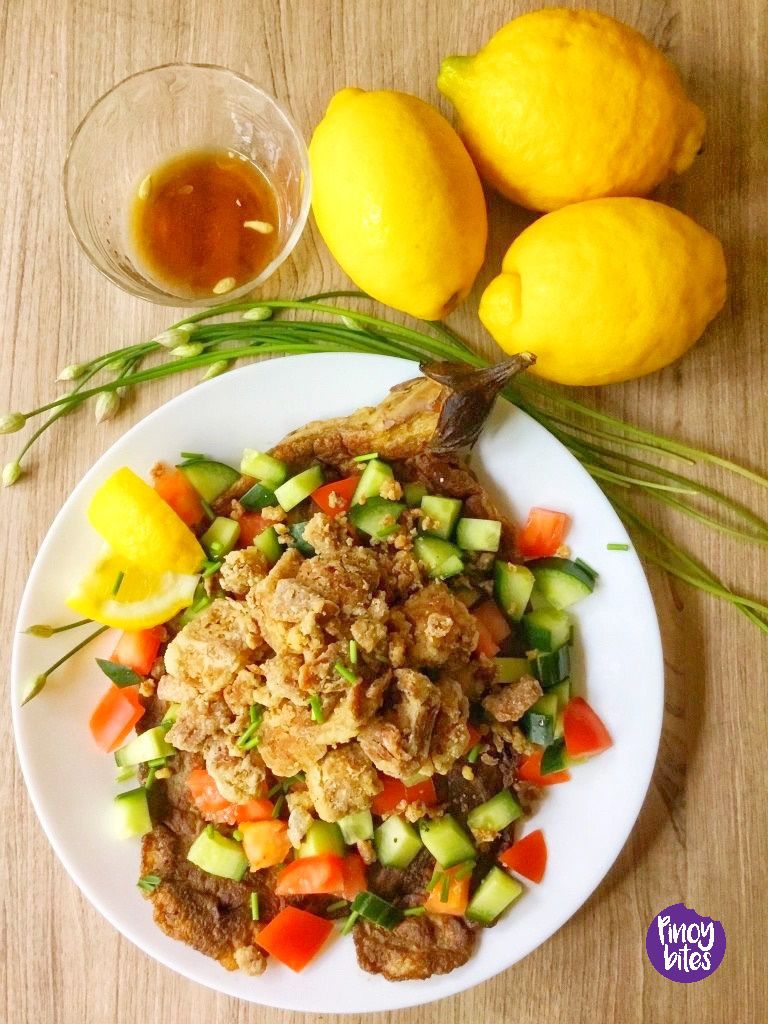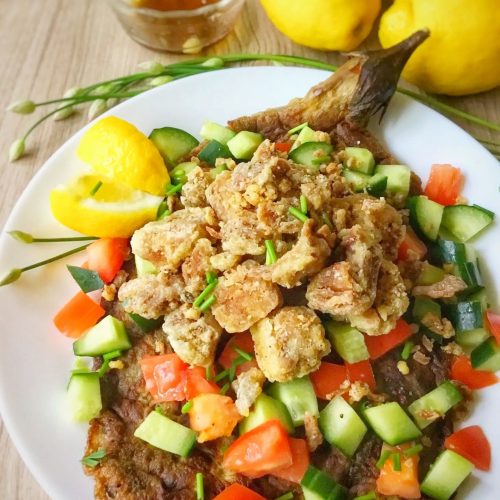 Eggplant Omelet with Crunchy Tuna
This is my upgraded version of Tortang Talong that's healthier, yummier with added crunch! So delish
Ingredients
1

large asian eggplant

roasted whole and peeled*

1

whole egg

beaten

Salt

to taste

1-2

small plum tomato

diced

½

cup

cucumbers

diced (⅓ of an English cucumber)

1 184

g

solid light canned tuna

well drained**

⅓

cup

cornstarch***

Cooking oil for frying

1

Tablespoon

Fish sauce

I use Three Crabs brand

Juice of half a lemon

Lemon wedges to serve
Instructions
Gently flatten the eggplant using a fork and sprinkle a pinch of salt on it. Pour the beaten egg and coat the eggplant.

Combine the diced tomatoes and cucumber in a small bowl and mix well. Set aside.

Heat a large frying pan and add about 3-4 tablespoons of cooking oil. Fry the eggplant on medium heat, turning halfway once the other side is golden. Drain on a paper-towel lined plate and set aside.

Place the well-drained tuna in a large bowl and dredge carefully with cornstarch, making sure it's evenly coated to prevent splatter while frying. Break the tuna pieces in big chunks for easy coating.

Heat a small frying pan on medium and add oil reaching about ¼ inch. Once hot enough, add the tuna and fry until golden and crispy. Drain on paper towels.

To assemble: Place the eggplant omelet on your serving platter. Sprinkle the diced tomatoes and cucumber then top with the crispy-fried tuna pieces. Drizzle with the fish sauce-lemon mixture or serve it on the side.
Notes
*Place the eggplant on a cookie sheet and broil in the oven for about 15 minutes, turning halfway through or until the skin is charred and eggplant is soft. You can also grill it. I usually broil a few and wrap them individually with plastic wrap then place in the freezer. That way when craving strikes, I can skip this step.
**It's important to drain the canned tuna well to prevent splatters and also not to let the tuna absorb too much cornstarch.
***You might need more or less depending on how drained your tuna is.