Pantry ingredients are crucial during this time. Everything has to be planned and accounted for to make the most out of the food that we buy. Until now, we stick to our food shopping rule – shop at only ONE store, every 2-3 weeks.
With everyone staying at home, food has somehow been the center of our quarantine life. My kids are hungry more often than usual and most times I think that I live in the kitchen. There are times when I get bored cooking the same things over and over again even though my family likes the dish. Hubby bought a pack of tuna ( 8 cans in a pack! ) on his last grocery shopping and I somehow forgot all about them until I had a craving for fish. I thought of ways to cook/prepare it but each time I had some "ingredient/s issues". Then I thought of sisig. I briefly checked my Pork Sisig recipe and based this on it. It was a hit! I know because an empty platter doesn't lie. Try it!
---
Recipe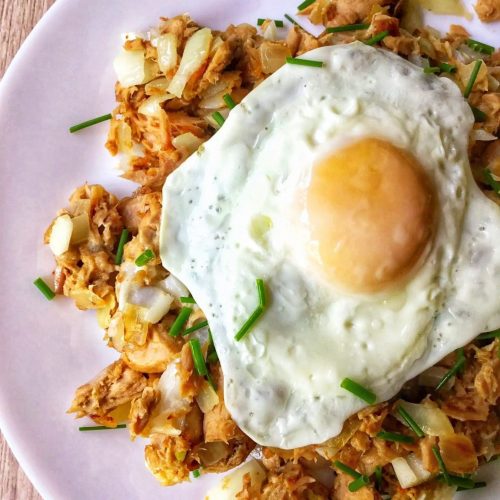 Tuna Sisig
A perfect "quarantine" meal that's simple to prepare yet packed with flavor 
Ingredients
2 184

g

solid light canned tuna

well drained

2

tablespoons

cooking oil

1

large onion

divided

½

teaspoon

garlic powder

¼

teaspoon

grated ginger

2

teaspoons

Knorr liquid seasoning or light soy sauce

1

Tablespoon

mayonnaise

1

Tablespoon

lemon juice

Ground black pepper

according to taste

1

red chili

finely chopped (optional)

1

fried egg

optional

chives or green onions

garnish
Instructions
Heat a large frying pan (preferably nonstick) and add 2 tablespoons of oil. Add the tuna and half of the chopped onions. Then, sprinkle garlic powder and the grated ginger. Stir carefully just to combine and cook/fry until evenly browning. Do not stir too much for faster browning and also to keep the bigger chunks intact. You can add a tablespoon more oil to encourage browning.

Add liquid seasoning, mayonnaise, lemon juice, ground black pepper, red chili (if using). Gently mix to combine the seasoning well. Add the remaining chopped onions and turn the heat off.

Transfer to a serving platter, garnish with snipped chives, some lemon slices and top with fried egg (if using).