I developed a liking for this dish at an early age. Whenever we went to Jollibee, my mom would always order Palabok while for the rest of us, Spaghetti was the habitual choice. Because she always ate hers with gusto, I got curious and asked for a bite. The taste was complex and a bit overwhelming (at first) but as I started savoring it, I began to like it.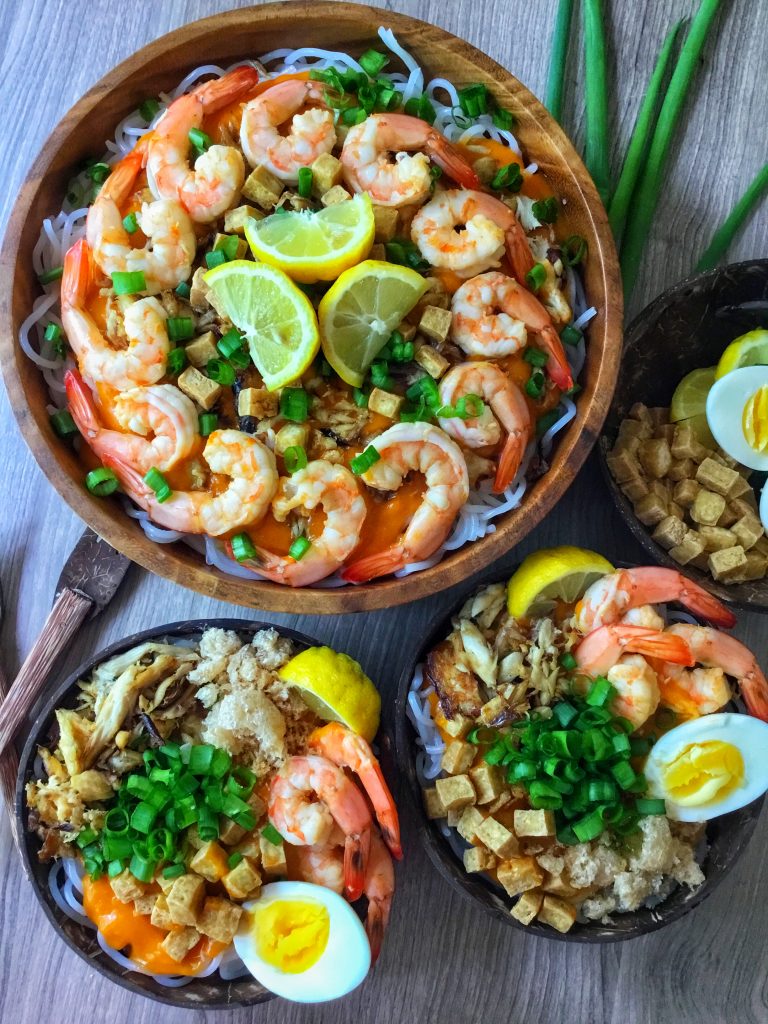 When I was in university, I always chose Palabok over Spaghetti whenever ordering at my favorite fast food chain. In fact, I was a "suki" (frequent customer) of a lady (roaming) street vendor who sold snacks and kakanin (rice cakes). She would stop in front of our place and as she opened the translucent covering, a delightful cornucopia of colorful food all neatly arranged in a large bilao (winnowing basket) instantly made my mouth water. Like clockwork, she would be in my neighborhood around 3pm and her loud but sweet-sounding call "Mer-yen-daaaa" intensified as she got closer to our apartment. Her palabok was simple and unpretentious with just bits of tinapa and a good dusting of chicharon. I don't know if it was because of the MSG or it may have been because of her jolly and positive attitude that made me enjoy it even more. It was always good!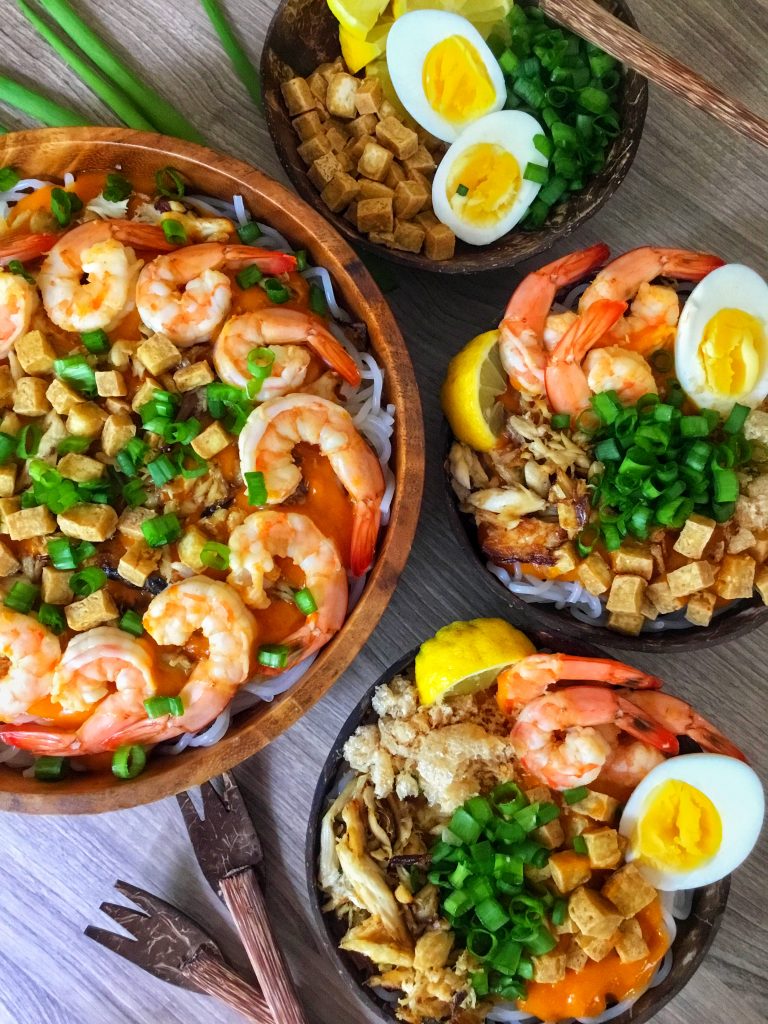 I'm not a fan of bouillon cubes that's laden with preservatives, artificial colors and flavorings. Since I became a mom, I have tried to steer away (as much as I can) from the "stuff" that's not good for my kids' growing bodies. Yes, my kids eat junk food too but I try to balance it with some healthier options. Extracting the juices from the shrimp shells releases its natural flavor, giving it that umami richness that we all love. That, coupled with a plethora of toppings will result in a delicious tasting palabok!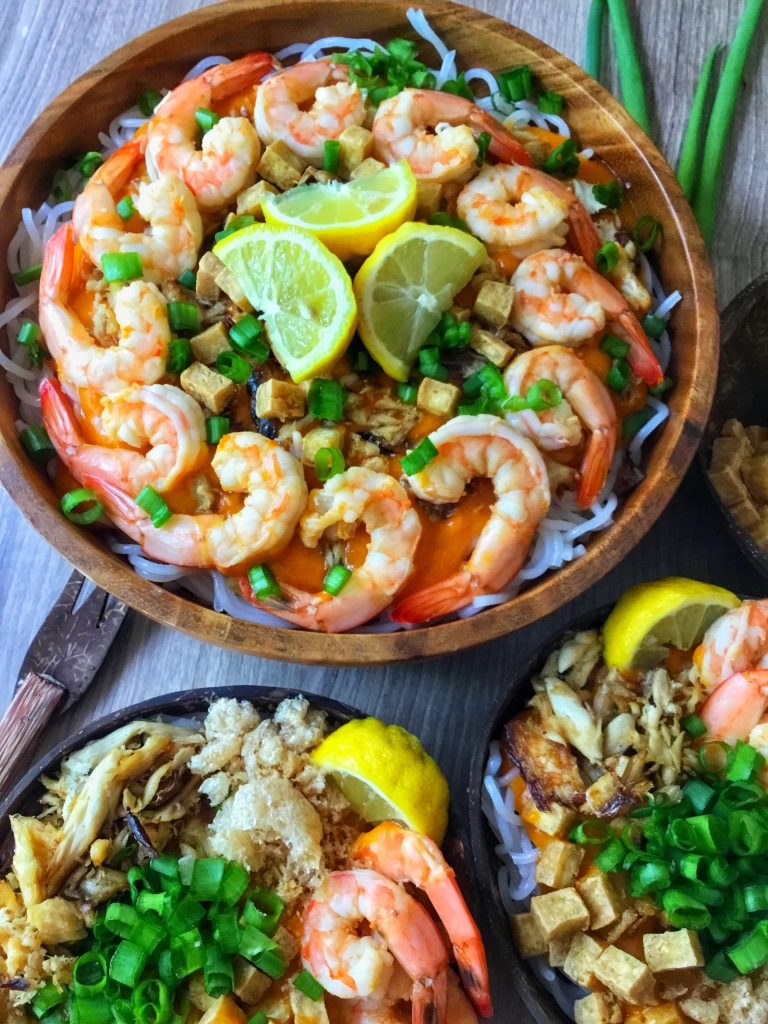 The ingredients seem like a lot but don't get overwhelmed as most of them can be made ahead of time. I categorized 'em to make it easier to know which parts are done. That's how I always "tackle" an unfamiliar recipe. I do them in small parts then combine them together at the end. Ready, let's make palabok!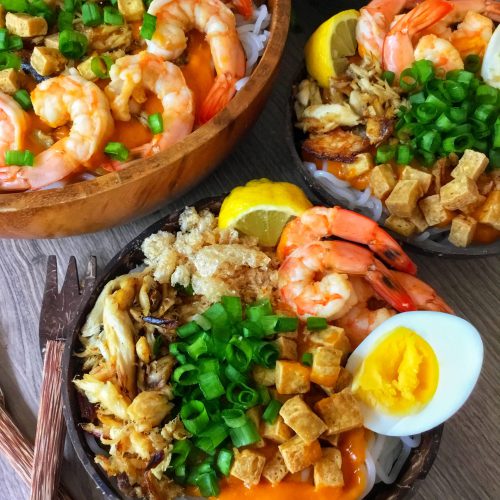 Special Pancit Palabok
A classic Filipino noodle dish doused with a shrimp-based thick sauce and a generous amount of toppings such as shrimps, smoked fish flakes, boiled egg and fried garlic bits then finished off with a sprinkling of green onions and a slice of lemon.
Ingredients
1 454

g

pack pancit Bihon or Palabok noodles*

see notes

3

tablespoons

Atsuete oil

recipe below

3

cups

shrimp broth

recipe below

3

garlic cloves

finely minced

3

cups

chicken broth

I used Better than Bouillon organic chicken base

½

cup

cornstarch mixed with ½ cup water

thickener

Patis

fish sauce, to taste

Ground black pepper

to taste
For the Toppings:
1

lb

head-on shrimps

peeled & deveined (reserve heads and shells for the broth)

1

pack firm tofu

cut into small cubes and fried until crisp

1

cup

tinapa

smoked fish flakes

1

cup

chicharon

pork skin cracklings, crushed

3

hard boiled eggs

sliced thinly

Fried chopped garlic

about 1 head of garlic

½

cup

green onions

thinly sliced

1

lemon

sliced into wedges or use calamansi (calamondin), if available
Achuete (Annatto) oil:
¼

cup

canola oil

2

tablespoons

atsuete seeds
Shrimp broth:
1

tablespoon

oil

1

onion

chopped

2

garlic cloves

chopped

Heads and shells from 1 lb shrimps

reserve shrimp meat for topping

1

teaspoon

sea salt

3 ½

cups

water
Instructions
To make the shrimp broth: Saute onion in oil. Add garlic once it's translucent then in goes the shrimp heads and shells. Season with salt. Stir fry on medium high heat for 3 minutes. As it cooks, press and mash shrimp heads with the back of a wooden spoon to release its juices. Add water, bring to a boil and simmer on low for 20 minutes. Strain the broth using a fine sieve. Squeeze as much of the liquid as possible by pressing down the shrimp carcass with the back of a wooden spoon.

While the broth is cooking, prepare the rest of the ingredients. Poach the peeled shrimps in the broth for one minute then set aside. Fry the garlic in ¼ cup oil until golden and set aside. In the same oil, fry the tofu cubes until brown and crisp. Drain on paper towels. Next, saute the tinapa (smoked fish) flakes for 2 minutes just to warm it up. Place each topping in individual bowls/small plates for easier serving.

Cook the noodles according to the package directions. Palabok noodles take longer to cook than Bihon.

To make Annatto oil: Add both the oil and the annatto seeds in a large pan. Slowly heat for about 5 minutes or until the color is released. Discard the seeds.

To make the Palabok sauce: Saute the minced garlic in annatto oil until softened (about 5 seconds) then add both the shrimp and chicken broth. Bring to a boil then slowly add the cornstarch mixture (water+cornstarch). Stir continuously while you bring it back to a boil then simmer (on lowest setting) for 2 minutes, Taste and add patis (fish sauce) and some freshly cracked black pepper, according to your preference.

To assemble: Place cooked noodles in a big serving platter/tray. Pour palabok sauce over the noodles. Arrange the toppings according to your preference then sprinkle some fried garlic bits and chopped green onions. Serve with lemon wedges.
Notes
*To cook Bihon noodles, simply add the dry noodles in some boiling water (enough to submerge it) and cook for about 2 minutes or until fully cooked and tender. If using palabok noodles, follow the instructions at the back of the packaging on how to cook.