Whenever I plan meals for my family, vegetables almost always play a big part. With every protein-packed dish that I serve, some "greens" make an appearance. Sometimes it's a combination of a bunch of veggies like Pinakbet or Chop Suey, cut up raw cukes or carrots or a simple stir fry.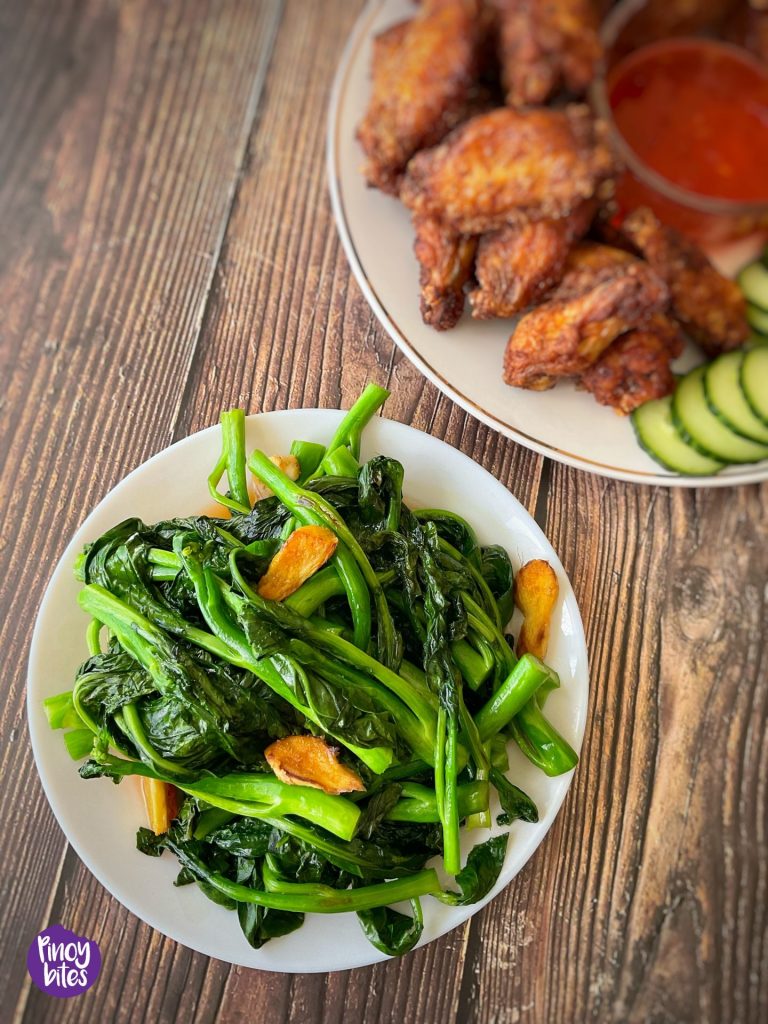 My mom taught me this recipe and it became my template for a basic stir fry. As I grew older and became a mom, the dishes I make roots back to the meals I grew up eating with my family. This one has my mom's name all over it except I don't use the "chicken powder" that she usually sprinkles. The oyster sauce coupled with the aroma of the ginger give more than enough flavor that I need. At times, I also drizzle a bit of sesame oil and a heavy pinch of toasted sesame seeds to complete the dish. There's not much of a flavor change; it's more on the appeal that helps in inviting my kids to dig in. Like the saying goes, "we eat with our eyes first".
My kids are not very fond of Chinese broccoli so I normally use other veggies like green beans, broccoli, cauliflower, etc. Except for the main ingredient, everything remains the same. Cooking times may vary depending on the vegetable you use. For the florets (broccoli and cauliflower), I add an additional minute while covered just to make sure it's evenly cooked. This is "fast food" so get all the ingredients ready before starting and always use the shorter cooking time as a guide.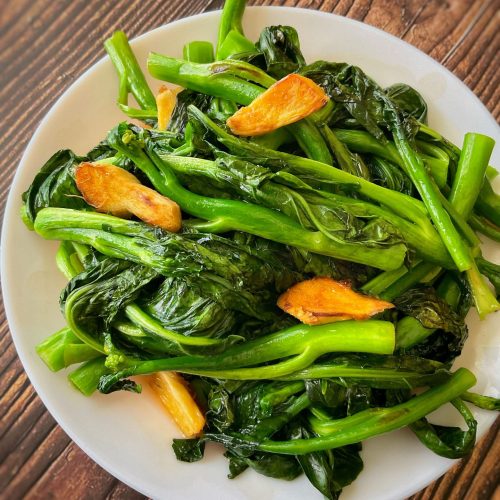 Stir-Fried Gai Lan (Chinese Broccoli)
a quick side dish that's flavorful and pairs especially well with fried and grilled dishes. So simple, it can be prepared at a moment's notice.
Ingredients
1

pound

Gai Lan*

washed and drained see Notes for substitutions

2

tablespoons

canola oil

Thumb-size ginger

thinly sliced

2

garlic cloves

finely chopped

1

tablespoon

oyster sauce

1

teaspoon

sesame oil

optional

½

teaspoon

toasted sesame seeds

optional
Instructions
Wash and trim a bit of the gai lan's stem-ends. If using regular ones, cut in half or thirds.

Heat a large wok/saute pan. Drizzle the oil and add in the ginger. Saute until starting to brown then add the garlic in. Stir and spread the gai lan around the pan. Cover for 30 seconds.

Uncover and add the oyster sauce. Stir fry for a minute (to 1 ½ minutes) so the sauce evenly coats each leaf. Do not overcook. Veggies will be vibrant green and crisp tender. Turn the heat off and serve.
Notes
*Baby Gai Lan are smaller and more tender than the regular-sized ones. If using the bigger ones, cut each in half or even thirds. *Other vegetables can also be used instead like broccoli, green beans, bok choy, choy sum/yu choy or spinach. Adjust cooking time depending on the size of the vegetables you're using.