I love Sapin Sapin! It's one of the top kakanins (native delicacies) that I will always crave and will never be tired of eating.
I have tried the ones from the malls, from the "merienda" street vendors, from the palengke (wet market) and the so-called "special" ones. All of them are good in their own way, but, what my palate always remember, is the kind that you buy from the wet markets in the Philippines….. made with simple ingredients and having the right texture.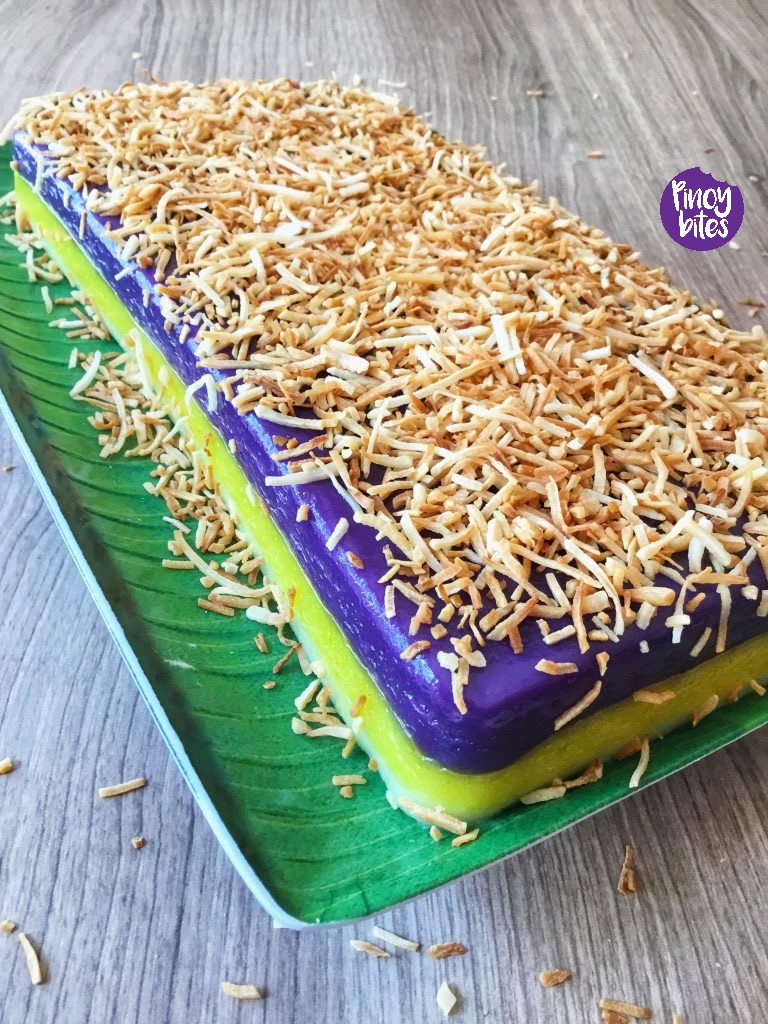 Craving for the right sapin sapin taste
A big disadvantage of living far from home is that we miss having a lot of the food we grew up eating. Just simple things that we took for granted then, somehow comes to mind when it's no longer within our reach. I would buy sapin sapin here and also try recipes every chance I had, but it still wouldn't be the taste I was craving for.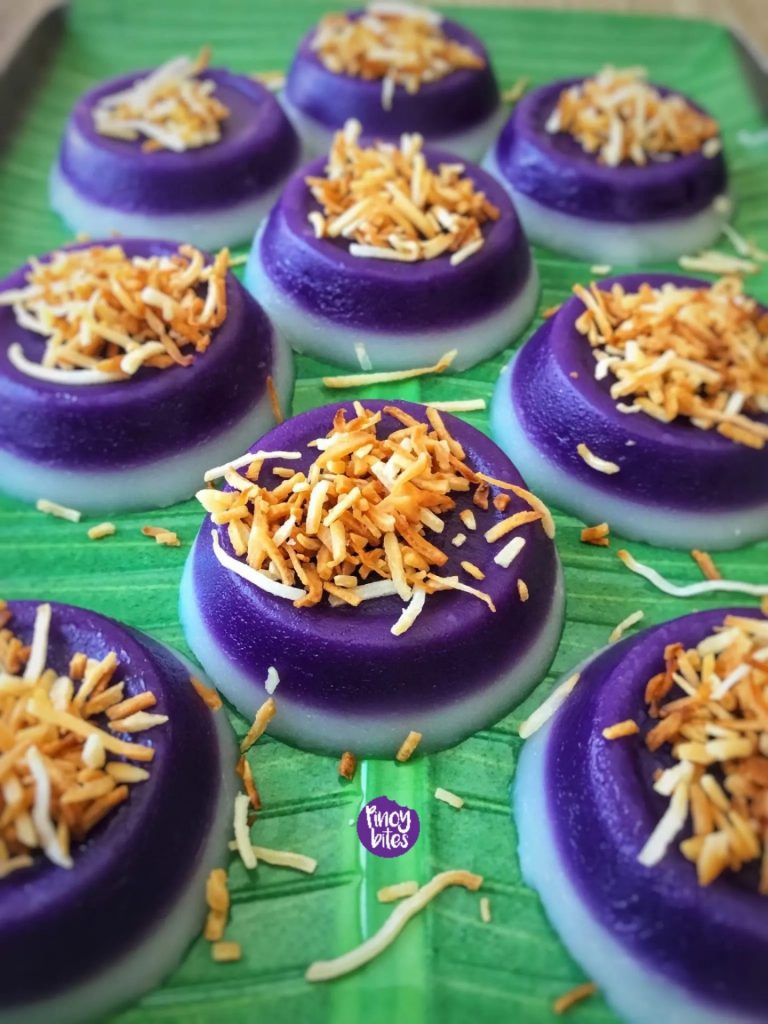 I sat down and tried to remember the taste and consistency I was looking for. After a lot of trials and errors, I still wasn't satisfied. Then, I looked at it from a different angle. Since it was from the "palengke" and people have been selling and making it for a very long time, it must have been made with just a few simple ingredients. Most kakanins in the Philippines are made from rice, coconut milk and sugar. I concentrated on those 3 and played with the measurements.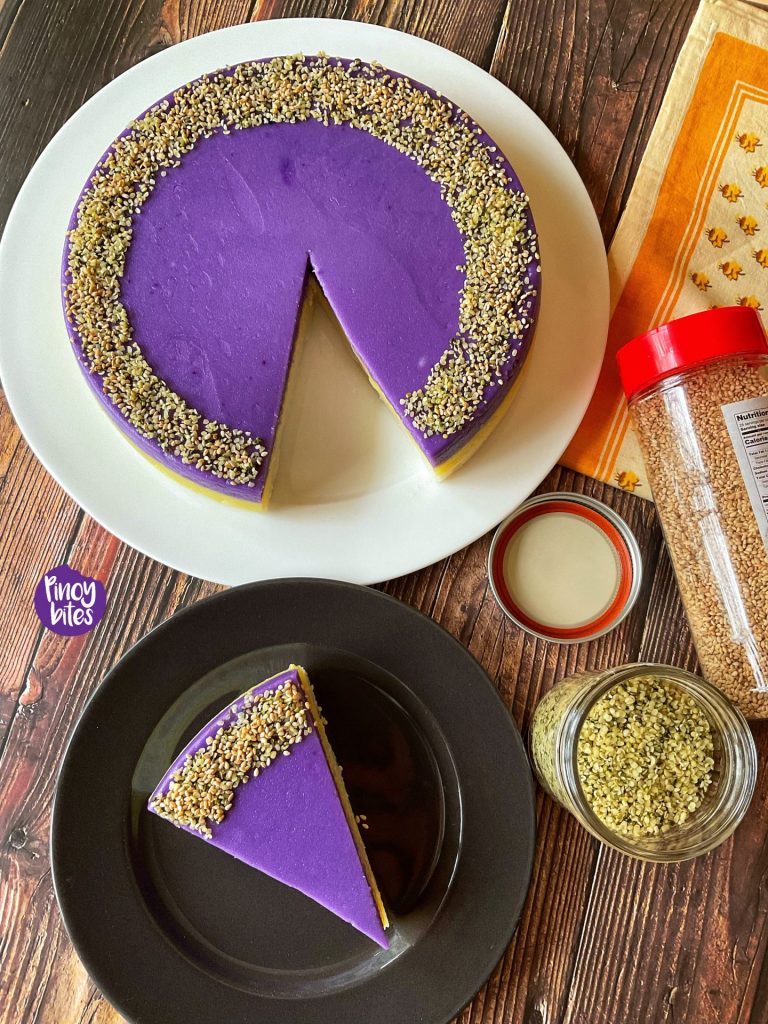 Getting it right
I didn't think there'd be a time that I would not finish a serving of sapin-sapin on my plate. That time came because I made too many batches in a short period of time until I was truly happy with the results. This is what I think is that "palengke-style" sapin sapin that I love and always crave for. And as long as I don't make it more than once a week, I will never ever get tired of eating it! Try it out!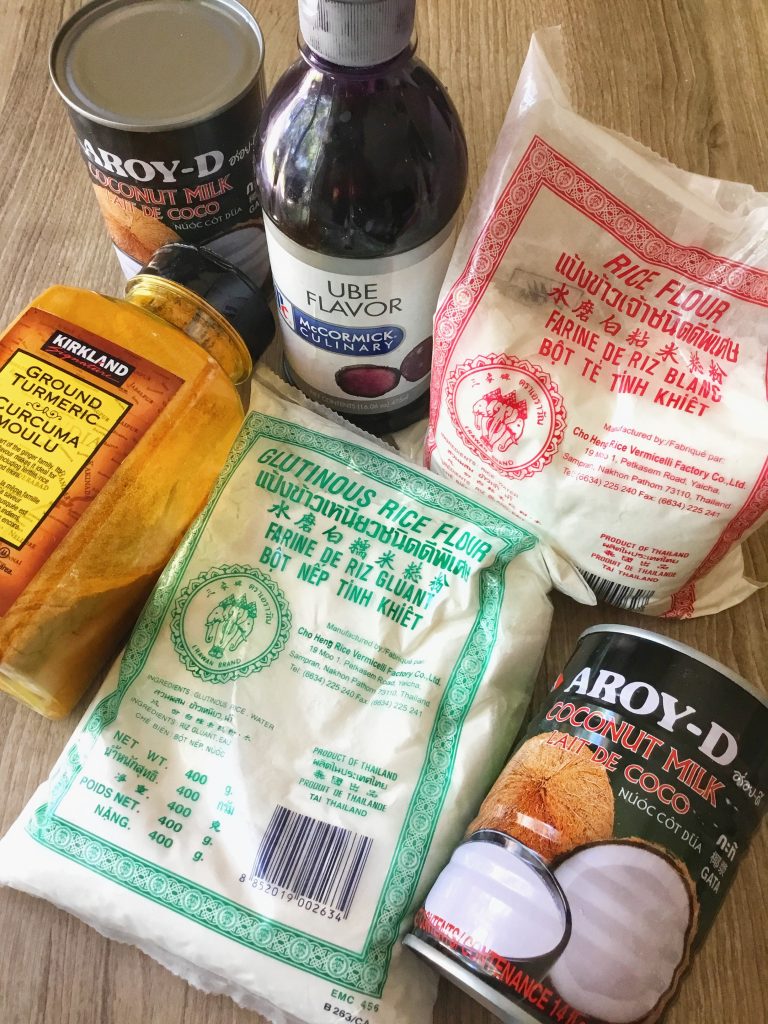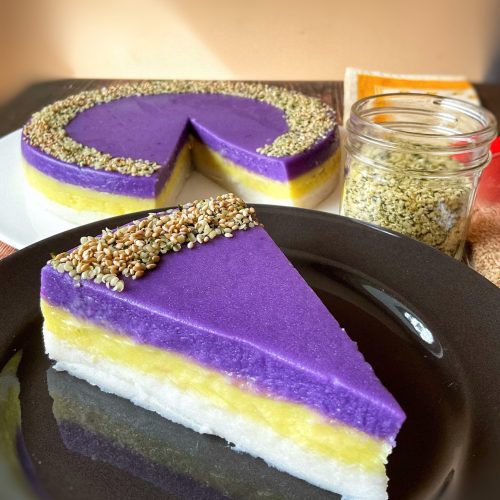 Palengke-Style Sapin Sapin
Back-to-basic, no-fuss Sapin-Sapin recipe with the perfect texture and tastes like the ones grandmas in the "palengke" made.
Ingredients
For the base:
2

cups

glutinous rice flour

2

cups

rice flour

1 ½

cups

sugar

2 400

ml

can coconut milk

I used Aroy-D*

1

cup

water
For the yellow layer:**
¼

teaspoon

turmeric powder

1

Tablespoon

sugar
For the purple layer:
1

teaspoon

ube flavor

I used McCormick
For the topping:
½

cup

shredded unsweetened coconut

toasted in a dry pan until golden
Instructions
In a large bowl, combine all the ingredients for the base and mix until very smooth. Divide equally into 3 small bowls.

Add the Ube flavoring to one bowl. To the next, add turmeric powder and 1 tablespoon sugar. Then, leave the other bowl plain. Make sure you dissolve the turmeric powder well. I usually strain the mixture through a fine sieve before steaming, especially the yellow part.

Prepare the steamer by adding water. Turn the heat to medium while you prepare the molds. Liberally brush an 8×3 inch pan with oil. Pour the purple batter first and steam for 15 minutes. Then, pour the yellow layer on top and cook for 15 minutes. Lastly, do the same with the white batter but steam it for 20 minutes. Check to make sure the Sapin Sapin is set and cooked through.

Carefully remove from the steamer and unmold. Top with toasted shredded coconut.
Notes
*Fresh coconut milk can be used. Just use the thin coconut milk, not the first extraction.
**You can use yellow food coloring instead of the Turmeric. Just omit the additional 1 tablespoon sugar.
***Strain the mixture particularly the yellow (turmeric) layer as the tiny specks of powder remain visible even after thoroughly mixing.
***For small individual molds, fill the molds to fill almost ⅓ of the purple layer then steam for 5 minutes. Repeat the same step with the yellow layer then white will be the last.
*** Cook the last layer longer (about 8-10mins) to make sure everything's cooked through. You can use bigger pans as mold like an 8×3 inch cake pan, loaf pan ,etc. Just equally divide batter into 3 and cook each layer for at least 15 minutes or until the layer is set. I usually add at least 5 minutes of cooking time to the last layer to make sure everything is cooked through.
****Liberally brush the pan with oil especially for bigger molds (as they tend to stick more) for easier unmold.
If you are into sapin sapin and other Filipino kakanins, you may want to check out our purple biko recipe. It is one of our more popular recipes here and we're pretty sure you'll like it.