Two of the things I seldom ran of out are glutinous rice and coconut milk. My kids love KAKANIN (Filipino native delicacies usually made of rice) Cooking Biko is like a walk in the park for me and I can do it for them whenever they crave it. After cooking numerous trays of this delicious delicacy, I sort of got the hang of the perfect ratio of the glutinous rice to the coconut milk. At least, to my family's liking.
One time, I saw this black glutinous rice at the Asian store and remembered that my mom used to make Biko with it. But instead of cooking it the way she used to, I tried to combine the black to the regular glutinous rice to make it purple. My first attempt was okay but I can still taste some uncooked black grains and by the time it was done, the white part was a little overcooked. So, I tried soaking the black rice for two hours before mixing it to the white and it turned out exactly how I wanted it to be. The grains cooked at the same time and blended so well that it seemed like I just used purple rice to make it.
I was sure it would be easier to convince my kids to give it a try than presenting a Black Biko … and I was right. They loved it! Hope you like it as much as we do. Enjoy!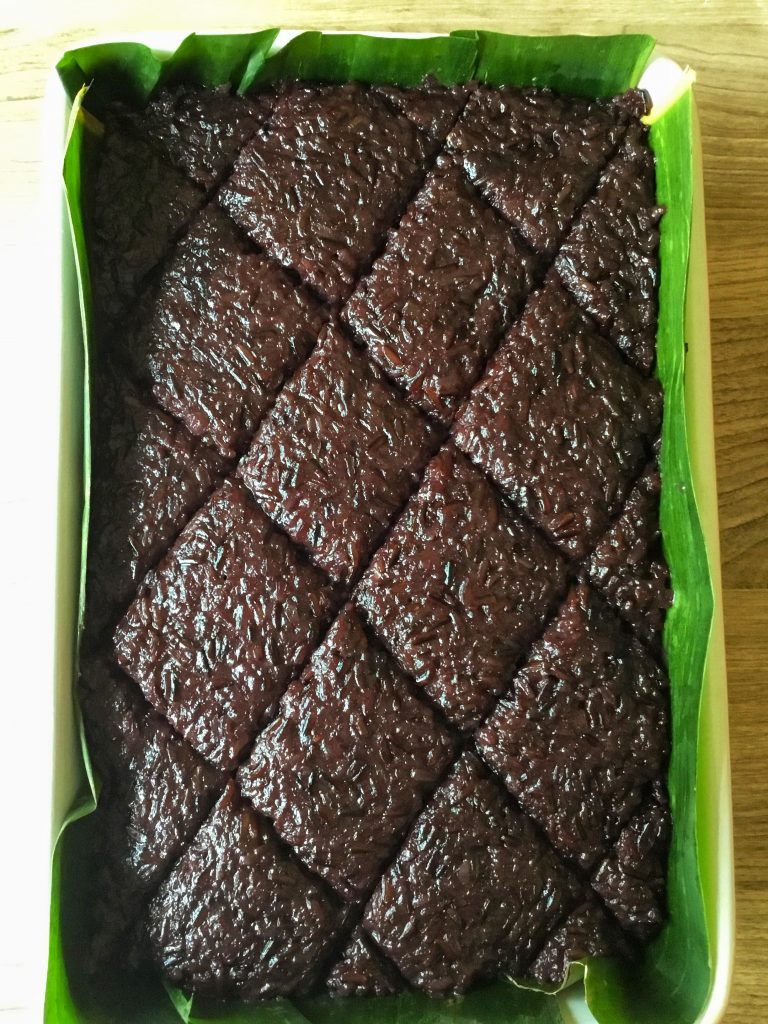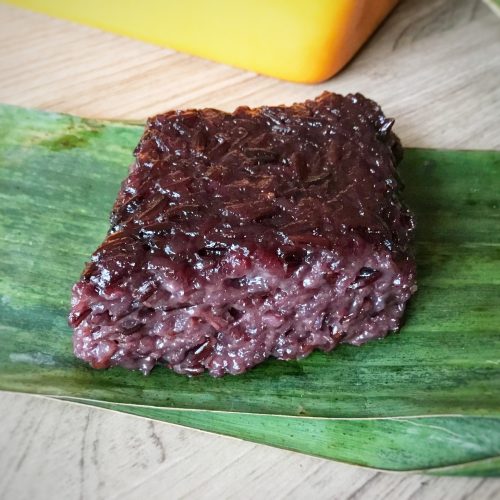 Purple Biko (Sweet Rice Cake)
Biko is a sticky rice cake Filipino delicacy that is slightly sweetened and cooked in coconut milk. The addition of the black glutinous rice made it healthier and gave it a better texture when you bite into it.
Ingredients
1

cup

Black Glutinous Rice

rinse and soak in 1 cup water for 2 hours

1

cup

Glutinous Rice

rinsed and drained ..DO NOT SOAK

2 1/2

cups

water

1

can

Coconut Milk

(400 ml)

3/4

cup

light brown sugar or white sugar

1/2

tsp

salt

1

tsp

McCormick Ube flavor

(optional)
Instructions
Drain the water from the black glutinous rice and place rice in a saucepan with a lid ( preferably non-stick ) together with the other glutinous rice that has been rinsed and drained. Add water, stir, cover and bring to a boil over medium-high heat.

Once boiling, stir and lower heat to a simmer. Replace lid and simmer for 15 minutes.

Meanwhile, in a non-stick saute pan, combine coconut milk, brown sugar and salt. Bring to a boil and gently pour the cooked rice to the coconut mixture.

Continue stirring until all the liquid has been absorbed and rice is cooked to desired doneness.

Transfer to a greased pan.
Notes
*** If you want to make plain Biko, use 2 cups of regular glutinous rice instead and follow the rest of the recipe. There's no need to soak the rice.
*** For a more authentic look, line your serving dish with banana leaves. Grease the dish with a little bit of coconut oil before placing the cooked biko.