A big part of my childhood was spent in Pagudpud, Ilocos Norte. Yup! It's the town in the north that's famous for its white sand beaches. I can go on and on talking about how great Pagudpud is but for now, Tupig (Tinupig) takes the center stage.
While others think of Puto Bumbong at Christmas time, Ilocanos think of Tupig (or Tinupig). I remember when I was young and when it was time to make it, everyone take their part in making hundreds of these yummy treats.
Snipping the ends of the coconut leaves and a little bit of wrapping was my part but I wasn't good at wrapping back then. The right amount of filling is tucked between two long coconut leaves, otherwise, the raw filling would ooze out of its ends. It would then be placed on top of a clean, hot sheet of galvanized roof to cook. There would be continuous fire going on underneath and you'll know it's done when both sides are charred and you can smell the delicious aroma of the Tupig.

I miss eating it! But since I cannot do it the traditional way, I had to improvise. This is actually the easier version, one that we can make in our part of the world. The finished product looks like you were in the kitchen for a day but I promise you, it doesn't even take an hour to enjoy the first batch.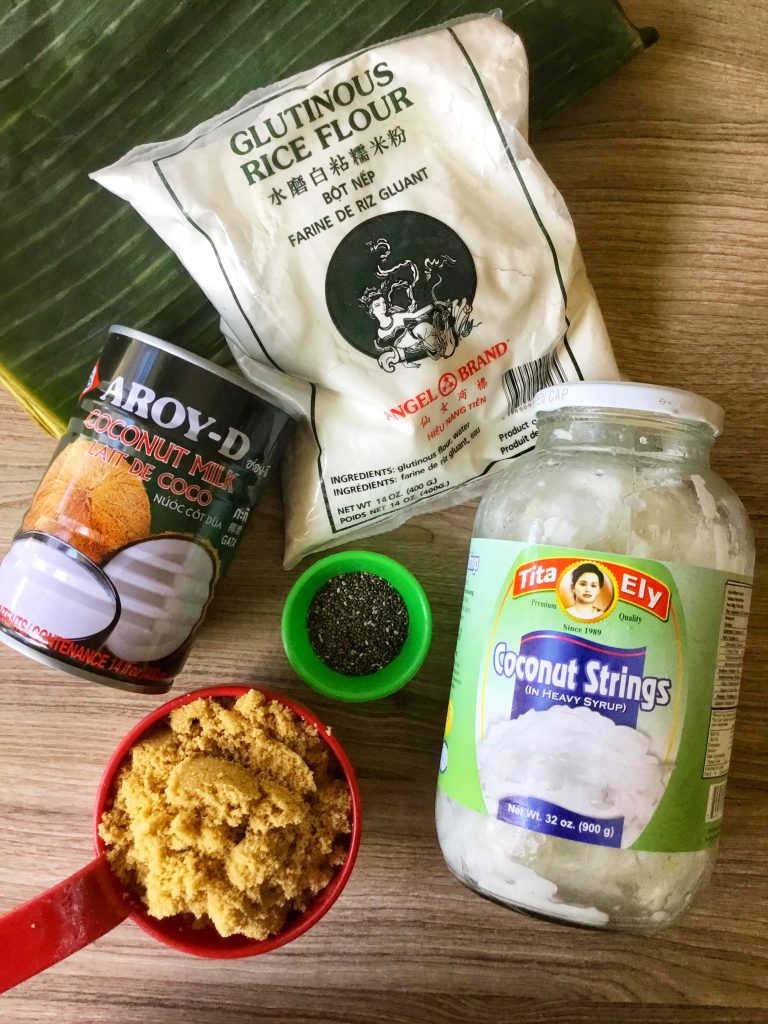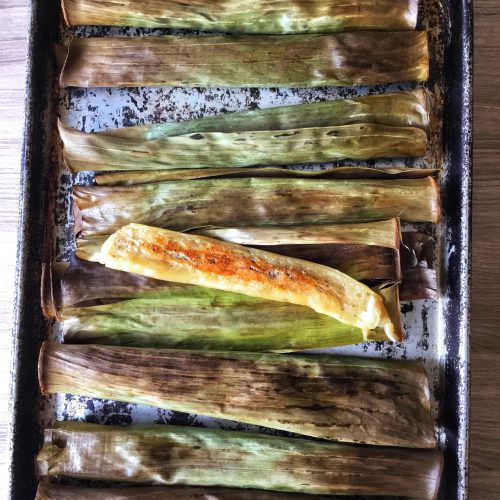 Oven-Baked Tupig (Tinupig)
This is a sweet native delicacy of Ilocanos that's made with glutinous rice flour and coconut. 
Ingredients
400

g

pack glutinous rice flour

1

cup

brown sugar

1 400

ml

can Coconut milk

I used Aroy-D

1

cup

macapuno*

1

pack frozen banana leaves

washed in hot water, dried and cut into 6 inch lengths

1-2

teaspoons

black sesame or chia seeds (optional)
Instructions
Position oven racks at the top and bottom. Place the top rack on the second space from the broiler and the bottom at the lowest setting. Preheat the oven to 425F. You will need two 12×18 inch cookie sheets.

In a large bowl, combine flour, brown sugar, coconut milk, macapuno and chia seeds (if using). Stir very well to combine. Place 3 tablespoons on the lower third of the prepared leaves. Spread batter evenly leaving about 1 ½ inches of space on both ends to prevent spilling. Roll to wrap the filling completely.

Place the wrapped tupig on 2 cookie sheets. Cook for ten minutes then switch the pans (top and bottom) and bake for another 7 minutes or until the leaves are browning in a lot of spots. You can switch to broil and broil (each pan) for a minute if you want a browner tupig. But make sure you watch carefully as it burns quickly.

Store leftovers in an airtight container and place in the fridge. Microwave for a few seconds to warm it.
Notes
*Bottled macapuno vary in sweetness and texture. If the pieces are too long and tougher than usual, cut into smaller pieces before adding to the mixture. The brand I used is called Tita Ely's. It has the texture of real macapuno and is not overly sweet.