Puto Bumbong is one of the signs that Christmas is near. Outside churches starting at early dawn, vendors line up waiting for churchgoers to finish hearing mass. It became a tradition for people to stop by and buy puto bumbong (and bibingka) before heading back home. Usually, it's served with salabat (ginger tea) or coffee.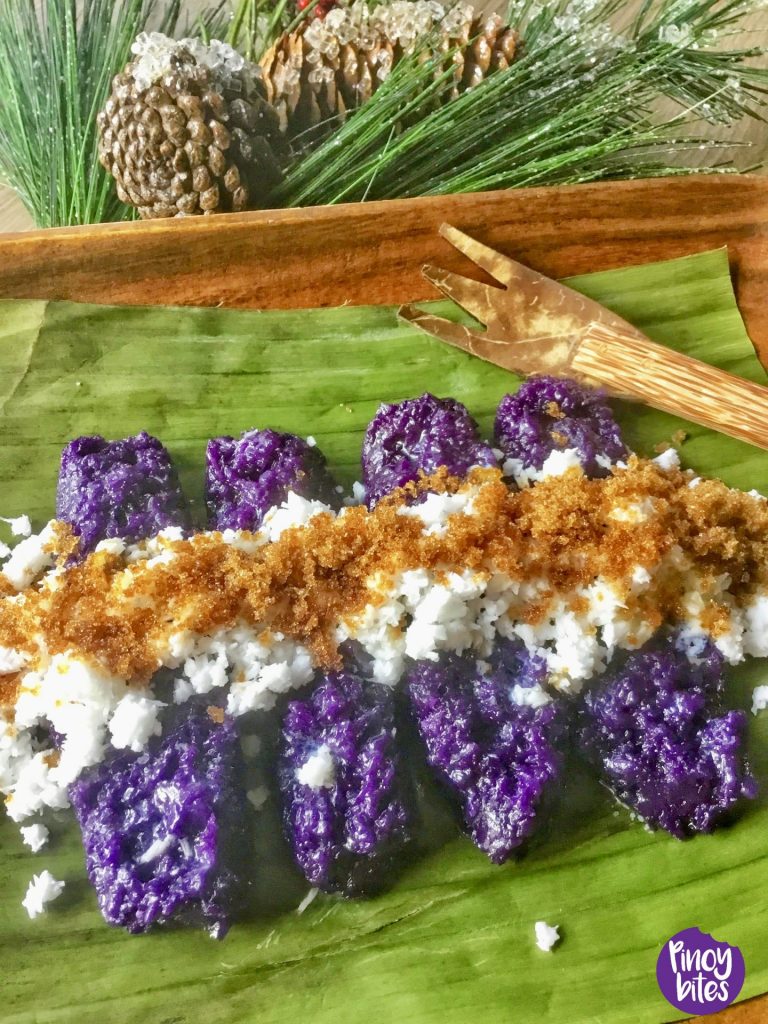 Simbang Gabi is a devotional nine-day novena mass practiced by a lot of Filipinos. It was started by the Spanish friars during the time when Spain colonized the Philippines. Masses were heard at dawn (as early as 4am) so the farmers can go to mass before going to the fields to work. It's believed (and a lot attest to it) that whatever you are praying for will come true after completing the novena masses.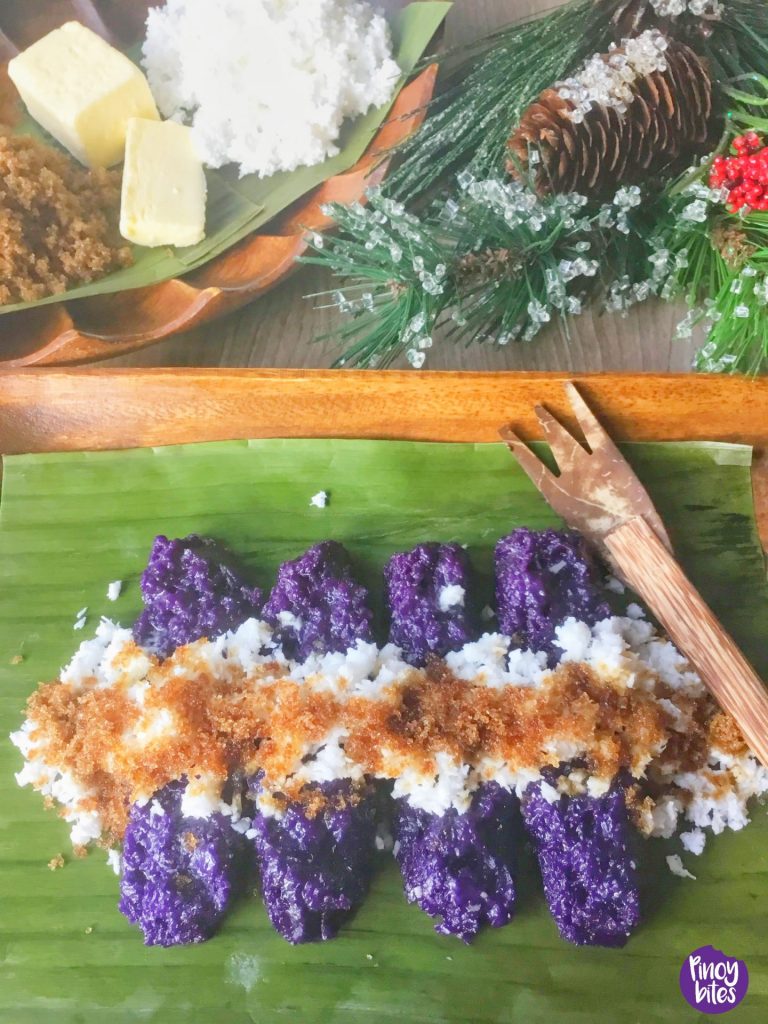 ---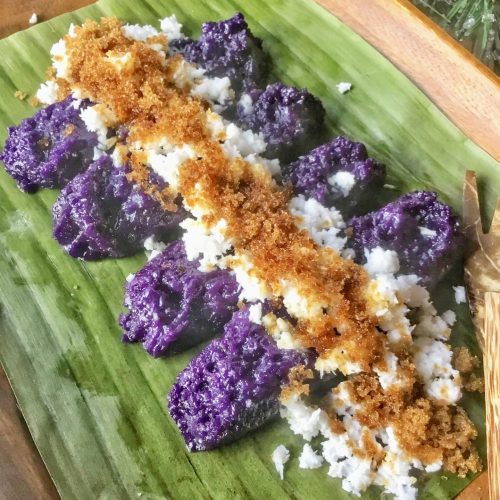 Puto Bumbong (no bamboo steamer needed)
A purple-hued rice cake that's a big part of the Filipino Christmas tradition.
Equipment
cheese grater

steamer

Aluminium foil (4×6 inches), several pieces for steaming

Banana leaves (for serving)
Ingredients
2

cups

glutinous rice flour

½

cup

rice flour

1

cup

water

2

teaspoons

ube flavoring or 1 teaspoon violet food color *

see notes

Butter

softened (for brushing)

Muscovado

coconut or dark brown sugar (topping)

Grated coconut

topping

Grated cheese with Condensed milk

alternative topping, optional***

Canola oil or oil cooking spray

for brushing foil
Instructions
Combine water and ube flavoring (or 1 teaspoon violet food coloring). Slowly add to the flour and mix well (using clean hands) until it forms a dough. Pass through the holes of a fine grater. If your dough is too dry, add more water, 1 tablespoon at a time until the dough comes together.

Prepare foil pieces and brush with oil. Gently place about 3 heaping tablespoons of grated dough on the prepared foil. Form into a long log. Do not pack for faster and even cooking.

Pick it up as you would a taco. Fold and pinch the edges (log ends) to seal but leave the top open. When done, arrange in a steamer, leaving a bit of space between pieces to give room for the steam to evenly cook the puto bumbong.

Steam for 15 minutes or until cooked through. Transfer to a clean banana leaf and brush generously with softened butter. Top with grated coconut and sugar. Alternatively, you can use grated cheese and condensed milk. Serve hot.
Notes
*I steamed mine in 3 batches because I don't have a big steamer.
**Refrigerate leftovers. To warm, transfer to a microwavable dish and heat for 30 seconds to 1 minute or until warmed through.
***Alternatively, you can use banana leaves (brushed with butter) to wrap the dough.