This dish has to be the most popular Friday dish to Filipinos. If Meatless Mondays exist in North America, we have Meatless Fridays in the Philippines. It can be cooked with or without a protein but it's usually topped with either bittermelon or malunggay leaves (moringa leaves). There's no better way, either one is good…. just a matter of preference. Malunggay is my favourite but I use Kale when it's in season.

I remember my mom used to soak the mung beans the night before she wanted to cook it. Otherwise, it takes longer to cook and consumes too much gas, she said. That's something I won't remember doing because I always have last minute ideas on what to cook for dinner. What I always do is wash the beans then place it in a pot filled with an inch or so of water (from the height of the beans). I bring it to a boil and keep it boiling for 2 minutes then close the lid and turn the heat off. I then let it sit until the pot is cool to the touch. By the time I'm ready to cook the dish, beans will be tender or just need a few minutes longer. This dish is a perfect match to my Easy Tinapang Salmon (Oven-Smoked Salmon)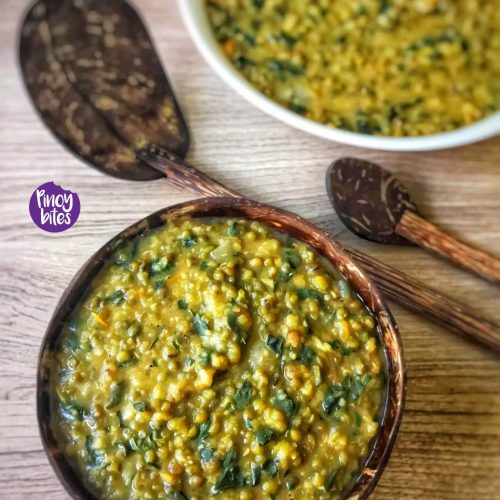 Ginisang Munggo (Sauteed Mung Beans)
A well-loved Filipino vegetable dish that's usually served on Fridays. Best paired with fried fish or
Tinapa
(smoked fish)
Ingredients
1 400

g

pack whole mung beans

washed and drained*

2

tablespoons

canola oil

1

medium onion

finely chopped

3

cloves

garlic

minced

2

plum tomatoes

finely chopped

¼ – ⅓

cup

dried small shrimps

quickly rinsed and drained (optional)

1 ½

cups

water or chicken broth

I used Better than Bouillon chicken base

Malunggay leaves or half a bunch of Kale torn into small bite-size pieces

Salt or patis

fish sauce
Instructions
Precook the Mung Beans *

Place the mung beans (rinsed and drained) in a lidded pot. Fill it up with water until it reaches an inch or so of water (measure from the height of the beans). Bring to a boil (medium heat) and keep boiling for 2 minutes. Cover and turn the heat off. Let it sit until the pot is cool to the touch. Alternatively, if you forgot to do this prep, just cook using the instructions below but it will cook longer. You will need to add more water or broth to the dish.

Heat a large pot on medium heat and add oil. Saute onion and then add garlic after a minute of sauteing. Next, add the tomatoes and stir while mashing to release its juices. Then in goes the dried small shrimps, if using. Sprinkle a bit of salt, stir then add the prepared mung beans. Add water and bring to a boil. Stir occasionally until the desired thickness is reached. You may need to add more water.

Season with salt or patis then add the malunggay leaves. Cook for a minute then turn the heat off.
Notes
*I find that different brands of mung beans vary in cooking times. Some cook faster than others and water absorption also differs. Adjust accordingly.
**If you're adding pork, add after the tomatoes and saute until cooked before putting the mung beans. Flaked smoked fish is also a common addition.