My kids and I are not fond of the typical curry because of the "heat" factor and there's also a whole lot of strong spices involved that we really can't handle. That's why this Filipino-style Chicken Curry is perfect for us! Not spicy, only uses curry powder and is very easy to make.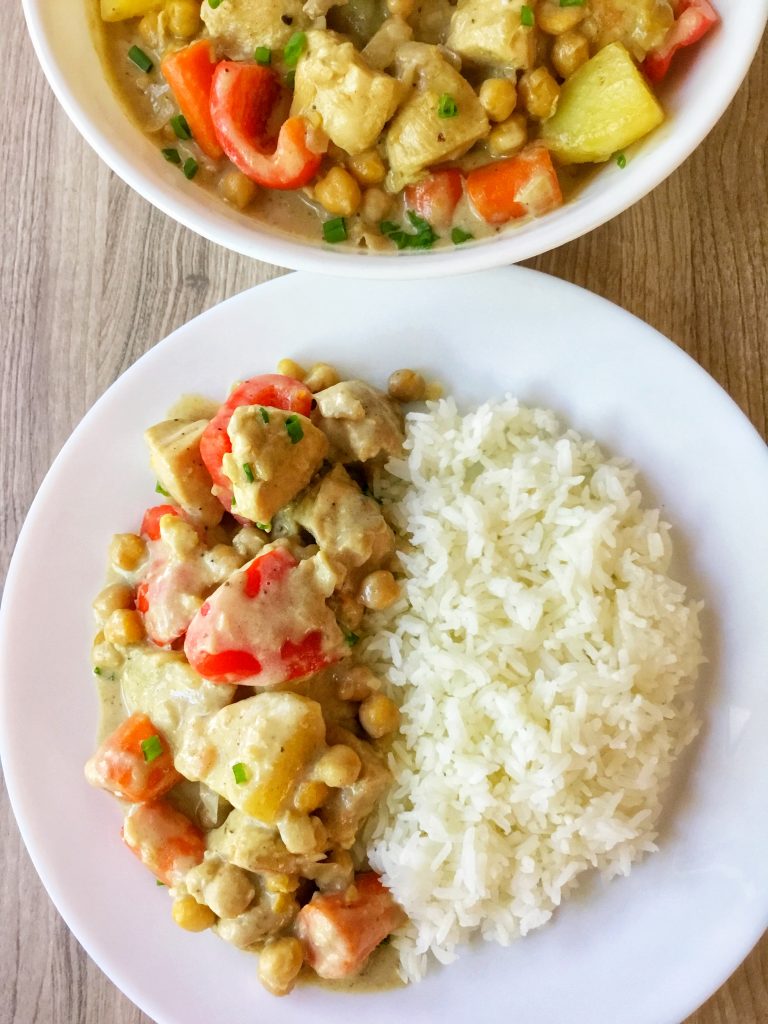 Bone-in chicken pieces are generally used to make this dish but I find that the use of boneless chicken made it even more appealing to my kids because they dislike picking the bones from either meat or fish. This benefits me too since it cuts the cooking time in half. It's a win-win situation!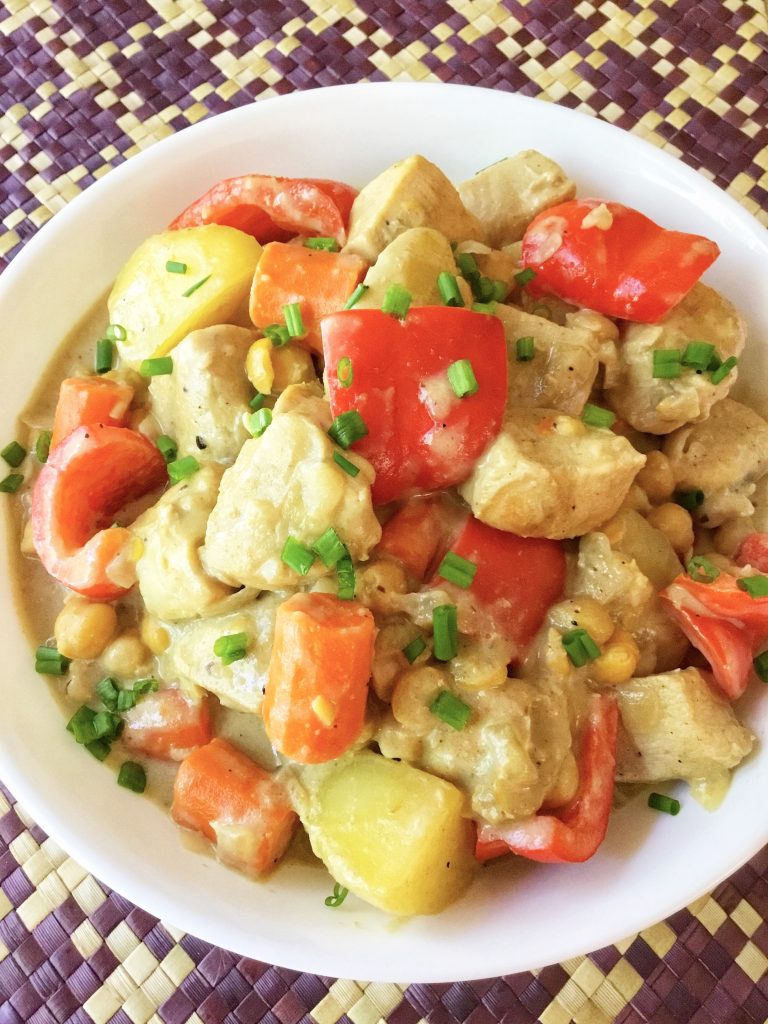 This recipe is a good start if you want to introduce your family (especially the kids) to the world of curries. It's mild (spiciness practically non-existent), rich, creamy and very flavorful!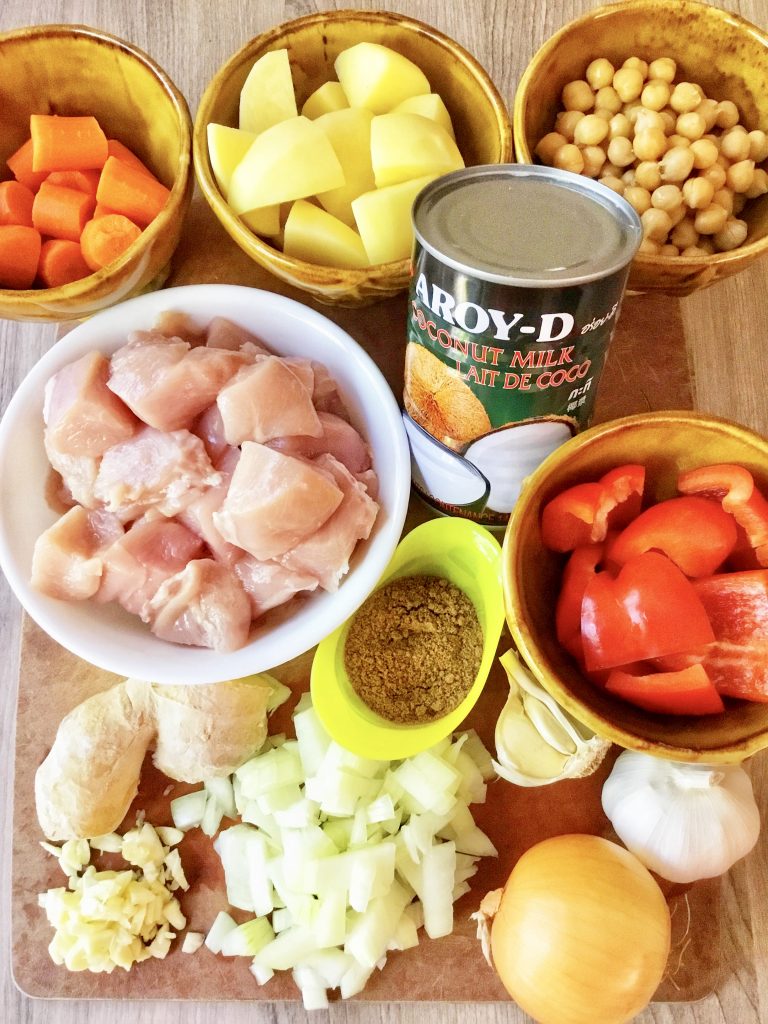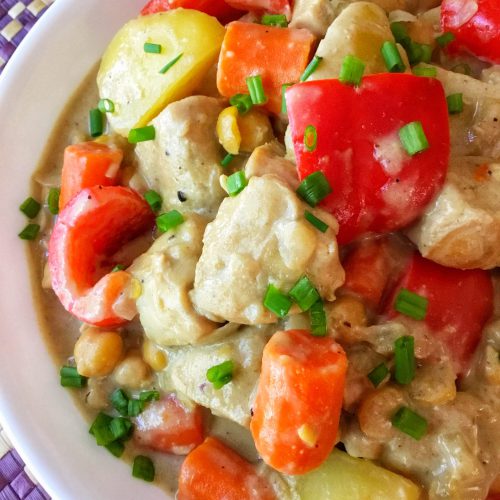 Filipino-Style Chicken Curry
Delicious curry that is thick and creamy, without being spicy. The only curry my kids eat and love!
Ingredients
2

lbs

boneless skinless chicken breast

cut into large chunks (abt 1 ½ inch cubes)

1

large onion

chopped

4

cloves

garlic

chopped

2

tablespoons

curry powder

¼

teaspoon

turmeric powder

optional

½

teaspoon

grated ginger

1 400

ml

coconut milk

I used Aroy-D brand

½

cup

water

2

large yellow potatoes

cut in large chunks

1

large carrot

cut in chunks

1

cup

cooked chickpeas

optional

1

large red or green bell pepper

cut in chunks

2

tablespoons

cooking oil

2

tablespoons

fish sauce

I used Three Crabs brand

Salt

Ground black pepper
Instructions
Heat 2 tablespoons oil in a large pot. Put the onions and saute until translucent then add the garlic. Push the onion-garlic mix to one side of the pan then add the chicken. Season with ½ teaspoon each of salt and ground black pepper. Sear the meat for 3 minutes on each side or just until it's no longer pink and starting to brown.

Sprinkle the curry powder and turmeric (if using) followed by the chunks of potatoes and carrots. Stir, then pour in the coconut milk and water. Add grated ginger and the fish sauce then bring to a boil on medium-high heat. Cover, then lower the heat and simmer until the meat is cooked and the vegetables are tender (about 10-15 minutes).

Add the chickpeas (if using) then taste to adjust the seasoning. Add the bell pepper and continue cooking for a minute. Turn the heat off and serve with hot steamed rice.
Notes
*Cut the vegetables into relatively the same size as the chicken pieces.
**If you want a thicker sauce, cook it down a little longer (increase the heat) after the potatoes are tender.
***If you prefer to use bone-in chicken pieces, increase the amount of water to 1 cup and cook the chicken for 20 minutes FIRST before adding in the potatoes and carrots. Cook for an additional 5-8 minutes or until the potatoes are tender then follow the rest of the recipe.