Whoa, it's September already? How did all those months go by so fast? Summer's almost over and Fall is just a week away. Around this time, Filipinos start anticipating and getting excited about Christmas. The beginning of the "ber" months (from September to December) signifies that the holiday season is almost within our reach.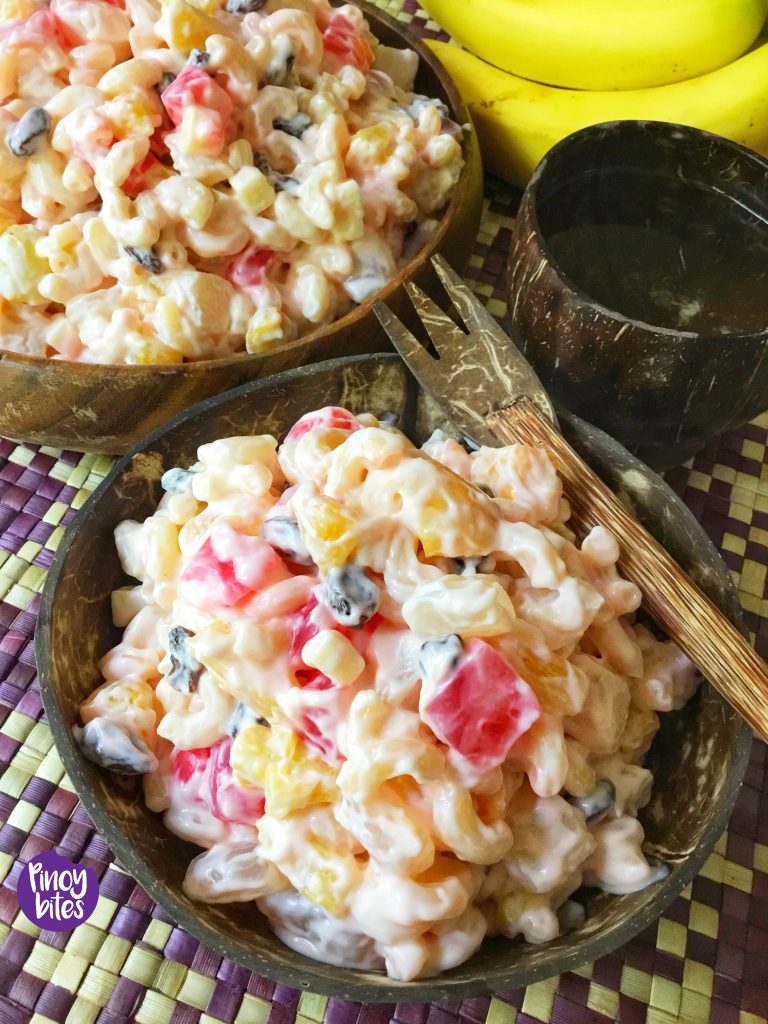 We love Christmas and endless gatherings with families and friends abound during this very significant season. Aside from happily celebrating together, Filipino festivities center around food. Colors like reds and greens play a big part in our dessert salads like the ever so popular Buco Salad, Filipino Fruit Salad, Macaroni Salad and the fusion of the latter two I just mentioned, the Filipino Macaroni Fruit Salad.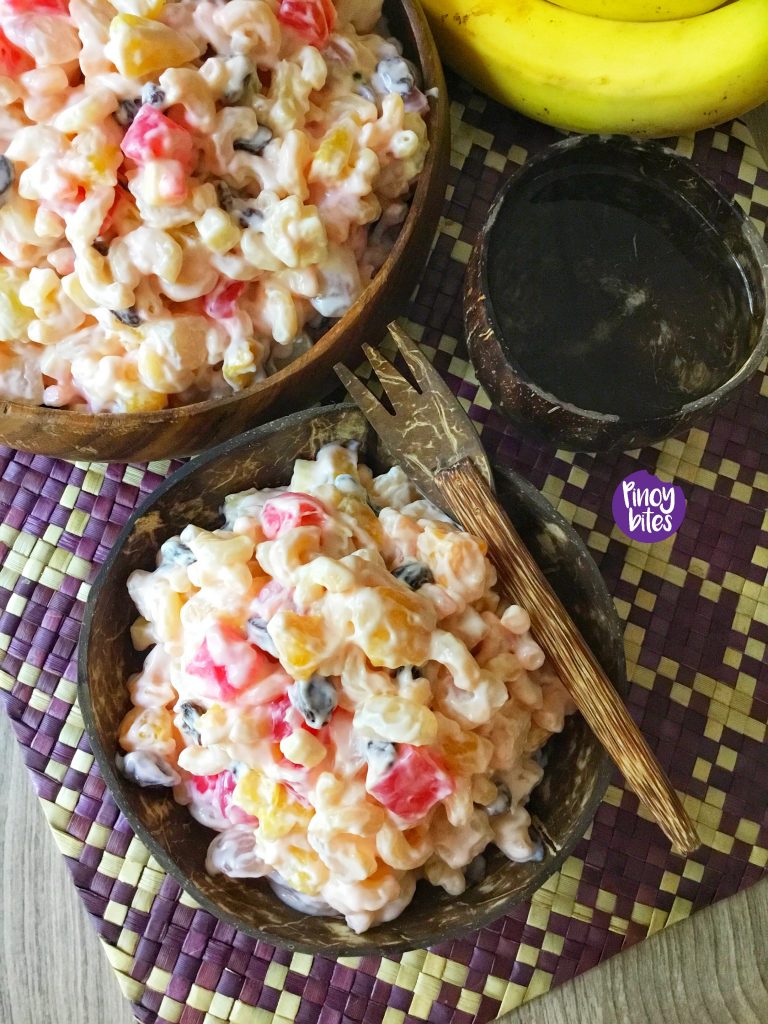 I don't know how and when it started but it's a brilliant way of stretching a meal. The macaroni (or any tube-like or short pasta of choice) acts as an extender but also a flavor carrier. The sweet and creamy dressing gets trapped inside the pasta holes making every bite very delightful. Then it's mixed with a bunch of drained canned fruits which creates a very festive look.
Aside from boiling the pasta, there's no cooking involved in this recipe. This makes it even more appealing to me because I can delegate it to my kids. It's delish, easy to prepare, can be made ahead, feeds a crowd and when you're pressed for time, the kids can do it. Don't wait for a special occasion to make this. I make it whenever I feel like having some and most especially when missing the holiday spirit that I could only feel in the Philippines.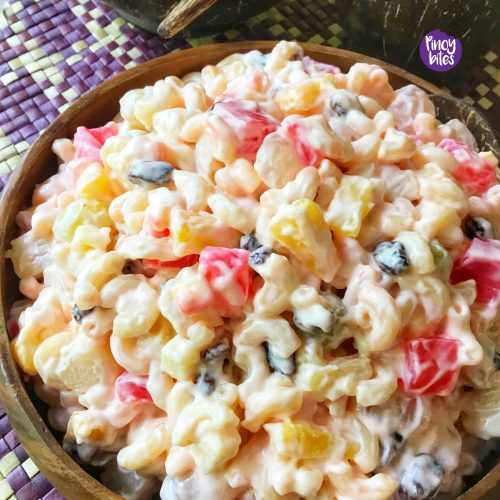 Filipino Macaroni Fruit Salad (Sweet)
Rich, toothsome with a diverse assortment of sweetened fruits, this dessert salad is a mainstay in Filipino gatherings and special occasions.
Ingredients
1 454

g

pack elbow macaroni

cooked, drained and cooled

2 ½

cups

mayonnaise

(I used Hellmann's mayonnaise)

1 300

ml

can condensed milk

1 796

ml

can fruit cocktail

well drained

1 340

g

bottle nata de coco

coconut gel in syrup, well drained

1 340

g

bottle kaong

palm fruit in syrup, well drained

1 398

ml

can pineapple tidbits

well drained

1

cup

cheddar cheese

cut in small cubes (I used extra old cheddar)

¾

cup

raisins
Instructions
Cook the macaroni according to package direction. Drain well and place in a very large bowl. Cool the pasta completely before proceeding with the recipe. The residual heat will continue to cook it as it cools. So, do not overcook. Stir the pasta gently or put an ice pack underneath the bowl to speed up cooling.

Add the mayonnaise and condensed milk to the cooled pasta and stir well to combine. Add the rest of the ingredients and gently mix well to combine.

Transfer to a lidded food container and refrigerate for at least 2 hours. This is best eaten cold.
Notes
**Other types of tubular or short pasta can be used instead of the macaroni. ***The list of canned and bottled fruits are just guides. You can use any combination you prefer. I always choose the ones that are "packed in water" or packed in its own juice, if available. The ones packed in syrup are normally used.