My mom is a great cook and she always plans our Noche Buena (Christmas eve dinner) spread a few weeks early. When we have our family meeting on dishes that we want, this dessert is picked every single year! We all love it and the vibrant colors speak of Christmas.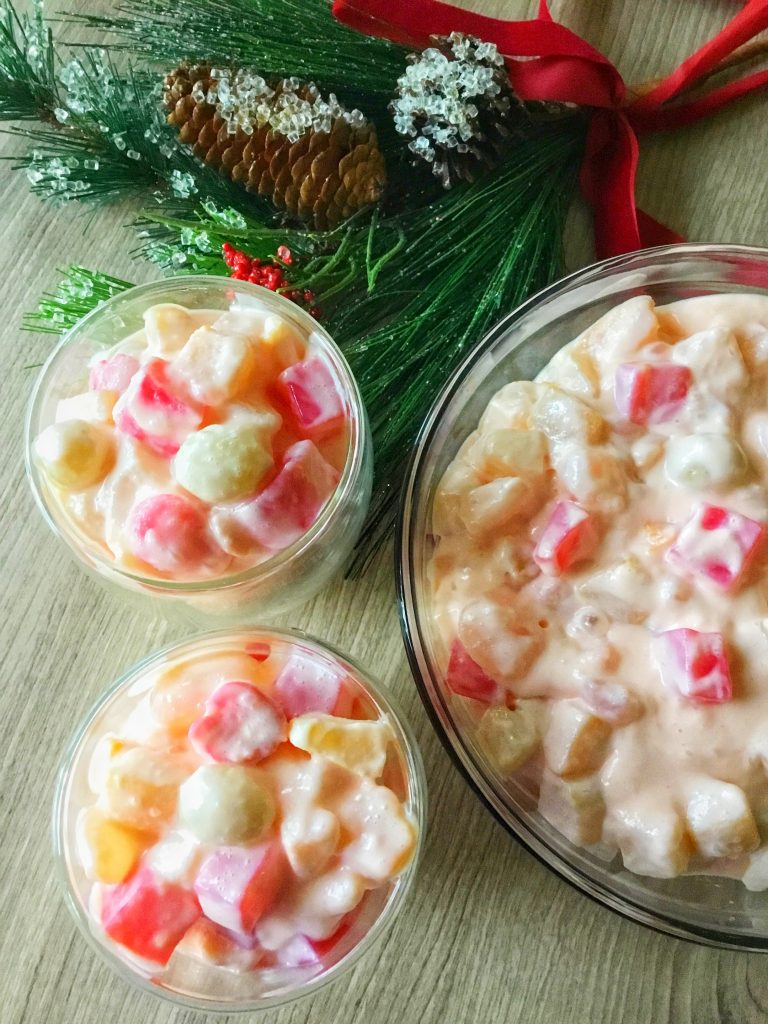 Making fruit salad was one of my early adventures in the kitchen. It's a cinch to make and there's no cooking required. So, the youngest family member gets to make it…as long as they're old enough to handle a can opener properly.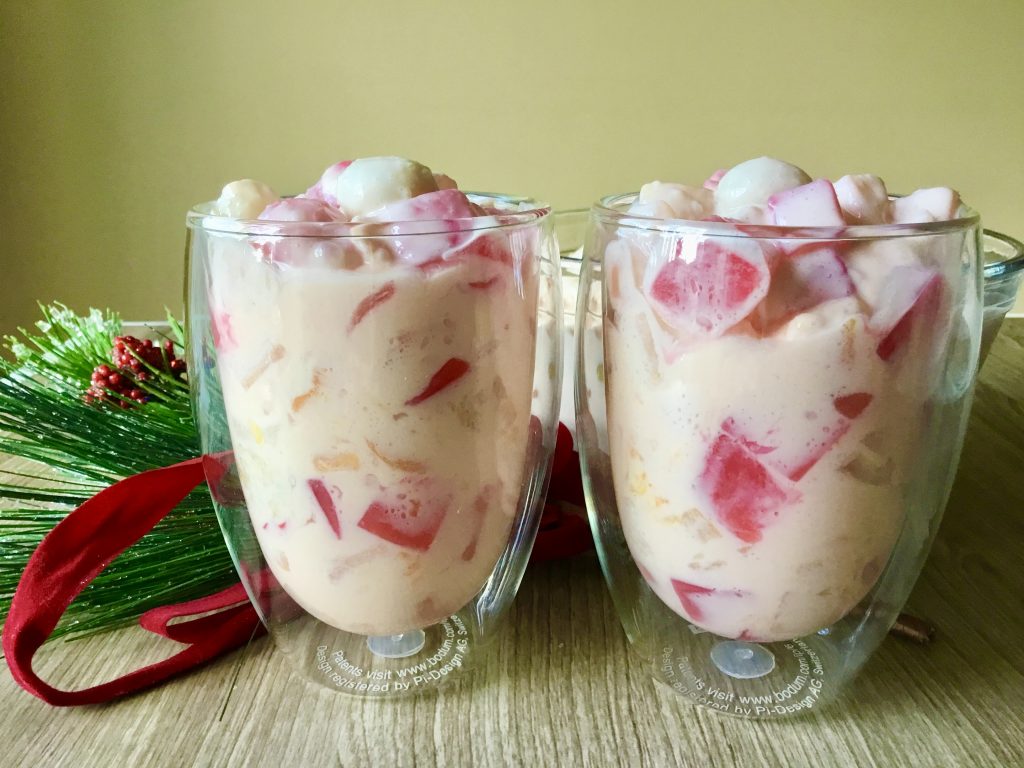 Don't be fooled by the name, there's nothing healthy about this dish. And if you know how to use a can opener, you're all set because it consists of a bunch of canned fruits that's been drained then doused with thickened cream and sweetened condensed milk. Just mix and you're done! The only other thing you have to do is park it in the fridge for a few hours. That's it!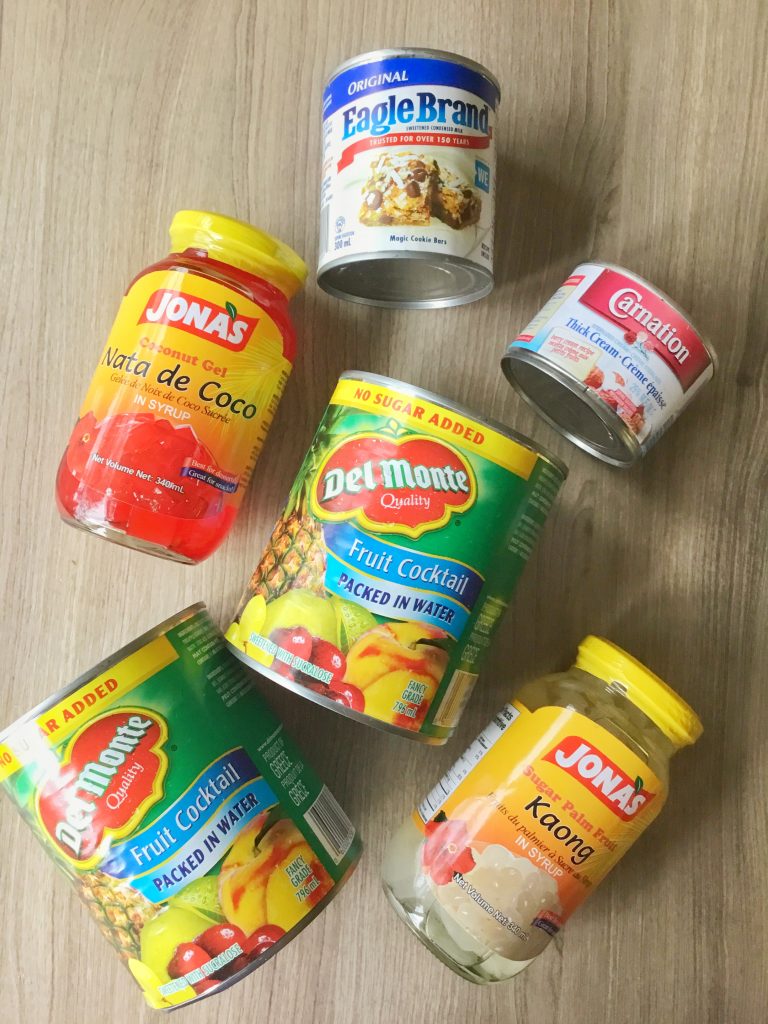 Have you tried it frozen? Well if you haven't, you should! It's delicious fresh from the freezer, but you can also let it sit for a few minutes on the counter to thaw a bit and it turns into a fruity slushy. Yum!
Let's make it!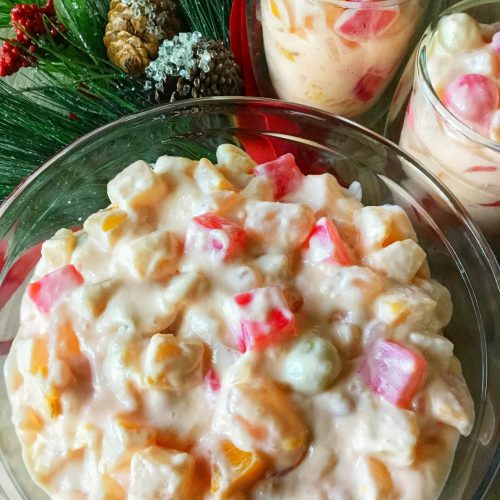 Filipino Fruit Salad
This is an indispensable Filipino dessert during the holiday season.
Ingredients
2 796

ml

cans fruit cocktail

packed in water

1 340

ml

bottle kaong

(sugar palm fruit)

1 340

ml

bottle nata de coco

(coconut gel)

1 170

ml

can thick cream***

½ – ¾

cup

sweetened condensed milk

adjust to your desired sweetness
Instructions
Using a strainer or a colander, drain all the liquid from the fruit cocktail, kaong and nata de coco then place the drained fruits in a large bowl. Discard liquid.

Add the thick cream and ½ cup of the sweetened condensed milk. Stir very well with a spatula making sure everything is evenly coated. Taste if you still need the extra ¼ cup of condensed milk. If you're using a fruit cocktail that's packed in syrup, you won't need the extra ¼ cup.

Cover and refrigerate for at least 2 hours before serving. Serve cold.
Notes
*Try freezing some of your fruit salad and enjoy it like ice cream or thaw on the counter for a bit for a fruit "slushy " salad.
**Add one chopped apple if you want a little bit of crunch.
***Add one more can of thick cream for a creamier salad.