I must confess … I love Leche Flan! It's one of the top things that brings me back to my childhood. Armed with a spoon, I could easily finish a whole llanera (leche flan mold) in one sitting. But that was before, when that pesky cholesterol wasn't yet an issue. Now, I can only have a fraction of what I used to indulge in without my body giving me a "timeout" signal.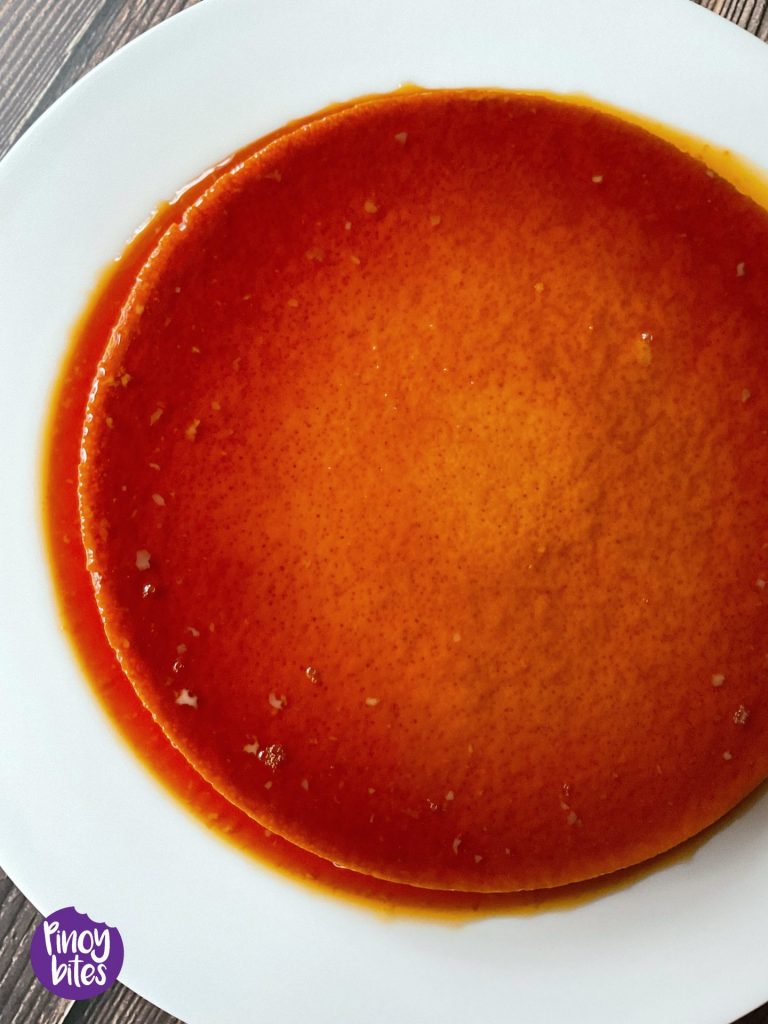 Leche Flan is known for its creamy, rich and that melt-in-your-mouth texture. Laden with egg yolks (and a lot of them!), it goes without saying that it's also full of cholesterol. Egg white on the other hand, is packed with protein but NOT a speck of cholesterol.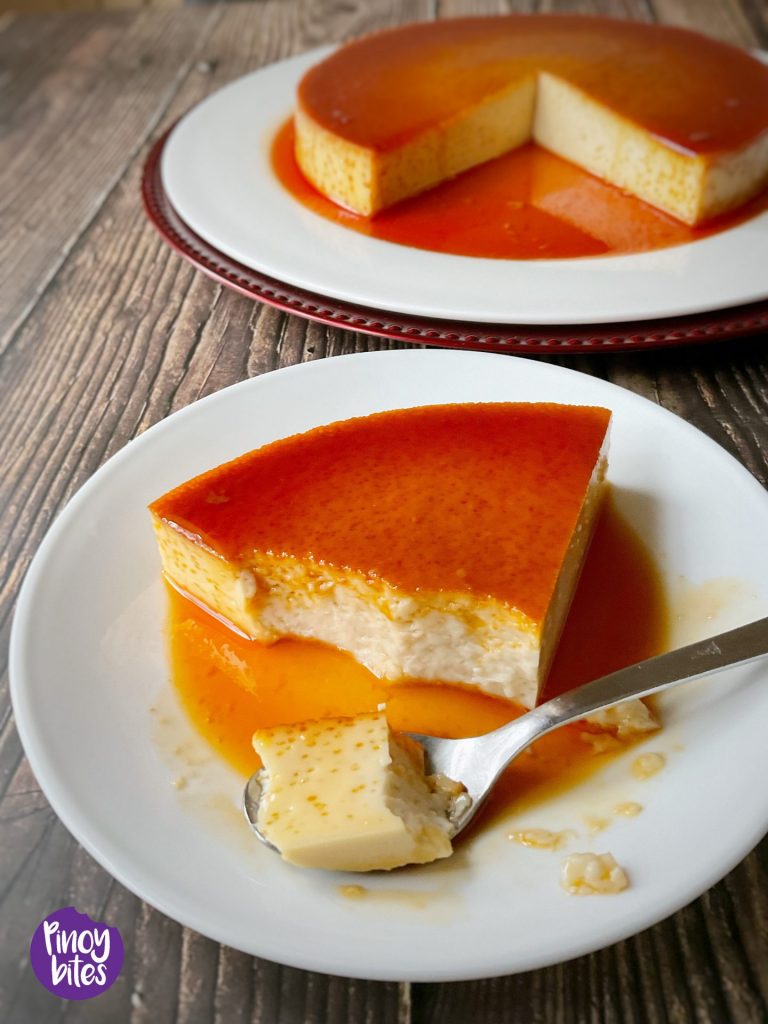 When I was in college, I had this conversation with my mom about the use of egg whites that's left from making leche flan. The setting was vague but I clearly remember her saying it can be used instead of the yolks. I asked her recently and she told me the same thing but also said that she never tried making it. She suggested adding a little bit of instant coffee to help in enhancing its color (You won't even taste it, I promise). I didn't know why I waited this long to make it but I'm glad I did.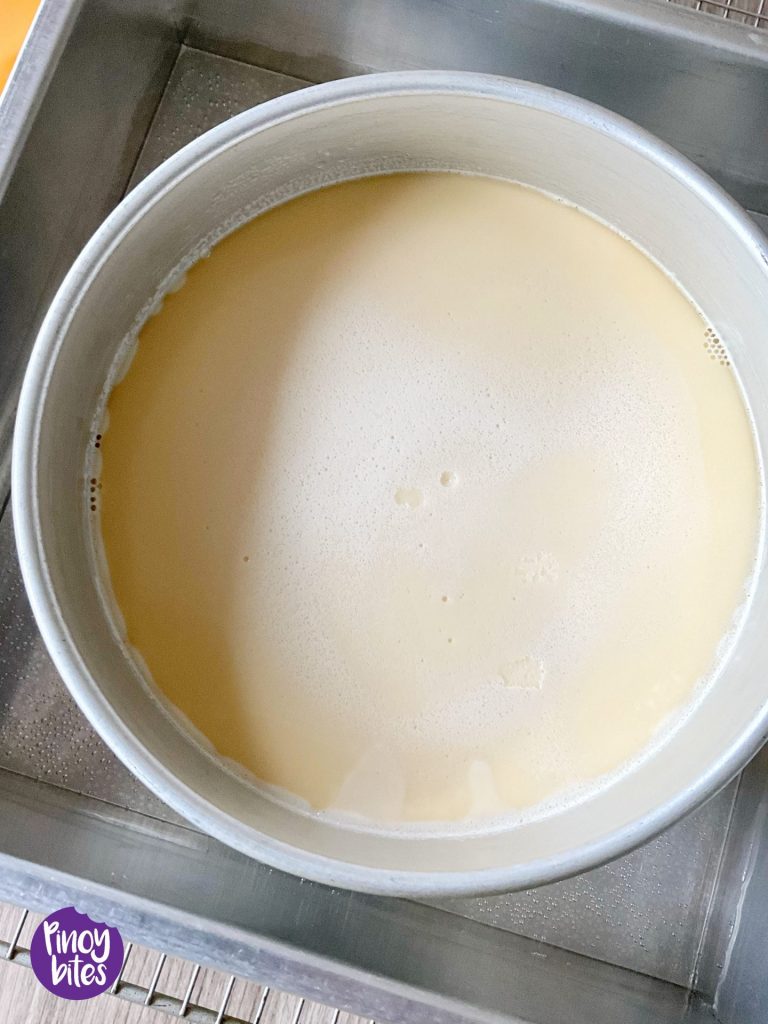 The texture is less creamy, much like when using whole eggs instead of just the yolks. Mine came out with small bubbles as I was impatient in removing and letting the mixture settle before baking but it sure didn't affect the taste. It's delicious, let me tell you and we very much enjoyed it.  If you've had Halo-Halo sold at street corners in the Philippines, that's exactly how it is.  My 2 bigger boys (eldest and hubby) didn't mind, they actually preferred the lighter texture. Maybe it's a woman thing…or it's just me nitpicking every single flaw. Haha!  Remember to be gentle when mixing the egg whites if you prefer a smoother flan. Stir just enough to break it down and not beat it as much. Strain a couple of times (or thrice) and patiently remove the bubbles that float.
Egg White Leche Flan
a way healthier, almost cholesterol-free version of one of the most adored Filipino desserts. A perfect balance to the holiday's (or any occasion) not-so-healthy eats.
Equipment
8 inch round cake pan or a 9×5 inch loaf pan

A baking pan bigger than the mold or a roasting pan

Aluminum foil (to cover the pan)
Ingredients
For the Caramel:
½

cup

sugar

2

tablespoons

water
For the Flan:
1 ⅓

cups

egg whites

about 9 large eggs

1

300ml can condensed milk

1

354ml can evaporated milk

1

teaspoon

pure vanilla extract

¼

teaspoon

instant coffee

crushed (optional)
Instructions
Preheat the oven to 350F. Position the oven rack one slot lower than the middle (lower third of the oven).

To make the caramel: In a heavy-bottomed saucepan, place the ingredients for the caramel. Swirl to wet the sugar and cook on medium to medium-high until golden brown in color. Be careful not to burn the caramel. Pour immediately into the pan. Let cool.

In a large bowl, place the egg white and break the lumpy parts gently with a wooden spoon. Add the condensed milk, evaporated milk, vanilla and crushed coffee, if using. Stir until everything is mixed well. Avoid whisking for a smoother flan.

Strain the flan mixture 3x using a fine sieve or cheesecloth. Remove the bubbles that rise to the top and gently pour mixture on top of the ALREADY COOLED caramel. Cover the pan tightly with aluminum foil.

Pour about 1/4 inch hot water on a bigger baking pan and place the mold on top. The water level should reach halfway of the flan mixture. Add more water, if needed.

Bake for 1 hour and 20 minutes to 1 hour and 30 minutes or until a toothpick inserted in the middle of the flan comes out clean. Remove from the water bath and cool completely. Refrigerate for at least 2 hours before unmolding.

To unmold, pour hot water in a baking pan and place the mold on top. Let it sit for a few minutes to loosen the caramel. Then, run a small spatula or paring knife around the mold to loosen the flan. Place the serving dish on top of the mold and quickly flip upside-down to release.